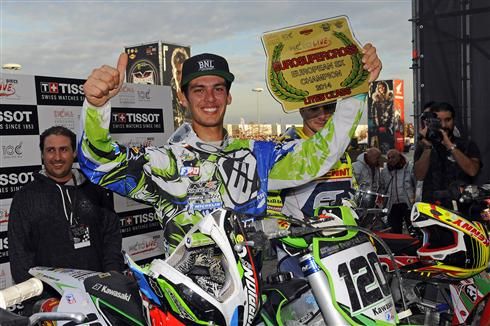 Back to Kawasaki this summer with the support of Floride Moto and CLS, who offered him a material and technical assistance, Cedric Soubeyras is one of the most rewarded French Supercross riders. Already double French and European Supercross champion, the 25 years old rider sealed another title in Milan as he won the 2014 European Supercross series, a two days event.
Cedric Soubeyras:
"The track was a little wet and we had to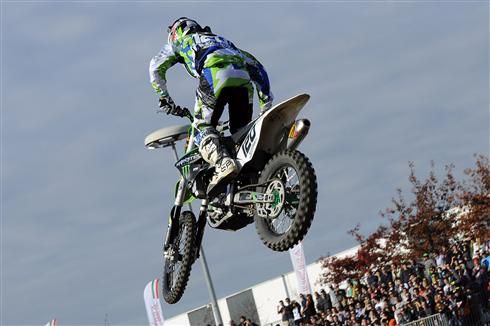 get used to it, but I raced the Italian championship the first day and that was a good opportunity to collect another win and to prepare day two. I came confident to the European series, as I posted the fastest lap and beat Christophe Pourcel in the Italian race. In the first race of the European SX it was a pretty easy win, as Pourcel my main rival crashed at the start and I won again with the fastest race lap. In the second heat we had a nice fight with Christophe, but when we joined the lappers I did a small mistake; I knew that a second place was enough to get the title, so I didn't took any risks and secured a second position, again with the fastest lap in this race" explained Cedric, who is also leading the French SX Tour after winning the last two rounds on his Kawasaki."
This weekend he will have stronger opponents, as he raced the Paris Lille Supercross against some of the best American riders.

"Usually this event is organised in Paris Bercy, but as they renovate the stadium we move in a bigger one in Lille. The track will be wider and longer, more American style, but my goal remains to be on the podium. I got a third position in 2010, last year I was fifth overall and want revenge. There are more American riders than the past seasons, but I feel fit and ready. I have a very good feeling with the bike, and worked hard before Milan so I'm confident."

Paris Lille Supercross will also be the first race of Jordi Tixier with the Monster Energy Kawasaki MX2 Racing Team, alongside Dylan Ferrandis. Both Jordi and Dylan trained a lot to prepare the main European Supercross event, and are now used to their 450 Kawasaki. Jordi will race for the first time since he claimed the MX2 World Title, and the French fans will for sure welcomed him as a real star. Teammate Dylan Ferrandis will enter his last race of the season, and after a promising Monster Cup one month ago for his first race on a 450, Dylan aims to do even better in Lille.

After this SX, Jordi and Dylan will take some rest while Cedric will race the last three rounds of the French SX Tour in Lyon, Genève and Grenoble.

"When Cedric was looking for a ride at mid season we did our best to help him, as we follow him since a while. Thanks to Steve Guttridge we were able to provide him some special parts, as Tommy Searle missed several GP's due to his injury, and it was a pleasure to help Cedric and to give some extra exposure to our partners" explained MX2 team owner Jean Jacques Luisetti.

On December 5th and 6th, Cedric will again race some of the best American riders in Genève, Switzerland. This race will be a last European appearance for Arnaud Tonus, who is already testing with his new team in the US, and who will do his first race for team Monster Energy Pro Circuit Kawasaki.