Matt Moss creates history with perfect Supercross season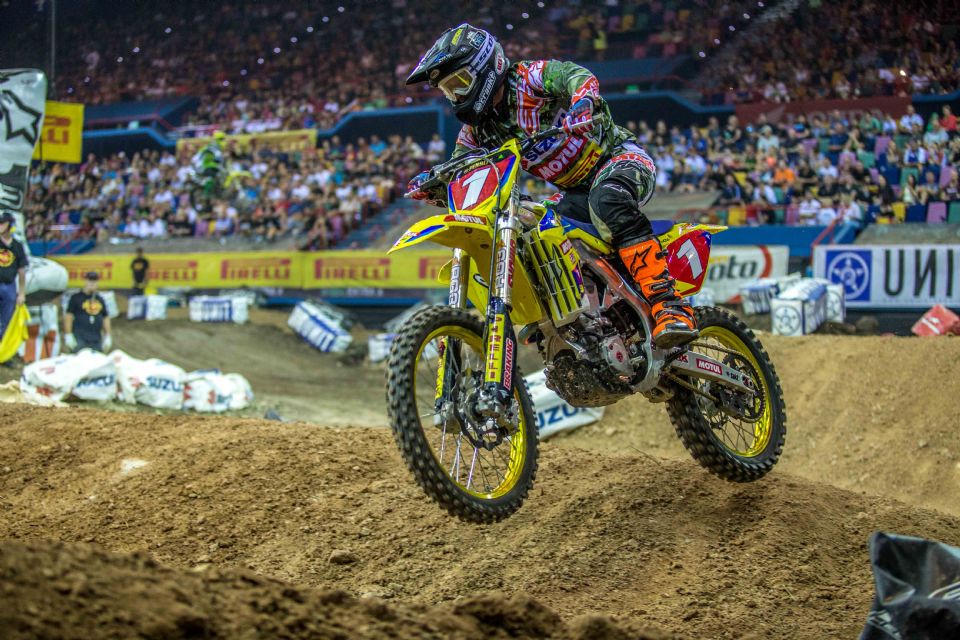 Matt Moss: Photo - Marc Jones Photography
Moss won all five rounds of the series, securing back-to-back supercross titles and his fourth consecutive Australian title.
Despite securing the championship by just making the 20-lap final, the tight indoor track threatened to derail Moss's plans of a clean sweep.
A first turn hustle dropped the defending champion down the order to ninth, but he worked his way forward and into the lead by Lap 14. Moss won the final race ahead of NP Monster Energy Kawasaki rider Adam Monea and Victorian privateer Sam Martin.
"I want to say thanks to the Brisbane fans for coming out tonight," Moss said. "It's been a great year and I can't ask for any better than a clean-sweep.
"I got hit in the first corner, but then I could see the leaders so I put the hammer down and got going.
"People have questioned if I could win without the holeshot so tonight proved them all wrong which was pretty sweet.
"I am overwhelmed at the moment. Winning the way we did is a huge feat and it hasn't really sunk in yet," Moss continued
In the SX1 championship standings Adam Monea and Lawson Bopping rounded out the top three.
---
SX2: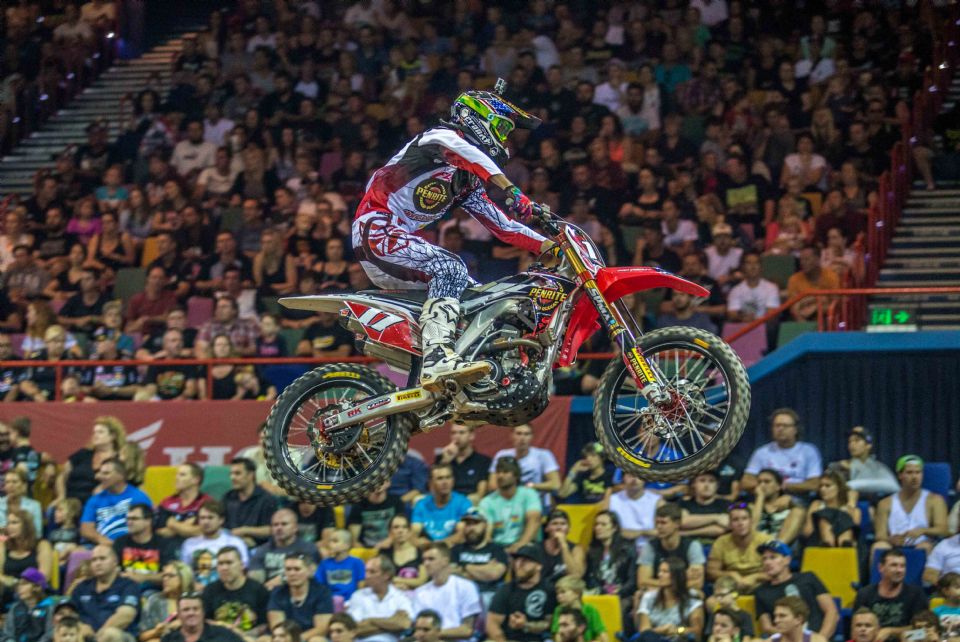 Gavin Faith: Photo - Marc Jones Photography
Penrite Honda rider Gavin Faith claimed his second SX2 title, a second place finish behind Boardstix Motorsports Taylor Potter on the tight indoor track securing him the 2014 crown.
The American, holeshot the final but went down on the opening lap. Faith pushed forward and worked his way back to second but ran out of time to challenge Potter for the win.

"I got out of shape a couple of times and went down on the first lap," Faith said. "I'm super-pumped to wrap it up for Penrite Honda and for all the fans who came out tonight," Faith said.
"Last year was pretty rough. I learnt a lot and bought it into this year and I feel like I rode a lot smarter this year
"I will head to Germany now to do the four-round German series before returning to the USA for the AMA Supercross Championship," Faith added.
Potter's win elevated him to second in the championship behind Faith with Kyle Peters (Wilson's Jet Pilot Honda) third, giving Honda a clean sweep of the SX2 class.
KTM rider Dylan Wills secured both the SXD round and championship, while in the Junior Lites Jordan Hill took both round and championship spoils.
2014 Penrite Australian Supercross Championship SX1 Results – Rd 5 Brisbane, QLD
1. Matt MOSS, 
2. Adam MONEA
, 3. Sam MARTIN, 
4. Daniel McCOY, 5. Jesse DOBSON, 
6. Josh CACHIA, 
7. Lawson BOPPING
, 8. Kirk GIBBS
9. Kade MOSIG,
10. Robbie MARSHALL
,11. Kieren TISDALE,
 DNF. Jay MARMONT
2014 Penrite Australian Supercross Championship SX1 standings (Top Ten)
1. Matt MOSS 175, 
2. Adam MONEA 150
, 3. Lawson BOPPING 142, 
4. Kirk GIBBS 137
, 5. Jesse DOBSON 121, 
6. Josh CACHIA 113
, 7. Kade MOSIG 111, 
8. Jay MARMONT 104, 
9. Justin CARAFA 94
, 10. Chris CAMILLERI 81

2014 Penrite Australian Supercross Championship SX2 results - Rd 5 Brisbane, QLD
1. Taylor POTTER, 
2. Gavin FAITH
, 3. Hayden MELLROSS
, 4. Dylan LONG
, 5. Geran STAPLETON, 
6. Ryan MARMONT
, 7. Jackson RICHARDSON, 
8. Kyle PETERS
, 9. Luke WILSON
, 10. Kale MAKEHAM, 
DNF. Brenden Harrison, 
DNF. Luke Arbon
2014 Penrite Australian Supercross Championship SX2 championship standings
1. Gavin FAITH 167, 
2. Taylor POTTER 144
, 3. Kyle PETERS 140, 
4. Hayden MELLROSS 137
, 5. Kale MAKEHAM 125, 
6. Ryan MARMONT 118
7. Brendan HARRISON 112
, 8. Geran STAPLETON 103
, 9. Luke WILSON 99
, 10. Jackson RICHARDSON 96
2014 Penrite Australian Supercross Championship SXD results - Rd 5 Brisbane, QLD
1. Dylan WILLS 102
2. Tomas RAVENHORST 97
3. Aaron TANTI 88
4. Izak MAULE 84
5. Jack SIMPSON 82
6. Brock McLEARY 75
7. Connor RICE 69
8. Miles CLISSOLD 68
9. Dylan WILSON 48
2014 Penrite Australian Supercross Championship SXD championship standings
1. Dylan WILLS 475
, 2. Jack SIMPSON 459
, 3. Brock McLEARY 436
, 4. Tomas RAVENHORST 431, 
5. Aaron TANTI 396
, 6. Izak MAULE 388
7. Trent WHEATLEY 290, 8. Blake SOLA 119
, 9. Tim O'BRIEN 118
, 10. Connor RICE 69
, 11. Miles CLISSOLD 68
, 12. Dylan WILSON 48
2014 Penrite Australian Supercross ChampionshipJunior Lites results - Rd 5 Brisbane
, QLD
1. Jordan HILL 95,
2. Kaleb BARHAM 94
,3. Lachlan HOLROYD 89
 ,4. Anthony REGINA 82, 
5. Travis SILK 77
, 6. Jesse BISHOP 76
, 7. Joel CIGLIANO 75
, 8. Drew CIGLIANO 72
, 9. Fraser HIGLETT 69, 
10. Jacob BUCKMAN 69
2014 Penrite Australian Supercross ChampionshipJunior Lites championship standings
 (Top Ten)
1. Jordan HILL 503
, 2. Lachlan HOLROYD 464
, 3. Travis SILK 431, 
4. Drew CIGLIANO 375, 
5. Joel CIGLIANO 372, 
6. Dylan DUKES 352, 
7. Kaleb GROTHUES 158
, 8. Bradley CAIN 144
, 9. Kaleb BARHAM 94
, 10. Jacob BUCKMAN 92