#SKYSPEED Promo on Cody Cooper Technical Bike Set-Up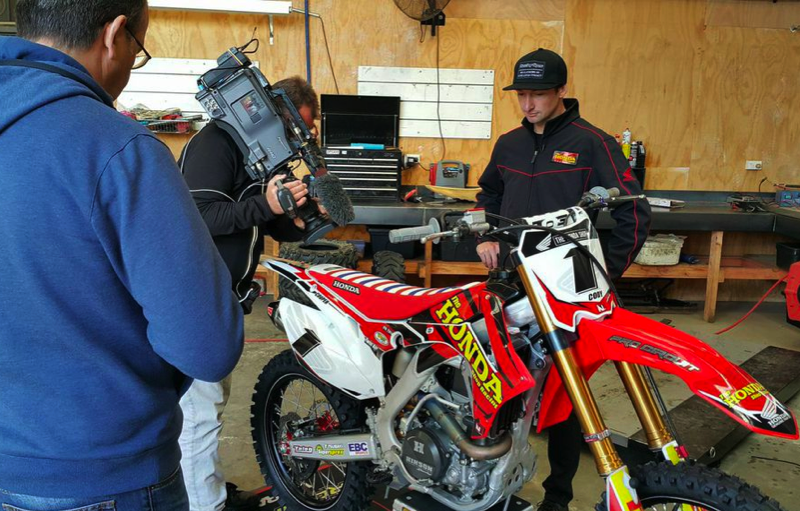 Sky Sport Speed Show: Technical Piece with Cody Cooper at The Honda Shop Racing.
Photo - Phil Empson.
The latest piece with Sky Speed Show was filmed yesterday with Cody Cooper (The Honda Shop Racing) on the technical bike set-up and preferences for New Zealand's MX1 Champion.
Initial discussions with Cody and myself involved how to tell an audience not necessarily associated with our sport what goes on behind the scenes in preparation for Pro Racing.
A Media package was presented to Sky Speed Producer for possible filming on bike set-up in the workshop (Honda Shop Cambridge) with Cody and his mechanic followed by testing of set-up/preferences at the track - Tokoroa SWMCC.
Filming in the morning proved a new experience for Coops and Eric (mechanic) with Camera guy Dave and Sky Speed Producer Chris Herd putting both guys on the spot with camera in face, re-takes and expressive communications on particular bike set-ups.
With Cody and Eric relaxing into the pop-up film set detailed breakdowns of: levers, handle bars, seat grip, foot pegs, radiator guards, engine power delivery, triple clamps, suspension, gearing and sprockets, pipe and tyres along with comparisons on 'Stock' to 'Factory' made a unique filmed piece on 'Behind the Bars'.
Testing at the track put Coops and his mechanic in their own zone with film footage taken of track time: testing bike set-up on berms, flat corners, ruts, rollers and jumps.
With 40 minutes of film footage shot on bike settings in the workshop followed by testing at the track, Sky Speed, Cody, Eric, Phil Empson and myself were stoked with the day's result.
The piece with Cody Cooper will be aired on Sky Sport Speed Show - stay tuned for dates and times.
My thanks to: Sky Speed Producer Chris Herd, Camera guy Dave, Honda Shop Racing, Coops, Eric and Tokoroa SWMCC.
Sharon Cox

www.mxlink.co.nz