Lusty Industries & Distributors to open a NZ Regional Office with Ben Townley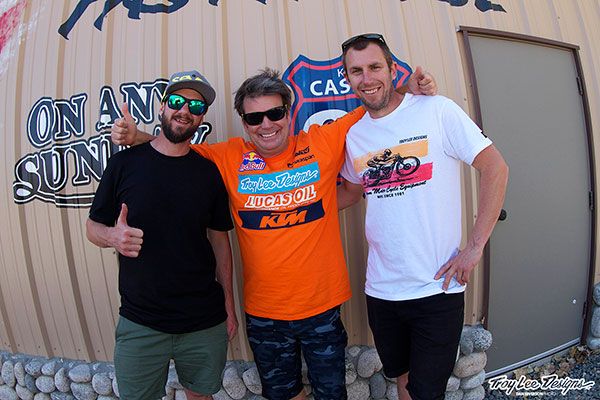 Johnny McLean,
Troy Lee and Ben Townley
"Lusty Industries has an unrivaled track record of successful marketing and sales of action sports brands within the Australian marketplace, we are a passionate and motivated group of young individuals squeezing opportunity where possible for all of the brands we distribute from the ground up. To have the opportunity to take Lusty Industries to New Zealand and the company being driven by a world class professional such as Ben Townley is not only extremely exciting but also humbling. Ben has the same core values that I do when it comes to delivering an experience to New Zealand customers that promotes repeat business. Lusty Industries NZ will be an independent operation with a long term strategy; Ben and I are determined to ensure that our customers are the primary focus in promoting the Lusty culture and product support."
- Johnny McLean, Lusty Industries Managing Director
"I'm stoked to have an opportunity like this in the next phase of my career opening up Lusty Industries NZ. I have worked with Johnny for several years as an athlete and now to grow my passion into a career that will take myself, Lucy and my boys well beyond my racing days is so awesome. Johnny and I share the same values, albeit me in racing and he in business, but this makes me so passionate and sure about the future for Lusty Industries NZ. I will be able to present and support New Zealand customers' brands such as Troy Lee Designs in a way that they traditionally haven't. I have a personal connection with Troy Lee Designs and several other brands, both as a team rider and athlete, and endorse every product that we will be showcasing. I can't wait to see people at the local track wearing or using our products over the years to come."
- Ben Townley, Lusty Industries New Zealand Company Director


"I'm excited about Johnny and Ben working together! Lusty Industries has done a great job in Australia and I'm confident Lusty Industries NZ will take our brand to the next level. All of us are excited about what the future holds working with such a proactive and progressive team."
- Troy Lee, Founder and Owner of Troy Lee Designs
The Troy Lee Designs Moto range will be available from Lusty Industries NZ starting November 1st, 2014 with further updates and news to follow.
About Troy Lee Designs
For over 30 years, Troy Lee has been customizing helmets "For The World's Fastest Racers." TLD's relentless commitment to creating products that exceed the cutting edge of style, design and quality, has earned them the reputation as an innovator in many different fields of racing. Troy Lee Designs has since expanded into a full force operation, offering a complete line of helmets, apparel and premium protection for off-road motorcycling and bicycling, sportswear and accessories, and operating the TLD supercross and motocross teams. Based in Corona, California, Troy Lee Designs has a global network of distributors. For more information visit
www.troyleedesigns.com
.
About Lusty Industries
Lusty Industries is a progressive, passionate and action sports driven Distribution Company that services and supports a diverse range of channels including Motorcycle, Bicycle, Surf, Skate, Snow and Motorsport. Based in Newcastle, Australia the products we sell are available from over 1900 dealers Australia wide and the entire product range can be found at
www.lustyindustries.com
.