Ben Townley Speedcross at Taupo Motorcycle Club's MX Fest this Labour Weekend

Tune in for the promo of Ben Townley's Speedcross Event
tomorrow, Wednesday 22 October Sky Sport Channel 4 (CH54) and at 9.30pm Thursday 23 October Sky Sport Channel 3 (CH53) at 7.30pm
---
Ben Townley will launch NZ's and the World's first ever Speedcross event at Taupo Motorcycle clubs MX Fest on Saturday 25 October.
Ben Townley, 2004 World MX2 Champion and 2007 AMA SX East Coast Lites Champion has continued a life-time of passion for the sport by developing a new form of Supercross/mix Motocross and Speedway on a specially prepared track.
Having announced his retirement from Professional Motocross racing, BT has fulfilled his desire to provide an event which has spectator appeal with its short, fast 4 riders, 4 laps racing.
Ben Townley: "Speedcross is only a year old. We built the track 12 months ago. My thought process for now in NZ is to fill the gap of Supercross racing as there doesn't seem to be much interest for SX in this country. I have a lot of passion for SX being the only rider to have success internationally. I want to see NZ have a spectator style event and I think Speedcross can fill that gap. A wide range of competitors can ride and compete, we've already had a 50cc mini rider of 4 years of age through to a 72 year old and everyone in between."
With long-term plan in place on the development of Speedcross in NZ, Ben is confidently determined to progress the sport from its initial event to a larger Series.
"I would like to see a stand-alone event for minis, Juniors, Support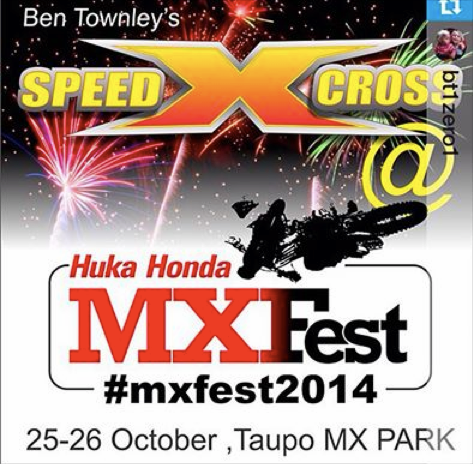 , Seniors and Vets in the near future. After that I would like to see a NZ Series and then after that some International events.
Saturday evening Speedcross schedule is: One class of invitation 'All-Stars' - 12 motos of racing to determine the top 8 - then 2 semi-final races to decide the top 4 for a Final Race."

... and BT is racing!!
There will be electronic timing. Racing starts 6.00pm- 7.30pm at Taupo Motorcycle Club's Digger McEwen Motocross Park, Miro Street, Taupo.

Speed Cross: Video by Andrew Leiataua
https://www.youtube.com/watch?v=GztjLBJILcU
Speedcross: A previous Practice Day by Jono Barnes
https://www.youtube.com/watch?v=0rxt_COFnPQ
Words: Sharon Cox http://www.mxlink.co.nz/