from ... Josh Waters
2010 - What a year! It has had its ups and definitely some downs but it finished on a real high!
I started off the year feeling great and having the Number 1 plate, so going into Round One at Phillip Island I was feeling really confident. Things went ok at the Island and I was fastest or second in every session. The first race I battled for the lead but made a mistake on the final lap finishing third. Race Two was looking good and I was able to get into the lead and put a small gap over the field until the shifter broke and I was stuck in third gear. I was able to limp home in 13th position and the Championship was looking tough!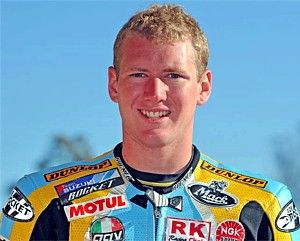 We then headed off to the hot and humid far northern city of Darwin where I had my best round ever being fastest in every session and winning both races which was great for me and the team!
Leading up to Round Three of the championship, Suzuki Australia did something that I had dreamt of doing for so many years, which was organising a test in America with the Rockstar Makita Suzuki team. Yep that's right; the team Mat Mladin and Ben Spies rode for! I raced Round Three of our Championship at Queensland Raceway and finished second in both races, which was good for the Championship, and then the next day I jetted Stateside!
I then tested for two days at the Barber Motorsports circuit in Alabama which was awesome. I was so lucky to have Phil Tainton come over with me. We worked together and ended up with some very good times at the test which was awesome.
We then had a mid season break in the Championship which was cool, but it got a lot cooler when the Rockstar Makita Suzuki team rang asking if I was interested in filling in for the next two rounds of their Championship.
I jumped at the chance, which was and still is a dream of mine and headed back over to the States. Three days after landing I had a test with the team at Willow Springs Raceway. The test was going good until I had a high speed crash and sustained some pretty serious injuries. I am not sure what happened and I don't really want to remember. It wasn't a good time at all for me, my family or my team.
After I was released from hospital I didn't really know what the go was. I wanted to race so bad but my health wasn't anywhere near racing or doing anything really! Once again, I was so lucky to have Phil Tainton there with me and he was awesome.
Once I flew home, Suzuki Racesafe checked me out and really wasn't happy with the results. I was told how serious things were and that I would miss out on possibly the rest of the season, which I was gutted about. To lose the Number 1 plate was so hard, but to hear I wasn't allowed to do anything meant that I started to get really worried.
Throughout this really difficult period the team and my family were just awesome, supporting me the entire time. I would also like to single out the efforts of Don Sakakura, Peter Doyle and the entire team at Rockstar Makita Suzuki. You guys were a massive support, thanks heaps.
Three months later and after a lot of rest and relaxation I got the great news from Racesafe that I was able to ride again! That meant I was off to race in the MotoGP support race which was awesome and even better after I took the win in Race Two.
I then went to the final round of the Australian Championship and again was on the podium which was great.
My final race for the year is going to be really special. It is the 6 Hour Endurance race at Phillip Island and my co rider for the event is my Team Suzuki team mate and hero Shawn Giles!
I remember when I first started road racing that I would stand outside his garage at the track looking in and thinking "wow - he is so good". Now I get to team up with him! I hope we can have an awesome weekend.
I am really looking forward to 2011 with some really cool things looking to happen!
So that was 2010! I would like to thank everyone that has supported me throughout the year, my team, my family and my girlfriend.
I hope everyone has a great Christmas and a Happy New Year.