from ... Rockstar Suzuki
Rockstar Energy Suzuki World MX1 Team Manager Eric Geboers, Clement Desalle and Kevin Strijbos
. These three had a recent trip to contest two rounds of the Lucas Oil AMA Pro Motocross Nationals - with additional insights from respected journalist and publisher Davey Coombs from MX Sports/ Racer X Magazine and Rockstar Energy Racing's own Team Manager, Dave Gowland
.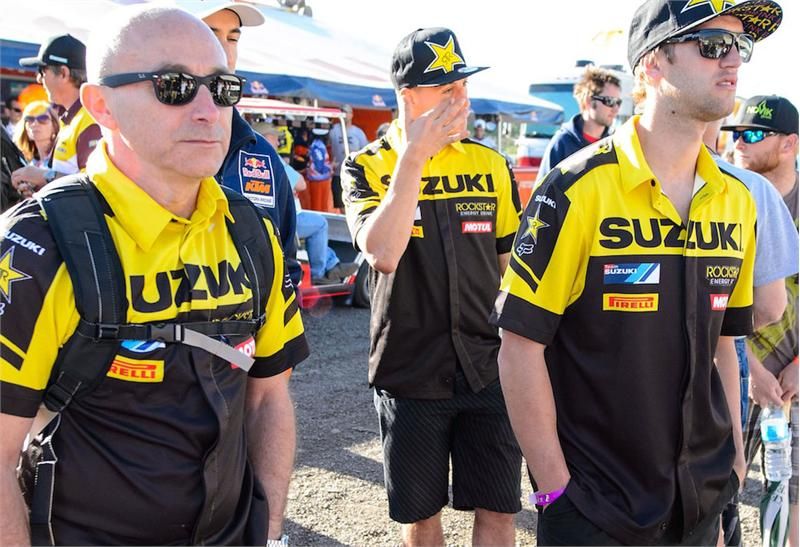 L to R: Eric Geboers, Clement Desalle and Kevin Strijbos
.
The Lucas Oil Pro Motocross Series was recently graced with the presence of our two Rockstar Energy Suzuki World MX1 riders Clement Desalle and Kevin Strijbos. I for one felt very privileged to have them come over to the US and showcase their talents under the Rockstar Energy Racing rig and be part of the team. When I first caught wind of the Mexico round of the GP series being cancelled and the possibility of having the guys, their mechanics and Team Manager Eric Geboers here for two straight weeks, I was ecstatic! I have been fortunate enough to spend some time with them for meetings and when they have migrated here for the USGP rounds in the past. They are all great to work with and fun to be around.
I have met Clement several times and he is a great guy and very appreciative. It was however the first time I have ever met Kevin because he just started riding for us this year. Strijbos was equally as pleasant to be around and they were both awesome to work with at the races. This trip also meant a lot to us as we have been wanting to create a global alliance for a long time now and I think this was a huge step for that effort. There is so much to be learned by both parties when working together and that is exactly what happened. Sure, communicating via email and phone, and just staying in touch is positive but there is no comparison to racing together as one contingent. The value of this type of symbiosis is immeasurable.
Rockstar Energy Racing went home with many things to apply to their program as did our Belgian counterparts. As far as the racing goes, the guys performed amazingly. To come straight from the GP of Brazil, where they finished second and third, land on a Tuesday, test on a Wednesday and fly to their first race on a Thursday takes a great deal of dedication. Then they raced in Tennessee only to fly straight to Belgium the next day to prepare for the GP of France this coming weekend. That is a hectic schedule and certainly shows their passion for the sport. Their results were stellar considering those conditions and I can only imagine how it would be if they had more time. I hope we all see them again very soon, whether they are back over here or I'm over there having a nice Belgian beer and engaging in some good 'ole bench racing: One of my favourite pastimes!
Davey Coombs (MX Sports and Racer X):
"You have to appreciate that World Championship contenders like Clement and Kevin would take a working vacation and come to America which is not an easy place to show-up and race and try so hard. To do it for two weeks, it shows how much they love motocross first of all, it shows how competitive they are; and I thought both acquitted themselves well. If they could have stayed off the ground, I definitely think both of those guys should have been right there in the top-five. Clement qualified both weeks in second so he has the speed; I just think it's so different here. With the deep talent pool in America, they hit the ground running. The funny thing is because he crashed in the second moto, Clement might win the Ricky Carmichael Hard Charger Award which shows he definitely was into it. I imagine if they had another chance they would certainly do better because they know the system now. I know that the fans really appreciated them and the series loved having them here."
Clement Desalle:
"The trip to the US was really nice. It was good but it was really busy. All the time we were flying, waiting to fly, getting rental cars, going to hotels then changing to other hotels. Tomorrow we have a long trip back home. It was really nice though to train on different tracks. I had some good races and some good fun on the bike and also learned some things that we can use to improve in the future. It was a nice team here with all the guys. We checked-out some things in California too and that was fun."
Kevin Strijbos
: "I think overall, the whole trip here went quite good. It was a good feeling. I want to thank Rockstar and the whole team Rockstar Energy Racing for what they did for us. It was a great opportunity and I hope I can come back and do some more races here. We learned a lot from the team here about setting-up the bikes and setting-up the start system we are now going to use in Europe. It was awesome to be part of the team and I'm glad I did it."
Dave Gowland (Rockstar Energy Racing Team Manager):
"Having the Europeans over here for the last two weeks was good. Obviously we've been able to spend a lot more time with the mechanics and been able to get some insight into what they're doing over there. What they're faced with, what we're faced with; and some of the obstacles and challenges that we're having to try and push towards the front. It's been a really good experience to have them over here. The riders are really good. Obviously it's a little more laid back because they aren't in the championship hunt over here and they know that they're not going to be. So the experience to come over and have good results is something that's kind of unique. It's fun, but all-in-all it's just something we've always strived for; to have this sort of Trans-Atlantic effort. I think this was the first step to maybe doing that."
Eric Geboers (Rockstar Energy Suzuki World MX1 Team Manager):
"Both my riders, Desalle and Strijbos experienced a great level of competition in Colorado and Tennessee. Even with the one-day race format, the high temperature and/ or altitude difference - which we are not used to racing in - we can return home with great satisfaction of this US journey. Rockstar Energy Racing prepared two fantastic bikes and level of support which made this transition smooth and professional. Our riders and mechanics are returning home with big eyes and plenty of ideas to integrate into our racing back in Europe. I hope we can see more of these global efforts to establish with all our sponsors. Big thanks everyone who helped to make this happen."