with ... Mike Ahola
Tom Hobbs from Honda Europe caught up with the flying Finn to get his thoughts on his dominance in the E2 category, how he adapted to the fuel-injected CRF450R and to find out what he plans next. Photos also courtesy of Tom.

Q. What does this championship title mean to you on a personal level?

A. It means I am still the best of my game at the age of 36! This season was actually my best ever. I confirmed the unofficial overall title already two days in advance!

Q. Fourth consecutive title! How do you maintain your level of motivation each season?
A. I've had more than my share of bad luck so I have come to understand what it means to ride in a good team with a good bike. Now that I have both I'm not gonna stop before I drop!! I waited 11 years to win my first title so you can imagine that it must take years to satisfy my hunger to win!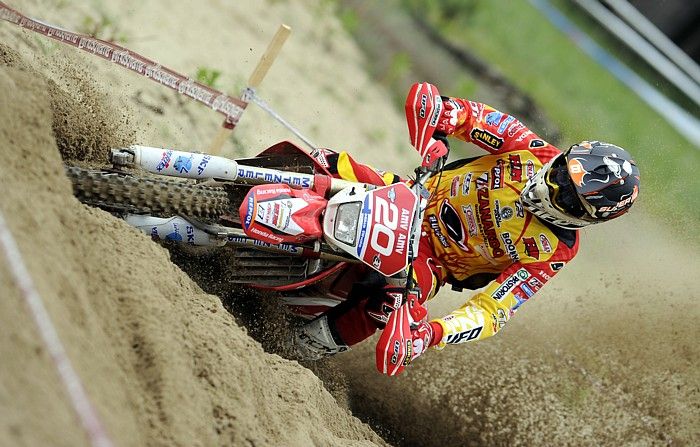 Q. How have you developed the fuel injected CRF450R throughout this year?
A. During pre-season I made different kind of injection/ignition mappings and with the help from HRC Japan I was able to come out with couple of mappings that were really good. Actually I was happy with one mapping throughout the season except Polish GP on sand. There I used a more aggressive map that made the bike faster out of sand berms. We did also a lot of testing with suspension settings and tested many things before coming up with the settings that were good throughout the season on different terrains. In the end small changes made a big difference in how I was able to push the limits on the special test!

Q. What are the main advantages of using the fuel injected CRF450R?
A. We had some races where the special tests were 1km high up on the mountain and this was the first time in my career that I didn't have to worry about the carburetor problems. The bike ran always perfect without bogging or any kind of problems! I was able to change also the mapping during the race just by connecting to cables together and upload a pre-programmed and tested mapping during the race just in few seconds. No more dirty work!

Q. Titles in E1 and E2 with Team Honda- HM-Zanardo. What is next for Mika Ahola?
A. Of course the next goal is to win in E3 against the big boys like David Knight. I lost the E3 title back in 2001 in the last race at the last special test by only six hundredths of a second and I reckon in 2011 the time is right for me to finally claim that title!!

Q. What do you do to relax when you're not competing in the Enduro World Championship?
A. Somehow I relax when I'm surrounded by water. When I do scuba diving in Southeast Asia on holidays I can totally forget about racing for a while. My other hobby is fishing and that I can do mid season in Finland on the lakes.

Q. How will you prepare for next year's title assault?
A. I will prepare the same way I've prepared the last three years. From January on I will be in North of Spain training and from there fly to Italy few times to test the new bike in different conditions and basically build up my confidence on the bike and each day try to push the limits so I could became even faster on a special test.
We are certainly looking forward to next year. Whichever class Mika contests, he will be gunning for his 5th in a row no doubt!