Arnaud Tonus and Alessandro Lupino join Kawasaki CLS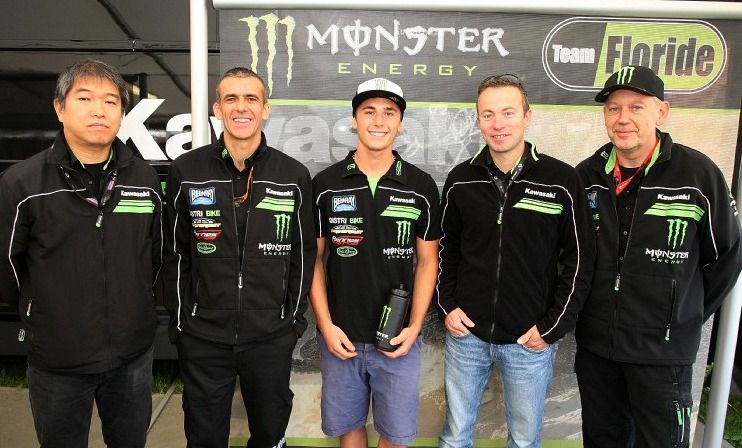 Tommy Searle and Joel Roelants both have to move to the MX1 GPs in 2013 because of the FIM age regulation in the MX2 class and team owner Jean Jacques Luisetti has reacted positively to sign two of the most promising riders in the world as their replacement. Swiss Arnaud Tonus and Italian Alessandro Lupino, each 21 years old, can race two more seasons in the FIM World MX2 Motocross Championship.

Tonus had to miss several GPs because of injury this year but with a Grand Prix podium at the final GP of the season in Germany he showed emphatically that he has all the qualities to be a contender for the World title during the next two years. Fifth in the MX2 World Championship in 2011, Arnaud is currently recovering from a broken tibia and fibula but he will be able to start testing his Kawasaki KX250F in December as he prepares for his fifth GP campaign. His new teammate Alessandro Lupino, a permanent fixture in the top fifteen of the World Championship since 2010, has already started training with his new bike, and both riders will make their first public appearance in several early season races in Europe before the World Championship kicks off in Qatar on Saturday, the 2nd of March 2013.



Arnaud Tonus:

" It's been my dream for a long time to join the Kawasaki CLS team, as I've always been interested in the US series and know how good the Pro Circuit Kawasaki bikes are. I have been talking with Jean Jacques Luisetti for several years now; he has always pushed really hard to sign me but this is the first time that I have been available. Last year I felt that I owed something to Steve Dixon who helped me when I had no ride a couple of years back, so I stayed in his team for one further year. I've signed a two years deal with Kawasaki CLS and I hope that I will soon be back to my best level; this season was tough for me with an injury before the first GP, and then I had too many minor problems when I returned to racing but it was great to get a podium at the last GP. I'm currently recovering from a broken leg, but I could start swimming a few days ago, and I expect to be back on the bike in December. I can't wait to work with Harry Nolte and the team staff, and to test the Pro Circuit Kawasaki."

Alessandro Lupino: "This is a dream come true for me to sign a contract for two years with Team Kawasaki CLS! My very first motocross bike in 2003 was an 85cc Kawasaki, and I immediately had a great feeling with that bike so I'm pleased to be back with Kawasaki. I know that the bike has a huge potential, and I think that my move will be a big step in my career. I have all winter to ride, test and train on the bike; I will be based for several months in Holland as I know that I must improve my riding in the sand and the best way is to go there."



Jean Jacques Luisetti

(Team Owner): "We've been talking with Arnaud since the GP of Portugal, and we always believed in our chances to sign him. We finally reach an agreement at the Nations, and we are delighted as we're convinced that Arnaud has all the qualities to become a main contender for the world title. The team has been on the MX2 podium regularly the past four seasons, and for sure with Arnaud and Alessandro, who each have a wealth of experience in this class, we again have two strong riders. Each of them is just turned 21 and can race the MX2 series for two more seasons."



Harry Nolte

(Manager Racing and Development): "This announcement is a great news, and we will again have a great team again next year. I'm looking really forward to working with Arnaud en Alessandro; I am convinced that we can continue our success of the last four years with these two riders and got many podiums in the MX2 class."



Mitch Payton

(Pro Circuit US): "The target for the future is obvious and we will do our utmost to achieve our goals. I have no doubt that with the experience, knowledge, skills and speed of these two great riders we will be able to challenge for race wins and for the 2013 & 2014 World Championship titles. The signing of Arnaud completes our future planning for the Kawasaki Factory MX2 Team."



Gerard Valat

(Strategic Sport Marketing Consulting): "Arnaud and his entourage are recognised for their great sport ethic as well as human values. His personal commitment and openness make him an example to follow for many riders. The result of this hard work has made him highly sought after by many team managers. Obviously it is always disappointing for a team to lose a rider of Arnaud's quality, and I would like to take this opportunity to sincerely thank Steve Dixon and his crew for their understanding; neither Arnaud nor myself will forget the exceptional support they have provided throughout the past two seasons."

With the signing of Tonus and Lupino to join Tommy Searle, who will make his debut in the FIM World MX1 Motocross Championship in 2013, the three men Team CLS Monster Energy Kawasaki Pro Circuit line-up is now finalised.