Chad Reed in Australia ready for Supercross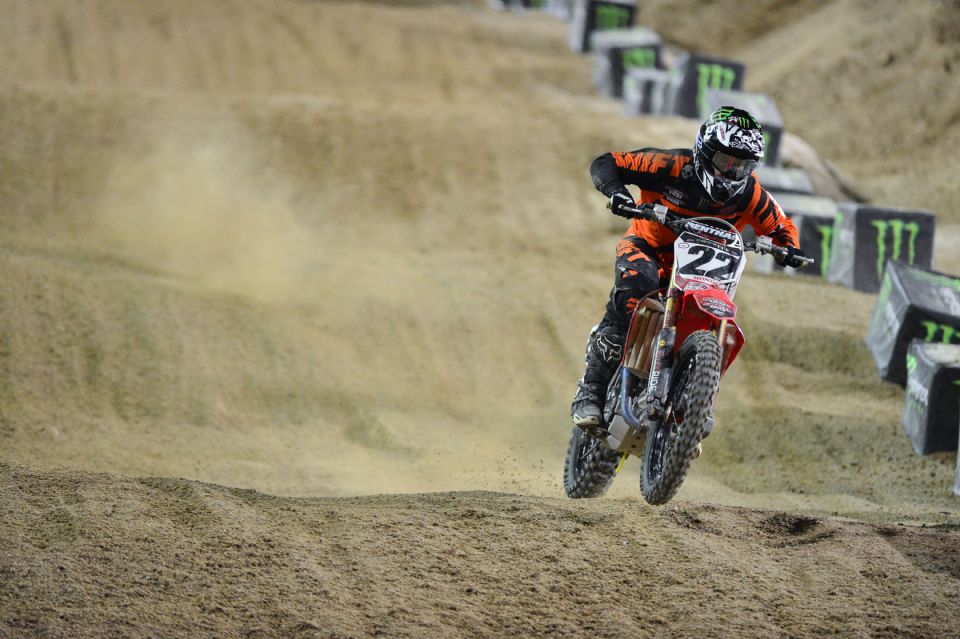 Adding to the spectacle will be the return of multiple AMA/World Supercross Champion and Aussie favourite, Chad Reed, as pictured at Las Vegas last weekend. Photo credit: Steve Cox.
Reed's contribution to the sport is immeasurable. He is a role model to a new generation of riders and continues to inspire after well over a decade as one of the world's best.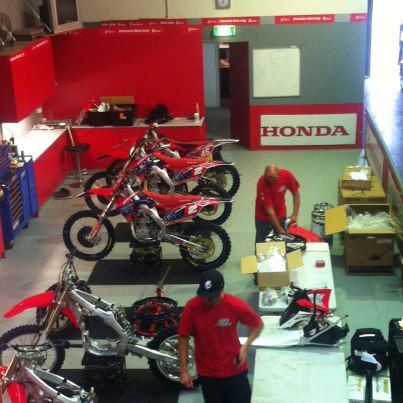 Touching down in Australia with his family, the decision to race the Phillip Island event and remaining rounds of the Championship is one that Reed feels will help his preparation for the 2013 AMA season.
Pictured left are Goose and Lars in Melbourne getting Chad's bikes ready

. Photo credit TwoTwo Motorsports.

Chad Reed: "There is no better test of where you're at in terms of speed and fitness than getting out and racing guys you know are quick. In the US it's their off-season – they've been at it all year and are having a break. I'm fit and recovered and really need to begin building up my race pace and I know the Australian riders are extremely fast and competitive. It will be amazing to race at the Grand Prix – the atmosphere is going to be something else. It's Casey's (Stoner) farewell race and there are going to be hundreds of thousands coming down to Phillip Island for it – hopefully they get a chance to check out the Supercross as well."
Reed will make his first appearance as a team owner/rider on Australian soil, debuting the 2013 Honda CRF450R in the process.
Dubbo surprise packet Daniel McCoy is eager to keep his run of results going this weekend. The CDR Yamaha rider showed good pace and a steady race rhythm to finish a close second to Monster Energy Kawasaki's Jay Marmont a fortnight ago. McCoy feels his preparation for the series will have him in good stead again this weekend.
Daniel McCoy: "It's a great feeling to be back with the team and really riding as well as I know I can. My preparation for Supercross was awesome – I did as many laps as I ever have and it meant I was really comfortable come Dubbo. I actually did some road racing back there in the early 2000's so I'm pretty familiar with the track. It's going to be a great place to hold a Supercross and really show what we can do in front of a big crowd."
The talent-laden class promises close and relentless racing, and, with names like Ben Townley and Ford Dale determined to bounce back after Round 1, fans are set to witness a world-class battle.
The stacked Pro Open field will contest a 20-lap Main Event to round out Saturday's proceedings including practice, qualifying and heats.
The Pro Lites battle is set to be hotly-contested once more as riders try to topple current points leader, Carlton Dry Honda Thor Racing's Gavin Faith.
The US import rode flawlessly at the opening round, but his main rivals, including Serco Yamaha's Luke Styke, feel they can counter-punch this weekend.
Luke Styke: "I feel lots better about this weekend, it wasn't as if I was unprepared for Dubbo however I had been focusing so much on Motocross with the des Nations and it only left me a week or so to get into Supercross mode. It's a short Championship and you're going to need to be hanging it out every weekend, minimising mistakes and just giving it 100%. I'm pretty confident I can take those steps forward I need to be one or two places higher on the podium."
Styke and fellow Pro Lites competitors will face off in a 15-lap Main Event.
In the Under 19s class, Victorian rider Kale Makeham is hoping he can reel in Hayden Mellross after the Honda rider ran away with their 12-lap final in Dubbo.
The KTM-mounted Makeham will face tough opposition from Suzuki rider, third-placed Jay Wilson and a number of other standouts in amongst the 27-strong field.
Rounding out the complement of classes is the Junior Lites field, led by KTM's Aaron Tanti.
As well as the on-track action, fans will have the chance to meet the riders and walk the pits to see the race bikes and transporters up close.