from ... Leon Camier
Well that's the season over and now for a bit of a rest and the time off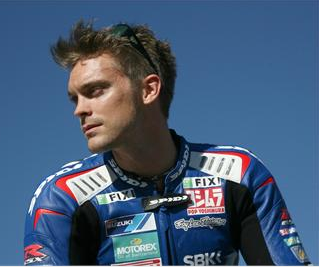 will give me a chance to get my right arm sorted out. It's been playing up for some time now and although it's not been a problem when I'm racing, it's not as good as it should be, so now's the best time to see to it properly, away from the racetrack.
It's nothing to do with any crash, just something that's been on-going a bit this year. I've been pretty lucky this year with my crashes, because I've had a couple of big ones and not broken anything. I think the biggest was in Moscow, when I hit Baz's bike after he crashed right in front of me on the start-finish straight. According to my mechanics on the pit wall, I flew through the air a bit like Superman - and more-or-less level with their heads! I took a real battering, but amazingly didn't break any bones.
The season as a whole has been a bit of a strange one, but we've ended on a very positive note and that's good for me and the whole team. It was no secret that we were struggling a bit to match the performance in the early rounds of the other guys out there, but I knew the FIXI Crescent Suzuki GSX-R had potential, so I never gave up and kept riding at my absolute maximum. My race pace was always up there with the best and we showed that going into the turns I was always able to catch other riders, because the GSX-R has a great chassis, but they would pull away from me on the straights and I'd have to do it all over again. Sometimes I was fighting with guys that I knew I could beat, but the level of competition is so high in World Superbikes that it's important to be on the first two rows of the grid if you want to get good results or you end up having to fight your way through the pack. Many times we'd qualify OK for Superpole, but then wouldn't be able to get into Superpole 3, to give us a chance of being at the sharp end right from the start, so we'd be in the thick of a battle from the beginning and by the time I was in a position to challenge the front guys, it would be the end of the race.
The team worked hard all year to make the bike better and the fruits of their labour started to show around about Brno time and the progress has continued since then. The boys from Motec improved the electronics and we worked a lot with Yoshimura on the engines to get more power from the motor and to give the bike more grunt out of the turns and soon I was able to run with the leaders. It was so good to be able to fight for a top-three place and we showed how much we'd improved by a superb podium at the Nurburgring. There was almost another one in Portimao, when I felt I had the better of Max Biaggi in the closing stages, but a technical problem forced me out - but at least I was fighting with him, instead of looking at him from a distance!
We ended the season strongly and then had a very good and productive test in Aragon and that is good news for the future. It was great to have Josh Waters join us in Spain fresh from his success in Australia. He'd just won the Aussie championship on a Suzuki GSX-R and it shows how close the Suzuki family is that he was able to link up with the team at such short notice to help us out. The data we collected there will certainly help towards next season.
The bike ended the season better than it's ever been and that's down to all the hard work the boys at FIXI Crescent Suzuki have put in. It may not be as strong as the very top bikes, but we're not a million miles off. The team tell me that there's still more to come from the bike and, if that's so, I'm looking forward to starting next season on a much stronger note and fighting for podiums right from the start.