MotoGP Malaysia at Sepang
Pedrosa brings title within reach in thrilling rain-hit Malaysia race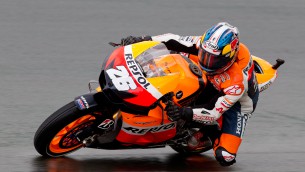 In a race that was declared wet from the start, it was Yamaha Factory Racing's Lorenzo who got the holeshot ahead of Pedrosa. Ducati Team's Valentino Rossi got a good start from 11th to move into fourth within the first lap. Monster Yamaha Tech 3's Andrea Dovizioso, who had a bad start, was carving his way through the pack and soon got past Rossi into fourth to chase down Repsol Honda's Casey Stoner in third.
Lorenzo, having opted for the softer option wet rear tyre, had a small margin over Pedrosa with 18 laps to go, who had the harder rear tyre. All Yamahas on the grid as well as Cardion AB Racing's Karel Abraham had opted for the soft-rear, hard-front combination, with all others running with hards front and rear. A lap later however and Pedrosa was breathing down Lorenzo's neck having closed the gap to a fraction of a second.
Further afield Stoner was leading a group, about five seconds off the leading duo, with Dovizioso, Rossi, LCR Honda MotoGP's Stefan Bradl, Ducati Team's Nicky Hayden, San Carlo Honda Gresini's Álvaro Bautista and Tech 3's Cal Crutchlow. With 12 laps remaining, Pedrosa was continuing to stick to Lorenzo's rear wheel as the pair looked locked in a stalemate out on track. Further back on the same lap, Yamaha's Bes Spies suffered a heavy crash out of tenth place, putting a premature end to his race. He was taken to the medical centre to check on a shoulder injury.
Rossi also dropped from behind Dovizioso back into ninth, as his teammate Hayden fought his way up to fifth. A lap further on and it was drama for Dovizioso as he also slid out of the race, which continued to be pummelled with rain. It was in the final turn of this lap that Pedrosa made a move stick on Lorenzo to take the lead just over the halfway point and the Repsol rider instantly looked more comfortable in front pulling a small gap. In the meantime, NGM Mobile Forward Racing's Colin Edwards retired with a mechanical option.
As the grid headed into lap nine there were further crashes in the final turn as Crutchlow slid off, followed almost instantly in the same place by Power Electronics Aspar's Randy de Puniet. It was a crash strewn lap, with Bradl also losing the front of his satellite Honda, and Avintia Blusens' Iván Silva also crashing out. Back on track Rossi looked in his element as he squeezed past Bautista into fifth. Things were also getting interesting at the front as Lorenzo was being not only dropped off by Pedrosa, but also being closed down by Stoner at a very quick rate.
The rain was coming down heavily with 15 laps left, and Lorenzo suffered a very scary moment, where he saved a near crash just seconds before the Red Flag was shown due to safety concerns. After much deliberating as to whether a re-start would be possible, conditions deteriorated, and the win was awarded to Pedrosa, with Lorenzo and Stoner completing the rostrum. This now puts Pedrosa within 23-points, less than one race-win, of title rival Lorenzo, with 50-points still up for grabs in the final two races. Hayden recorded a fantastic fourth, ahead of Rossi, Bautista, Barberá, De Puniet's teammate Espargaró, Paul Bird Motorsport's James Ellison and Abraham
1st: Dani Pedrosa -
courtesy of Repsol Honda Team.
"This victory is really amazing for me; it's the first time I've won in the wet in my life and I'm really, really happy. I want to thank my team and the people who helped me to get here because when I started racing in these conditions I was weak and they know how difficult it's been during all this time! Jorge set a really high pace at the beginning of the race and I remained calm to stay with him. I knew he was on a soft rear tyre and he could pull out some good laps at the start. Lap by lap I got a little more confident and I could still push and at half way in the race I overtook him and built a good gap. Some laps later the rain came down heave and it was hard to stay on the bike. I was lucky to be able to win this race, and also Jorge to finish second because he was almost on the ground. So, I'm happy for the victory, but especially happy to be able to dedicate it to Ginés, a good friend and member of the Repsol Honda Team that sadly passed away yesterday. This one is for you!"
2nd: Jorge Lorenzo - courtesy of Yamaha Factory Racing.
"If we were riding at 20km per hour it is easy to stay on the bike but it is very difficult to find the limit in these conditions. They made the right decision to stop the race, for us it was great because we might otherwise have finished on the ground and crashed. We used the soft rear where Dani and Casey used the harder one. When the conditions were ok they used less of the centre of the tyre so when the conditions became worse they had more to play with."

3rd: Casey Stoner -
courtesy of Repsol Honda Team.
"At the start of the race, I would have been very happy for a podium. I was considering not taking part in the rain at all as the risks were very high - if I had come off the bike again and hit my ankle, it would have been game over for the rest of the season. As the race progressed I slowly got my confidence back and I was working on different things, as I hadn't ridden in the wet in quite some time. I slowly began to catch the front two but unfortunately ran out of time as the red flagged the race. In a lot of ways I'm disappointed, but I'm happy with the points haul we took today and another podium."
4th: Nicky Hayden - courtesy of Ducati Team
"Those were really tough conditions. I got a good launch, but when Dovizioso got sideways in front of me, I shut off the throttle and lost positions. I was able to recover, but I lost some confidence when the rear tried to come around a couple times. I had to be really patient in the beginning, but once I got rolling, I had good rhythm. It was clearly the right decision to call the race. There was a lot of water those last couple of laps, and it was almost impossible to see, although the rear lights on the bikes helped a lot. In dry conditions, I would've been thrilled with fourth, but I know our potential is higher in the wet. It would've been amazing to give my guys a podium today, but it's a decent result. Hopefully, it can help me come out of the difficult period and give us something to build on."
5th: Valentino Rossi - courtesy of Ducati Team
"Our race wasn't bad because I got a great start despite being so far back, on the fourth row, and then I managed to be pretty fast. I was riding with Dovizioso and Stoner, when unfortunately I started having some problems with my visor fogging, and in those extreme conditions, with low light and a lot of water, it was very difficult. I made a mistake in turn 7, and I was lucky not to crash because it was the same point where Dovizioso, Spies and then Bradl went down. Without that mistake, I could have finished fourth because honestly, Stoner was a bit faster than I was, especially in T2. In general though, it didn't go bad. Of course I would've liked to finish the full race, but there was really too much water. I think the decision to stop was correct because in these conditions, the bikes can aquaplane and you can go down in any corner."
Ben Spies - courtesy of Yamaha Factory Racing.
"What a shocking race, the water on the track was incredible. I'm really sorry for rubbing into Nicky, I thought I had enough space to brake; I'm relieved we didn't go down together and he was ok. It was a close one at the start as well, Dovi spun off the line and we were lucky not to make contact. That was one of the wettest races I've had in a long time, my shoulder's really sore from the fall but thankfully nothing too serious so I'll be able to ride in Australia."
Stefan Bradl -
courtesy of LCR Honda MotoGP
"First of all we must check the data to understand what happened. I took a very good start from the 8th place but it was pretty tough out there because of the wet and slippery surface. But I could lap with a good pace and constant speed but after some laps I had to change the map because we had too much engine break. Since that moment something changed and the engine was pushing me in the corner entries and I did not know what was going on. After that I was back to the standard engine brake but it was too much in those difficult conditions and started to be slower. In the heavy rain I was more careful but suddenly I lost the rear and crashed out. I do not think it was completely my fault and I feel sorry for me and the team."
8th Aleix Espargaró - courtesy of Power Electronics Aspar
"I am very happy, because today we took a big CRT victory in a tough race. I started well and battled with some of the satellite riders at the start, then Randy passed me at a good pace and I struggled to keep with him. Soon that intensity dropped, so I decided to pass him again. Later I caught up with Barberá until it started to rain more heavily and it was almost impossible to stay on the bike -on every corner both wheels were sliding around. Seeing Randy had crashed, I decided to focus on staying upright and taking as many points as possible. That was a valuable result and we must continue like this in Australia, in order to reach Valencia calm and able to enjoy the weekend. I think the decision to stop the race was the right one, because the way the track was made it too dangerous for the riders."
DNF Randy de Puniet - courtesy of Power Electronics Aspar
"Today I made a pretty good start; on the first few laps I felt fine. But when the rain intensified I started to lose confidence. Aleix overtook me, I tried to follow him but he was going very fast, so I tried just to keep my position at all costs. I knew it would be difficult to re-pass him, so the most logical choice, seeing the state of the track, was to try and pick up as many points as possible. When it started to rain more I couldn't see anything at all. On lap ten, the final corner, I ran through too much water and lost the front. It's a pity, but we can't wallow in this and at least we are just ten points behind Aleix. We have to focus on catching him however we can; it will be difficult, but we won't throw in the towel."
13th Andrea Dovizioso- courtesy of Monster Yamaha Tech 3.
"It's a real pity that the rain came this afternoon. We did such a good job during the weekend with the bike in the dry and we started strong from the first session, so to find these really bad conditions was unlucky for us today. I was ready for a really hard race in hot weather and I'm sure I would have been fighting for the podium in the dry. We can't change it and I certainly didn't have the same good feeling in the wet. I had a big slide off the start and lost some places but I managed to get into a fast pace quite quickly. It is very difficult to start a race in the rain with no other time on track in the wet all weekend. I was quite fast but I was lacking rear grip. I could brake very strong but I struggled at exit of the corner. I pushed really hard trying to pass Casey and I lost the front without braking while at maximum angle. I still managed to score some points and finish the race but we expected much more and I am determined to bounce back quickly next week in Australia."
Cal Crutchlow - courtesy of Monster Yamaha Tech 3.
"It has been a pretty disappointing weekend to be honest and another DNF has really hurt my chances of finishing fifth in the Championship because Valentino and Álvaro were behind me in the race. When I crashed the rain had really started to fall heavily and I was braking upright. I must have hit some standing water but I was down with no chance to save it. We struggled all weekend to find a good set-up in the dry and I had no rear grip. Unfortunately it was the same in the rain and we need to understand why for the future. I had to make up all my time on the brakes and I was pushing and got caught out. Phillip Island is a track I love, so hopefully I can put the disappointment of here and Japan behind me to finish the season strong."
---
Moto2 - De Angelis secures season-first win in dramatic wet Sepang race
Following a torrential downpour before the start, the race was delayed by half an hour and declared wet by Race Direction. The first corner took its first casualty as Italtrans Racing Team's Takaaki Nakagami dropped his bike out of the lead. A few bends later there was a further crash with JiR Moto2's Johann Zarco and Tech 3 Racing's Xavier Siméon, also causing Marc VDS Racing Team's Mika Kallio to run off track.
The early stages were being led by Blusens Avintia's Julián Simón, De Angelis and Federal Oil Gresini Moto2's Gino Rea, with the Brit making terrific headway in the early stages. Nakagami, who had re-mounted, fell once again after colliding with JiR Moto2's Eric Granado. QMMF Racing Team's Anthony West had fought his way into fourth and Kallio's teammate Redding was in fifth 17 laps in, as Came IodaRacing Project's Simone Corsi was handed a ride-through penalty for a jump-start.
A lap later, Rea's teammate Ratthapark Wilairot lost the front of his bike, as Team CatalunyaCaixa Repsol's Marc Márquez held steady in sixth, ahead of his Tuenti Movil HP 40 title rival Pol Espargaró, who was struggling in 12th. The weather added yet another cruel twist, as sun started to dry out the track rapidly, with a dry line forming quickly. Márquez was not taking any risks, and Petronas Raceline Malaysia's wildcard Hafizh Syahrin made his way past, much to the delight of the home fans.
With 13 laps remaining De Angelis was in the lead, yet Rea was having great ride and was putting the pressure on the San Marino rider, as West made his way into third past Interwetten-Paddock's Tom Lüthi. A lap later Syahrin pushed past Lüthi as well, as Rea took the lead. The Malaysian wildcard was on a mission as he soon powered past West into third, and then skilfully took De Angelis, and then out-braked Rea for first in an amazing trio of overtakes. With nine laps remaining the rain started to fall heavier once more, and Rea began to fight back with Syahrin holding strong, until De Angelis and West also got involved in the battle for first.
There was however huge drama with seven laps remaining as Márquez lost the front of his bike and crashed out of the race, with Espargaró in a strong enough place to take the title fight to the next race. On the same lap there were also crashes for Kiefer Racing's Mike Di Meglio and Mapfre Aspar Moto2 duo of Nico Terol and Jordi Torres. A lap later, Lüthi also put his bike in the gravel.
With four laps left De Angelis was pulling out a small gap in front with West in tow, but Rea was fighting back venomously as a three-way tussle ensued. This was however cut short as the Red Flag was shown with two laps to go with too much rain falling on the track. Rea was in the lead when the flag was waved, yet the classification was taken from the previous lap, giving De Angelis his maiden win of the season, with West is second and Rea in third, both taking their first-ever Moto2™ podiums. With Márquez's title rival Espargaró finishing in 11th place, Márquez was unable to secure his title with only a 48-point lead and will have to try once more in Phillip Island. Fourth place went to Syahrin, ahead of Simón, Speed Master's Andrea Iannone, Kallio, Smith, Technomag-CIP's Dominique Aegerter and Espargaró's teammate Esteve Rabat.
---



Moto3

- Khairuddin in the history books with Malaysia's first-ever podium
It was however close to being the perfect birthday present for the Banting-born rider, as he was just two corners away from victory before being passed by German Sandro Cortese, who wanted to mark his day of winning the Moto3 world crown in style with a victory.
Starting from pole position, Zulfahmi took the holeshot into Turn 1; but let Jonas Folger pass him in the third corner; allowing the Mapfre Aspar Team Moto3 rider to lead.
"It was a strategy that we decided before the race; learning from our past experience. I know that my bike has a straight-line speed advantage over Folger, so it was no problem to have him in front," Zulfahmi said.
With eight laps remaining, a few rain flags came out in some corners on the track as the rain came. And that prompted Khairuddin to make his move on Folger to take the lead, much to the delight of the local crowd.
"Only when I felt a few drops of rain on my visor mid-way through the race; that's when I decided to pass him and lead. I feared that it might suddenly rain and they might red flag the race. If that happens, I would want to be at the front.
"But, there was just little rain and there was no need to stop the race. So I just pushed," said Khairuddin, who occasionally was passed by Folger, yet immediately overtook back, with the Malaysian rider having the crowd sitting at the edge of their seats as he pushed his KTM machine to the limit.
With five laps to go, Cortese was clearly not content to stick it out and sail to his world championship, as he went past Folger into second to hunt down Khairuddin. And it was a typically breath-taking Moto3 last-lap, with Cortese passing the Malaysian in the final turn to deny him victory at his home track.
"I actually made a mistake at the second last corner and that allowed Cortese to pass me. I tried to fight back at the last corner at Turn 15; but braked too late. I had a slight bump at the entry and then decided second place is better than a crash.
"I am very happy to finish second. I would also like to thank the crowd. They were great all the way and I was really fired up to their cheers. I would also like to thank KTM for the bike…we had an excellent bike throughout the weekend," added Zulfahmi.