from ... Clement Desalle
The 2010 season has finished with my second podium for Team Belgium at the Motocross of Nations. As I said after the event, it feels like I have been second a lot this year! Thunder Valley was still a good experience though and I enjoyed racing in America. Getting to the Motocross of Nations meant passing a tough couple of weeks.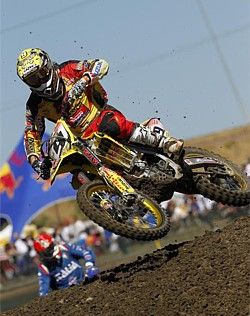 I crashed on Saturday at Lierop for the second-to-last GP and while my teeth and lip seemed to be the priority my backside was also in a lot of pain. I knew Sunday's motos would be very tough but then Sunday evening my butt was incredibly sore and the bruising was unbearable. Monday was very long. I hardly slept and could do nothing for the few days until going to Italy. I couldn't even dress myself. I knew that the Italian Grand Prix at Fermo was going to be so difficult, especially when I saw the hard-pack and all the jumps! I did the wave section for the first time in practice on Saturday: I almost couldn't speak through the pain and I even began to doubt if I could race. I had to set myself the goal of getting a little better and a little faster on the bike with each session. That, combined with some strong painkillers, got me through. The only good thing about the day was that my dentist, who is a fan of motocross, gave me two front teeth to replace the temporary ones he had put in at Lierop!

Sunday was unbelievable. I had two good starts which helped a lot. There was some good fighting for the lead and I was doing OK until the last 10 minutes when the medicine I was taking made me a bit dizzy and my mouth really dry. I wasn't too happy with the first race but took some points and second position in the championship was closer. I used all of my reserves in the second moto and I was happy to win the GP and even happier that I went through all that pain and came out with something.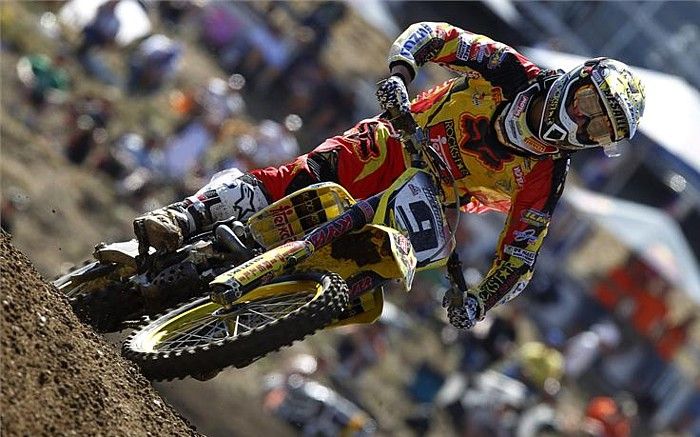 I had some bad luck during 2010 but it was a good season, my first with the factory team, with 11 podiums and another step up with my Championship position. I am not really a party guy but Andrea and I met up with some friends to eat out and relax in the next days and I took the week off just to recover from Italy, let the haematoma heal (I tried to cycle but couldn't move my leg properly) and also my shoulder, that had also been bothering me since Holland with some inflammation.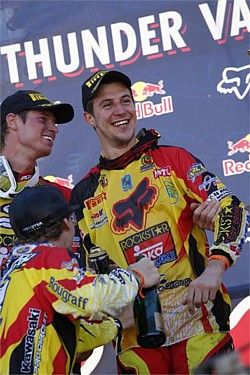 The last round of the Belgian Championship was next at Pierreux but the Friday before my favourite TV show - which is like a French version of Survivor - set on an Island in Vietnam began so I had my dedicated helmet design ready! Pierreux was a really rough track, so many ruts and many bumps; it was hard going for me so I took it easy and watched my team-mate Steve Ramon take the Championship.
We flew to the US on Monday and again had an easy time getting over the journey. Steve and I were together with Jeremy Van Horebeek in the team and also with Joel Smets the Manager. We did some sport together and then rode on Thursday, and then tried to stay away from Burger King! The others went to an ice-hockey game on Wednesday but I didn't fancy that and just looked at some shops close to the hotel.

The Nations is an important event and it is just nice to see all the riders from the different countries, the fans, different colours and designs. There is a special atmosphere.

We flew back from Denver after the event and plan to do some testing with the team in Italy and then Andrea and I will go on holiday for one week to Egypt before starting to think about 2011. Just one week of holidays is enough for me; I start to look for a motorbike if I don't have anything to do for too long!

Clement Desalle on the podium with Belgium team-mates Steve Ramon and Jeremy Van Horebeek with his back to the camera. Photo courtesy of Team Suzuki Press Office.