from ... Josh Waters
The 2012 Australian Superbike Championship has wrapped up and the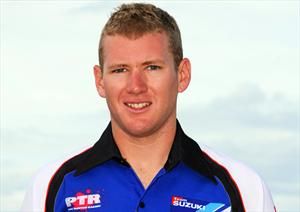 result myself and the team achieved is what everyone on the grid aims to do - win!
To get my second Australian Superbike Championship is an awesome feeling; it's the first year since 2009 when I won my first championship for Suzuki that I have completed a full season.
In 2010 I had a really bad crash and missed half of the year and then last year I was lucky enough to compete in three rounds of the WSBK Championship for Yoshimura.
This year has been great for me so far. To win the Australian Championship was awesome and I was really happy with the speed and how I rode at the Suzuka 8 hour against a lot of top international and world championship riders. I now have two races left for the year, the Australian Moto GP support races - which are great fun - and the Australian Endurance Championship which I know myself and the team will try very hard to defend!
Right after the Championship, our Team Suzuki manager Phil Tainton, the team administrator Lynne Tainton and I went to the Suzuki head office for a meet and greet. The staff members were really friendly and welcoming. I was given a giant poster board which said "Congratulations Josh Waters" with everybody's messages on it. It was cool!
Then, two weeks ago I jetted off to support my brother and team mate Brodie who is competing in the British Supersport Championship on a privateer GSX-R600. Brodie is riding very good over there, not knowing any of the circuits and the results he is getting are really good.
The weather down under is now starting to get really good and in a couple more weeks I think it will be warm enough to get out on the water in our ski boat. In the meantime I'm sure I'll be out training on the DR-Z125, so while Brodie is away I'll try getting some practice in so I can try getting some points back on him in our back yard Dirt Track Championships!
I hope to report back later in the year with some good stories and hopefully with some good news on where and what I'll be up to next year! Like every Australian rider my dream is to have a shot overseas!
That's all from Wildman Waters for now!