from ... Clement Desalle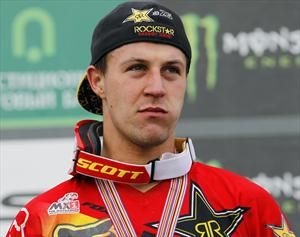 After the UK and my crash in practice I didn't - and couldn't - really ride the bike. At the beginning it was tough to get through the races and the doctor said it would be six weeks before it would be back to normal. It was like a bone break except it wasn't! The pain was the annoying thing and I wasn't comfortable riding, so it was a bit frustrating and doing the GPs in Lierop and Faenza was dragging out the recovery time but I trained in between the races with running and cycling.
By the time of Teutschenthal last weekend I was confirmed as runner-up in the championship and although any motivation for the overall 'bigger picture' was pretty low, Germany was still a race to win so I was happy to go there and even happier when the track started to get a bit better on Sunday.
The Motocross of Nations is this weekend and is a big thing. After Faenza two weeks ago we went to Lommel to do some riding although Jeremy Van Horebeek was not there and then also a week later, before coming to Germany, and De Dycker could not be there! A few days off after Italy helped with my hand and I put my normal schedule into place. Lommel will be my third time representing Belgium because I missed out last year due to my injury. The 'Nations is different and its cool that it is only once a year. I like the little things; like racing against some different riders and having new colours gear, helmets and boots.
Lommel means deep sand but I think we have a good chance to win; I don't think there is a point going to the meeting with any other attitude. We have a strong team and although there will be some excellent sand riders it will be all about the three of us. There should be a lot of fans and support, lots of friends and - above all - it will be good time and hopefully a lot of fun. Pressure really comes from the amount you take on your own shoulders and this is not something that will bother me for Lommel. I know how I will tackle this race.
After the Nations I will take a week off but then we have two testing sessions in the following fortnight for our 2013 preparations. In that free week I will be organising and cleaning everything; emptying the motorhome and doing all the little things that I never really get time to do when you are thinking about the next race through the season. There are a few DIY jobs to be done around the house; painting the bedroom and small things. I'm not too bad with my hands. I won't say that I can build a wall but some of the simpler stuff is fine.
A week later and I will enter the Superbiker Supermoto race at Mettet. It will be my first time doing Supermoto and also at Mettet! They have asked me to do it for a few years now and I've always had to decline but now it was possible and it's a huge event in Wallonie so now I'll give it a try. I will have to do a bit of training and Eddy Seel will help me. I remember a British GP at Mallory Park a few years ago was also hosting a Supermoto GP at the same time and it looked pretty cool for a while. I've not done any racing on asphalt, so we'll see.
Once Mettet is finished then I think it will be holiday time. Andrea and I haven't booked anything yet but I think we will do it next week. She is working so we will need to plan it well. For the last few years we've been to a big hotel just to relax but normally after three days I'm bored so I think we'll do something more touristy this time. I quite fancy heading to the States. We might go to Miami because we can have the beach and also go to Daytona and the Everglades. Daytona will be cool. I love Nascar; the speed, the sound and the close racing.