from ... Antonio Cairoli
GP of Fermo, my home GP, the last MX GP of the year, the last chance to see my fans again ! A really important GP for me. FERMO !!

This track is not easy for the riders. The start is super important, because it's not easy to pass your opponents even in a clear way, and it's a potential dangerous track for injuries, .... but it is a spectacular track for the Italian public !
It was a good day on Saturday, the weather was perfect and lots and lots of fans ! That morning I heard that David and I were now able to ride MXoN in USA in two weeks. I was happy with that great news. I'm gonna' give 222% and try to (together with Alessandro and David) to take a podium for our country, for Italy !!

The training session Saturday at Fermo went OK, ... but I was searching for good places to pass and places where I could make a difference with the rest. In the qualification heat I had a good start, but got passed by Steve Ramon and Nicolas Aubin in the fist lap. I passed Steve back, and finished 5th in the qualification heat.

For Sunday they where able to prepare the track, and that made the track much nicer to ride, with more possibilities and places to pass. In the Warm Up session I also had the fastest lap time and was looking forward for the first heat !

I had a bad start in heat one, I know how important the start is on a track like this but I totally missed the start and was in 24th position. Even though it was not easy, I used a lot of different lines and climbed up 13th position behind Jimmy Albertson. Then I over-jumped a jump and felt an immense pain in my left foot. I tried to continue the race, but I landed on it again, and it was just too painful to continue.

After the knee surgery I had in 2008, I haven't stopped at any race, so I was feeling sad for my fans. The doctor looked at my ankle and couldn't see if the ligaments were stretched, or damaged, or broken. Together with her and the team we wanted to save myself and not take any risks for the Motocross of Nations, and we decided to sit out the second heat of MX1 in Fermo.

Monday after the race I had my foot checked, and I'm lucky 'cause the ligaments are not broken, only stretched, so after a few days of rest I can continue my training again.

I hope and want to show my very best at the Nations in USA. Sadly, I just heard from David (Philippaerts) that he is not able to ride MXoN because he hurt himself in the second heat in Fermo. That's sad news. I wanna wish that David gets well soon, and I know he will cheer for Italy !

So, there is my weekends of the MX GP of Lierop and the MX GP of Fermo. A high point for sure and
definitely the low point of my season. We know that is just part of racing, but we are human too.

Grazie to my amazing fans in Fermo, ... thanks for your support ... and I'm gonna' do more than my best at the Nations for ITALIAAA!

Ciaoo!

TC 222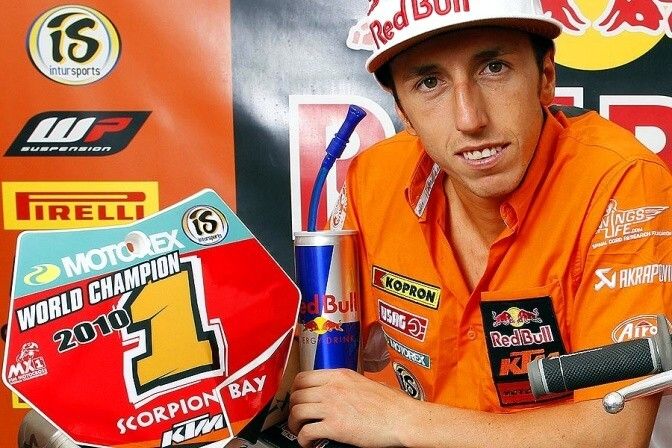 2010 World MX1 Motocross Champion, Antonio Cairoli. Photo courtesy of KTM. Photographer: Ray Archer.