from ... Campbell Bailey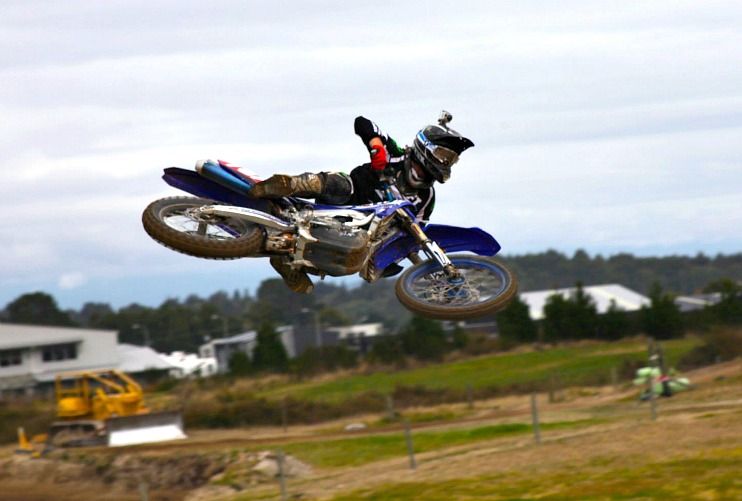 As most of you know the last 6 months have been a bit rough for me. After getting knocked out only 3 weeks before the first round of nationals, my hopes for a top 10 overall were out the door and it was going to be a survival rather than good racing. After missing the first 2 rounds and 6 weeks after the concussion I attempted to race the Harrisville round of the nationals. This did not go well as I had to pull out mid-way through the second moto with headaches and blurry vision. That was that. I again attempted to race at the Taupo round and basically had my doors blown off as everyone was fully in the swing of racing and I was still struggling to concentrate.
A couple months down the track I was selected to represent the South Waikato Motocross Team in the Club Des Nations fund raiser event. I had a good day with a 13th in the MX1-MX2 merger and an 11th in the MX1-Vets Merger. I felt I had a good ride considering I hadn't done all that much riding in the past months.
Another couple months down the track we arrive at the Miniature TT Champs and I still haven't done as much riding as I would have liked. But come summer with a new job in Cambridge I will be able to get in much more riding after work and I am looking forward to 'Living the Life' as they say.
An early start to the Saturday morning as we arrived around 8 after almost a 2 hour drive. I was stoked to learn that we were back in the paddock from 3-4 years ago. I like the track a lot more than the one used in recent years. Practice came and went pretty quickly as there were only 3 laps for each of the classes.
I lined up for the first moto to the middle of the inside. Down the long start straight and I had a fairly good jump. After almost coming together with a couple of guys I came around one of the very few tight corners only to find a downed rider in my path I had nowhere to go and ran over his bike almost going down and putting me back in about 8th-9th. I battled my way forward to 7th and was going after 6th only to get a flat tyre 1/3 of the way through the last lap. I was able to limp the bike home for 11th. I was guttered as you can imagine after having a solid moto going.
Moto 2 was fairly uneventful. A solid 7th place start and I rode well to come home in 6th.
As the days are short and there are many classes at the TT's they were able to get through 2.5 of the 5 rounds. We arrived on the Sunday morning bright and early only to find the track was soaking wet and the rain looked to be continuing. This was somewhat a good thing as I am a solid mud rider.
Moto 3 started and we geared up all ready to hit the cold rain. I got a great jump and came around the first corner in 5th. We slid around track on top of the wet grass with a slight track cut into it and navigated our way around what seemed to be a completely different track to the one we rode the previous day. I rode a solid moto to come home in 5th which I was really happy with as I was coming into the weekend having no clue where I was going to finish.
The rain kept coming and the motos kept going throughout the day moto 4 came and in fresh dry gear I set about getting a gate right next to the dog house as they pulled the marker pegs in on some of the turns. Starting in the middle allowed me to be able to either sweep round the outside or if I had a good enough jump, dive to the inside. I got that good enough jump and just hooked to the inside. I had a great holeshot but was quickly dropped back to second as Mason Wilkie was on fire and no one could touch him that weekend. I ran second for a good 90% of the moto only to make a small mistake in a corner and get passed to drop back to third. After running out of rolloffs and ditching my goggles I was able to get home in the 3rd place. I was stoked I rode a good solid moto to bring it in on the box.
The 5th moto was much the same I pulled another sick holeshot and was again quickly passed by Mason. I managed to stay no too far back from him which I was happy with. But again I was passed for 2nd and had a good race to come home in 3rd.
I was super pumped with the way the weekend went even with the flat tyre. I would like to thank everyone that has helped me out in my crazy but Achievable diet and training exercise. I would like to throw out a very very special thanks to Niki Urwin who has been my mentor from the moment I set my mind on the task. I wouldn't of made it anywhere this far without him and I look forward to improving more whilst training with him again this coming summer.
Again a thanks goes out to all my sponsors Triple B Racing, Bob Mcleary Yamaha, Sports Pro, Fox, Shift, Scott, FMF, Nationwide Accessories, Tsubaki Chains, Pirelli Tyres, Supersprox, EBC Brakes, Extract Visuals, Wilton Contracting and Drainage Systems.
Cheers Everyone!
Campbell Bailey