from ... Kel Edge
Kel Edge is the Suzuki Alstare World Superbike Team Press Officer and has been working with the team for 14 years.

"Well the season is drawing to a close now, with only three rounds left, and it's certainly been full of ups and downs - as motorcycle racing normally is.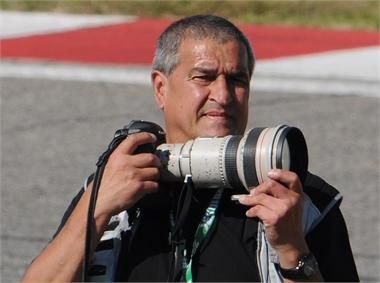 Leon was on fire in the early part of the season and that first win on his Suzuki Alstare debut was one of the best starts to the team's season, since Troy Corser in 2005. The win was not entirely unexpected though because the team had worked so hard over the winter to be ready for the first race. That work allowed us to be competitive right from the start and everything went pretty well up to the seventh round in Miller, when Leon crashed in race two.

Since then the season has been still very successful, but from leading the championship we're now playing catch-up to Max and the Aprilia. Realistically, it is now Max's championship to lose, but Leon will push him all the way for sure.

I have worked with Alstare for over 14 years and have seen a lot of riders come and go, but working with Leon and Sylvain is very easy. Both are very approachable and both understand that press and PR are part of the job and do it with good grace, unlike some other riders.

Leon is very good at giving information and direct and Sylvain is often very funny. Although he is French, he has lived in England so long (and is married to an English girl and has two daughters) that his English is virtually perfect. He even knows lots of slang and some rude words - which he probably learnt in his BSB days! His understanding of the bike has improved greatly throughout the season and his communication with the team is particularly easy because all his crew are French or French speaking. The funniest thing happened at the start of the year when I was waiting to talk to him. He was having his first race weekend debrief with his crew and was burbling away in English for a full 10 minutes before he remembered that they were all native French speakers!

The Alstare team has been involved in the Superbike and Supersport World Championship for the 14 years and have been with Suzuki since 1998. It is regarded as one of the stalwarts of the series and is very professional in its work and outlook, but somehow manages to marry that with a real 'family' atmosphere and the ability to have fun when the racing is done. It is probably the only team in the paddock where any rider can go and have a coffee, beer or socialise on a Sunday night - something that would be unheard of in MotoGP. That atmosphere has been fostered right from the start - at the same time as I joined the team. I feel proud to be working for Suzuki Alstare, but I must say that it is also a real pleasure."