from ... Stephen Sword
Well here's my first Blog for fans of Tyco Suzuki: I know the road racing side of the team has a lot of history, so hopefully between myself and Stuey Edmonds we can raise the profile of Suzuki's official team in British Championship Motocross also this year.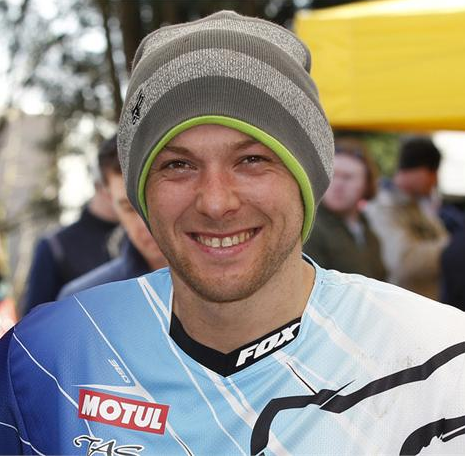 I got a good couple of weeks training and riding in before the British round at Canada Heights. I was determined to have a good result after a slow start at the first round. To sum the day up: it was a lot better than the Fat Cats race - that's for sure! I was disappointed not to get the overall at Canada Heights, even though we were joint top points' scorers, but I suppose I'll have to be satisfied with second for now.
It was a good boost for the team and not a bad day to do it on, with Phil Dashey from Tyco and a few of his colleagues turning up. It was just what we all needed. If we continue to improve like that then we will be in a good position for the Championship.
It was my little boy's third birthday a couple of weeks ago. He got spoiled by everyone and was hyper for a week. We had a party for him with about 30 kids there; it was a challenge but lucky for me, Jodie had all angles covered!
I attended the British Superbike round at Thruxton, which is only about 40 minutes from my house after the boys in the team invited me down. It was good to hang out and have a chat to some of the road race lads. I know a few of them as they started in motocross. The racing was good and even better for the team as Josh Brookes took a great win in the second race.
I went down onto the grid for race two and it's a bit different from motocross to say the least, but cool to see what it's all about. I was pleased to see Stuart Easton doing well after what he has gone through over the past year. I grew up riding motocross with him and I completed my school work experience at his dad's garage in Hawick. Fitting car tyres and starter motors didn't really interested me that much, but the fact that I could take my motocross bike, so Stuart and I could go out practicing after work made it all that bit more appealing.
Let's hope we have some more podiums and hopefully wins to report next time around for Tyco Suzuki. Who knows I might even talk Philip Neill into giving me a run on one of the team's GSX-R600s! Maybe even take in a GSX-R Track Day?
---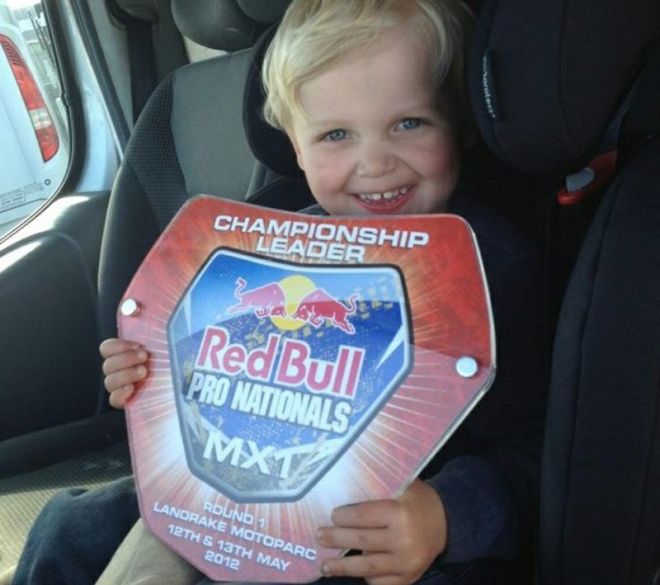 Red Bull Pro Nationals – Round 1, Landrake
Tyco Suzuki's Stephen Sword leads the 2012 Red Bull Pro National series after storming to victory in both Motos earlier today at Landrake in Cornwall.

The former Grand Prix star put the team's RM-Z450 on the top step in both races taking a perfect 50 point haul for his day's efforts in the opening RBPN event of the year.

His young son Ayrton was by his dad's side at the end, and as you can see by our picture, he was pretty happy to get hold of the championship leader's red plate.
Stephen Sword:

"I'm really over the moon with how things panned out at Landrake. It feels great to be back on the top step of the podium and as I said pre-event, a win was just what we all needed. I was pleased with my starts and the RM-Z450 was great off the line. I rode two very strong races; definitely my best of the year. I'm lucky my little mascot Ayrton was with me, so he will be coming from now on. This sets us up well in the Red Bull series and gives us a boost before the next British Championship round also."