from ... Justin McDonald
I just got home from Round Two of the Australian Nationals, they were during the weekend at the Coonabarabran Track. Here's how it went.
We arrived in Sydney on Friday morning and within minutes of collecting our rental car we had already hit the rev limiter, just to test is strengths. Then we pinned it to Chinatown so that Ricey could get his soup fix. My brother Cayle was with me and had taken the time off work to help me out a lot in the pits. He was unfortunate enough to gulp his chicken soup and instantly burnt his tongue. We then drove the 5 and a bit hours north-west to the moto venue.
The track was similar to round one where it was both fast and open. I liked that the track was really wide but it was still difficult to pass on, as there was defiantly a single race line which made it tricky to mix it up too much.
Qualifying was held on Saturday under a slightly overcast sky. It was heaps of fun getting out there and learning the track. I was happy with the feel of the bike and qualified inside the top ten with 8th.
We finished off Saturday with some tyre changes and were prepped for the races to follow on Sunday. My Australian team, MX Factory had sussed out a sweet pit area right by the start gates so we could get a view of the action. They are pretty good like that, and their support over the weekend was awesome. Check them out on facebook at http://www.facebook.com/mxfactory
During that Saturday I was lucky enough to meet Jason of LKI. He set up Loose Kid Industries back in the day and it grew from a few stickers and hats to what it is today.

Check out some of his story here http://www.youtube.com/watch?v=WZSa6JKCoYo

Sunday rolled around and was geared up to with the same structure as Round One with my first two motos back to back ond only 6 laps each then one thirty minute final race for the day.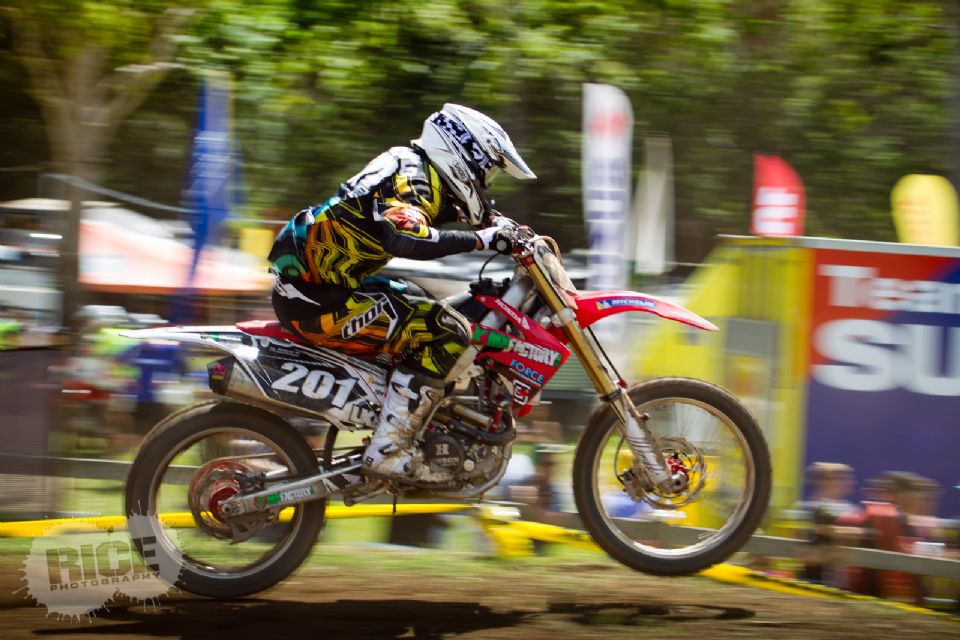 In moto one I was got a semi-poor start and was battling with fellow Kiwi Scotty Columb we went back and forth in a fun battle and I ended the short moto in 8th.
A second disappointing start in moto two saw me outside of the top ten in the opening lap. Starts are so important in national level motocross and I struggled to make passes when it counted. I ended up 10th by the time the 6laps had run.
The final race of the day was a 30 minute moto, so I knew it was important to get a great start, as I didn't want to be playing catch up the whole race. Luckily I got a great jump out of the gates and found myself inside the top group. During the course of the moto I made a few mistakes but nothing too serious and ended fifth by the time the checkers fell.
These results of 8-10-5 gave me in 8th overall for the round but leave me sitting in 6th for the series which still has eight more rounds to run.
The next round, on the final weekend of April (29th), is in Wonthaggi which is just south-east of Melbourne.
I wish to thank all those who have supported me in getting over to Aussie aswel as the MX Factory Team, Jason from LKI and Cayle for their support in the weekend.