The 24 year old Frenchman was recently crowned 2012 Italian Elite Champion for the second season in succession and is being widely touted as one of the main challengers for the MX1-GP crown on his factory YZ450FM. 2012 will be just the second term for '183' on Yamaha machinery but in that time the fast, friendly but quiet racer from Lyon has become a fan favourite thanks to his relentless chase of victory and his unassuming nature. Here Frossard chats about his pre-season build-up and thoughts entering the 2012 campaign that starts on Easter Monday April 9th at Valkenswaard, near Eindhoven, in Holland.
Steve, you had a very positive debut season in 2011 but it ended on a little bit of a downer with the crash in Germany and chest injury. What are your thoughts looking back?
I'm happy with what we did but, like you say, the end of the season was difficult. I found it hard to breath after the crash at Gaildorf and not only was I trying to recover but also watching the days to the Motocross of Nations come and go and eventually I missed the race at St Jean D'Angely and it was tough to deal with. The recovery went OK but I just ran out of time. If I think back now to Germany it was a small crash and not something that you normally think would hurt you because it was on the exit to a corner but I was thrown to the ground pretty hard.
When did you get active again?
I rode a bike for the first time about three weeks after the Nations but it was only an easy outing. It was for my motoclub and a small twenty-minute demonstration for the children at a track close by.
Did you make any changes to your programme over the winter?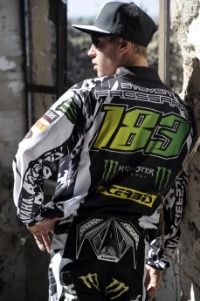 Nothing major. I'm working again with Willy Linden and I follow his training plan. I'm really happy to work with him. Last year my shape was not bad at all so there are no variations to the programme. I think this year my level is a bit higher.
What did you ask to Michele, Mino and the guys in terms of mods on the YZ450FM?
Hehe, when this question first came up from the team I joked 'an electric starter'! I think my goal was to get the Yamaha to be even easier to race in terms of the power delivery and the guys came up with some adjustments that made the YZ450FM feel even better than last year so I was very pleased with how that happened. It was in the corners mainly. The bike could feel aggressive and was too strong for me, so now it is perfect and feels even more agile. We also worked with GET on the electronics over the last month and their GPA system it is pretty complicated but the system helps me with my riding. I feel more traction and it provides confidence.
Akrapovic is a new partner for the team. How do the new pipes feel?
During the first tests it did not feel that different but then they produced another pipe for me and now I really notice it. The team have worked to prepare a bike that is a very good all-rounder: at the start, corners, across whatever ground and we've done well with that job. I think I have a good bike for Grand Prix and if anything we will only need little mods from now on.
Your pre-season went pretty well…
Not bad! At the first race in Valence I had a lot of arm-pump and then for the first Italian race I was sick and needed two days in bed. I wasn't 100% for the second Italian round but it picked up. My riding wasn't perfect in the beginning – not as good as I can be in training – but it built up to a point where I was happy. It was great to ride in the Italian championship and be able to fight with Antonio [Cairoli, MX1 world champion]. It is cool to fight with him. The championship means something in one way but not much in another. I think Cairoli finished second or third in this series last year but ended up winning the world championship!
So the first Grand Prix will be in the sand…
I like the sand now and I feel much better across this type of ground compared to even last year. It is something I have been working on and I think with the better feeling I have on the bike I will be able to show it. Valkenswaard is not like Lommel though. It can be very hard in places and is a bit weird. The next two races will be on hard-pack but it is not an issue for me the change in terrain.
Indeed, we have two South American races for rounds four and five…
I'm looking forward to Brazil and Mexico and discovering new tracks. Everyone will be on the same level and there will be no local knowledge. I like the overseas Grands Prix for the experience of going to different places and also the challenge of racing in a totally different environment.
In 2011 you were bothered by a stretched ligament in your hand. Will it be nice to come into the year without any ailments?
Last year was very difficult at the beginning of the championship and then throughout because there always seemed to be a little problem. At the moment I feel really good and I'd love to keep in this shape as long as possible through the season, you have to accept that you will have some difficulties at some point through 32 motos though.
Last year you were the rookie now you are being talked about as a title contender. How does that feel?
It is not a problem. I ride for fun and prefer to stay focused race by race. This is one of the things I learned from 2011 and my first year in MX1. At the beginning of the season I was just looking at the next GP on the calendar and then towards the last few I was looking more at the points and standings and was making more mistakes. I know what I have to do now for 2012 and also for my focus at the actual races themselves because sometimes I was too hungry for the top step. I wouldn't start so well and would see Cairoli in front and would push too much and be too aggressive, leading to mistakes. I need to be a bit cooler.
Was that your big lesson from your rookie season?
Yep. I looked at Cairoli and he was very cool at times and knew when the odds were against him and that fifth or sixth was the best he could do that day. Desalle was also like this.
You said late last summer that you didn't want to talk about making the Nations and sadly you were proved right…! I guess all questions will be off for 2012…
We will see! I said that last year because I am a little bit superstitious and after Gaildorf that little dream was over. As soon as I crashed I thought 'I'm second in the world championship, I must get back on the bike' but I tasted blood in my mouth and I knew I had to get it checked. In the end I could still take that position in the series but it was disappointing to miss St Jean D'Angely.
After the Nations is also the SX-MX hybrid Monster Energy Cup in Las Vegas. Would you go?
Yeah! If I am healthy and don't have any problems then I will go for sure. It will be fun and I'd like to try a race like this.
Copy and images courtesy of Yamaha Motor Europe N.V.
#template#]thumb_vertically[#/template#]