with ... Jay Foreman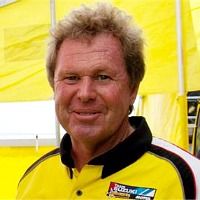 The start of the New Year is always a busy one for Motul Pirelli Suzuki as we prepare for the 2012 MX Nationals and Australian Motocross Championship, which starts on April 1st at Conondale in Queensland.
At the beginning of February we headed to New Zealand for the opening round of their national motocross series, where our 450 riders for this year, Cody Cooper and Todd Waters, raced. Cody is the reigning MX1 Champion and is very determined to defend that title this season.
We actually spent a week in NZ testing in the lead-up to the first round, which was important as Todd further adapts to the RM-Z450. We have increased engine power for this year as that's what Todd looks for in the bike, plus we have found a new direction in suspension settings that Cody is also looking to try here in the coming weeks.
Round one of the NZ outdoors at Timaru didn't go exactly to plan for Todd as he crashed out of the event in moto two, bruising his back quite badly, which he is still recovering from. He did finish fifth in race one though, which was a good start against some very strong local competition.
Cody finished fourth overall at the first round, and then in round two at Patetonga he improved to third for his first overall podium of the year in NZ Motocross. Todd didn't make the trip to round two and he won't make the penultimate round this coming weekend either. At this stage we are uncertain if he'll return for the final round.
Next week on Wednesday, March 7th, we'll have the official launch of the MX Nationals in Australia, which we'll also use as a test day out at Appin in New South Wales. Todd, Cody and our Lites rider 'Scuba' Steven Clarke will be at the event, so we'll use the week to test and find settings for each rider.
Scuba arrives in Australia this week and we are looking forward to having him here, although he is still gaining 100% fitness after suffering a broken wrist during Super X here late last year. We're always working on development with the RM-Z250 and I'm confident Scuba will gain some great results with the bike in 2012.
One thing that we will have to focus on this year is completing more tests in sand as the series will be returning to Wanneroo in Western Australia and also Hervey Bay in Queensland during the season. It will be important to get ready for those events, so that's something that we will be working on.
All in all, we have a great base to start from for this year and the Motul Pirelli Suzuki team is excited to get the ball rolling. With two MX1 and one MX2 bikes on track this year it will be a busy one, but that's something that we're all very much looking forward to.