with ... Zach Osborne
The fact that the Virginian has factory status as part of Yamaha's six-rider-strong assault on both FIM Motocross World Championship categories in 2012 is further indication that Osborne is on the threshold of something very promising indeed. Two podiums from four appearances in the AMA West Coast Lites Supercross series this January adds to the sense of expectation for the coming months where he is likely to go head-to-head with names such as Herlings, Searle, Van Horebeek and team-mate Arnaud Tonus for the crown.
Thrown in at the deep-end mid-GP season during 2008 for the Utag Yamaha crew (now the Dixon splinter of the Monster Energy Yamaha set-up), foiled by injury in 2009 and partially in 2011, Osborne still managed to pack-in a comprehensive British Championship title in 2010, GP podium results for the last two campaigns and the prestigious Marty Moates Cup at Glen Helen for his home event in 2010 for best performing American. His victory at the Grand Prix of Turkey in 2009 is still a career highlight.
Osborne has been a Yamaha regular since his arrival in Europe where he has won fans and admirers for his approachable demeanour, dry sense of humour and a riding style that veers on the commendable side of 'wild'. An electric starter, Osborne also makes the YZ250F work hard, showcasing the durability of the machine and its potential across the diverse terrain of the Grand Prix trail. Here @thereal338 speaks about his recent supercross adventure and the upcoming opportunity ahead…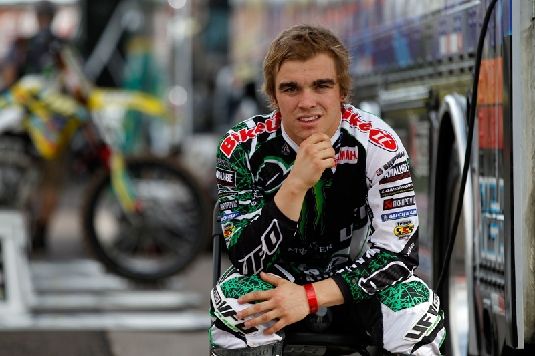 Zach, it was a calculated risk to do Supercross during the GP off-season but what advantages did it carry for you?
Fitness, confidence and something I wanted to do, even from last year really. We had talked about it before but now the timing was right. In terms of the physical demands doing those races was about a maximum performance thing because your heart rate is so high and you are in an intense environment for such a short space of time. What we did in the U.S. will help with my intensity, my fitness and my sharpness coming into the season.
We've seen Gautier Paulin and Ken Roczen indulging in some supercross races pre-GPs and it seemed to do them good…
Yeah, I think so. For me, it was a good opportunity to get some time on the bike, good exposure for the sponsors and also nice to have the chance to race on U.S soil and in front of the Supercross fans again. We had some good help from Yamaha U.S.
Can you explain a little about how you set up your YZ250F for Supercross compared to motocross?
Well, the engine is identical. The only big difference is that here we were not allowed to use some of the carbon components that we can bolt on in Europe. The gearing is the same and the suspension is much harder than I would have for the GPs or motocross. Obviously you are pushing the bike all the time and with so many jumps on such a short circuit the set-up has to be different to cope with that. We worked a lot on the suspension and did a great job with Ohlins in the last couple of months. It has been a big effort, especially by people like Cosworth, but I have never been happier with the Yamaha than with the race bike I have now.
How long did it really take to get back into the Supercross 'swing'?
It took me about six weeks to get my timing 'down' and get to a position where I could turn laps and then turn a lot of laps. It has been an intense process because I only started riding in the middle of October and that was after a two-month layout with a shoulder injury. It was a quick transition but it went well. During the last three weeks I felt like I was ready to go. I felt like I was up to 22-23 laps in my motos and felt solid at a good pace on what was a gnarly track.
Supercross is obviously a one afternoon-evening hit. Each event must pass pretty quickly…
It goes by really quick. At a GP you can be at a circuit for four full days. Here you arrive Friday afternoon, get the bike out, get Tech control done and then most of Saturday goes past so fast that you don't get time to blink. You cannot beat racing in front of 60,000 people and be on the same stage as the big guys in the sport. It has always been a dream of mine to race supercross in the SX class, at the highest level. So it is motivating to be here. If you come into that stadium and see all the show…if it doesn't get your blood going then nothing ever will.
The first lap of a main event seems crazy with many riders jostling for space and a myriad of obstacles to contend with. What's it like?
If you are at the front then it is not too bad, it almost seems 'quiet' but in the pack it is chaos. Everyone is dicing because they don't want to let the ones in front of them getaway and need to block those behind them. It is bedlam on the first lap when you have twenty guys hitting a triple all at the same time. It can get wild!
With the tracks being so tight can you still line up a pass or is it a case of banging bars to overtake?
A bit of both but it is more of a block-pass situation. You can't really set it up a few corners before, you just know in the moment when it has to happen. When I was chasing Rattray in Phoenix there were a few places where he was a little bit faster than me and then some places where I was quicker than him so it was a give-take every lap and it was harder to line him up. Looking back now I should have been more aggressive in the first few laps than I was.
Does Supercross take a different mindset?
Yeah. It is so tight and technical and everything needs to be more perfect compared to motocross so I think it shows if you are not physically fit or zoned in with your timing. The tracks are short and one mistake can mess up a whole entire section. It is about keeping momentum and keeping the bike wound-up. It is a completely different form of racing. We are all on dirt-bikes but that's about the only similarity.
How do you feel about the 2012 Grand Prix campaign?
Good. I've had a completely different set-up and approach going into this season compared to the past so it is a little difficult to judge where I am. I haven't really done any motocross riding yet or a lot of endurance training that I need to do but I have been able to get a lot of confidence from what we achieved in Supercross. Another good thing is the feeling or more familiarity with my 2012 race bike. I'm back into my training and prep for the GPs now and I feel like I am ahead of the game. I think it is fine that I've spent more time at home this winter. I don't think I needed to be in Europe watching it snow!
What about becoming a Monster Energy Yamaha rider and the Dixon-led set-up coming under the works umbrella?
I think it is a big step for Steve and for me in terms of publicity and profile. To have a company like Monster Energy associated with the team is a big deal and having that status of a 'factory rider' is an honour. It's great news for everyone involved and really the beginning of a new chapter and chain of possibilities. I feel like I am on the verge of a really good season. It has been five years that I've been building back to a factory level status and I'm going to give it everything to make sure it has been worthwhile for Yamaha and Steve.
Musquin and Roczen – MX2-GP world champions for the past three years – have moved on. How do you view your chances for the title now?
Obviously I need to be right in there for the championship. This is my last year in MX2 and could be my last year in Europe as well. This could be my final shot to win a world championship. There are a few guys who are going to be 'right there'; Tommy, Jeffrey and Arnaud will be good. I will have to put my head down and get the results every weekend.
The opening round of the season will be in the sand at Valkenswaard and home turf for Herlings. You'll need to be switched-on for that terrain to start the year well…
Yeah, for sure. My sand riding wasn't that great last year and I think it is something I will be better at this season and I have a whole schedule planned for sand before the first Grand Prix comes. I think with eight weeks of riding in the sand I will be able to make something happen.