from ... Round 1 at Timaru
Justin McDonald:
Round one is in the books and I am stoked after coming home from the opening round.
The Backflips track was the venue for the racing and Sunday was the day.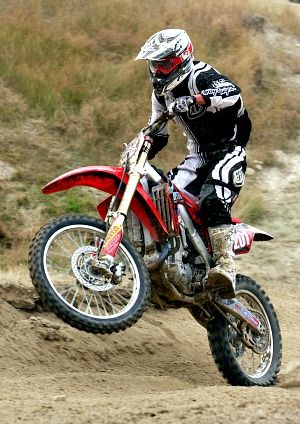 My mechanic Rooter worked like a mad dog in his own time to get my suspension dialled. I can't thank him enough for making that happen as it really made a difference, allowing me to enter each moto with more and more confidence.
During the morning we had a timed practice/ qualifier and I felt good on the bike. The track had been groomed and watered but I knew it would get rough and become demanding on the body as the day wore on. During the qualifier I was not worried about the others in my class, I just focused on the bike and getting it right for the day. I had heaps of laps to suss the track and I was able to put in a few fast laps towards the end when I felt more comfortable and happily qualified fifth.
There were three motos set for the day each one running for around 10 laps. In moto one I did not get the jump I wanted from the gate and spent some time just outside the top five battling with my team mate Michael Phillips. We went bar to bar for a while and I eventually got by him and then on the same lap picked up another spot from Hamish Dobbyn. This put me into 4th at the checkers. I felt good about making passes on the track, but knew I'd need a decent start to capitalise in the next one.
Moto two came after a break in the programme, in which they had watered the track. I got the start I needed and found myself chasing Townley, but being hunted by Coppins. I was able to run a good pace and, for the most part ignore my hands which were giving me grief and starting to cramp. I was pretty comfortable on the bike and was happy to finish third after the 25 minute moto.
My final race of the day was the last one of the programme. I had an awesome battle for the first few laps with Michael Phillips. Sadly he came off the track and hit a fence which left me racing on my own. I could see Cooper ahead of me but never got into a position to make a pass. Towards the end of the moto I had stayed at a consistent pace and cruised home in fourth.
These results of 4-3-4 were enough to give me third overall for the day. I now look forward to the 26th where I will continue the championship with Round two in Patetonga.
Thanks to my 2012 Sponsors, Bel-Ray Honda, Troy Lee Design, Pirelli, RK Chains, Renthal, Timaru Honda, TCX Boots, Dragon Goggles, Torque Construction, A-FAM Sprockets, Etnies, Unit, Sommy, Yoshimura, Braking, 201Racing.com
---
Michael Phillips:
Qualifying: I got into the ripped lomy track and started to put a few fast laps in early. I was having a little bit of trouble with a few sections so I tried to focus on those while getting some good times. I qualified in 7th place.
Moto1: I had a good jump out of the gates and came into the nasty dog leg first turn in the top 3. In the second turn I got stood up by Josh Coppins and went straight ahead instead of turning. I got back on the track without losing many places. I got stuck behind KTM rider Hayden Clark for a few laps and the top 3 got away on me. The track was fast and one lined that made making up time very hard. I had pressure from team mate Justin Mcdonald and old team mate from Australia Todd Waters. I wasn't able to hold them off and I finished the moto in 6th place.
Moto2: Again I got a good top 5 start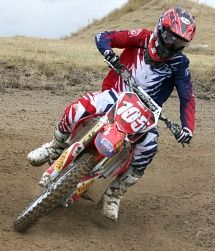 and made my way into 4th by the first lap. Mcdonald was in 3rd about 5 seconds in front. I pushed hard to catch up to him and got within 3 sec of Mcdonald but when a few lappers got in the mix he pulled back the time I had gained on him. I finished the race in 4th.
Moto3: I settled into 4th behind Suzuki rider Cody Copper but made a few little mistakes on the dusty but freshly watered track. I again had Mcdonald on my back wheel and we battled for a few laps until I jumped a little big into a burmed corner. I went over the burm and got stuck in a fence. I was lucky to get out but I had lost around 7 places. I managed to climb my way back to 8th by the end of the moto.
It could have been a better day for me but being my first motocross race sense the final round in Australia back in July last year I wasn't beating myself up about finishing 5th for the day. The weekends racing has given me a lot to work on and being the first round of the championship and my first race in this season I know I can do better.
Again a big thanks to Big gear my mechanic, Bel Ray Honda and all our other sponsors that make racing possible for me and the team.
Cheers
Mike Phillips
---
Micah McGoldrick
Hi all, hope you all well
The last three weeks have been full on with training and my racing that have only just started for 2012. Woodville GP and Gold Nuggets were a really good warm up to the first round of the senior Nationals held in Timaru. I had my goals straight, my body feeling healthy, I was ready to race and ready for all the rounds.
Round 1 Timaru: This round was the closer to home so I had friends, family and pretty much riding my home track to ride with give me a good feeling that made for a good weekend racing.
Practices and Qualifying went good. I was feeling it and the track was perfect and it showed on the lap times. I Qualified 1st , 4 seconds ahead on the 2nd fastest.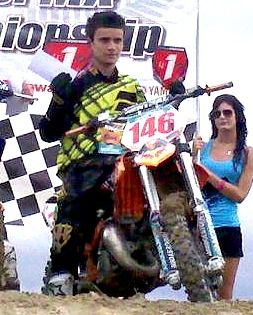 Moto 1: I got an okay start after a mistake round the first corner witch put me in about 7th place. I made my way to front and took the lead within 3 laps. I check out and took the Moto win by over 20 seconds.
Moto 2: Moto 2 was off to a much better start with getting the holeshot. I checked out and did my own laps and took the moto win.
Moto 3: 2nd hole shot of the day, check out and won the moto.
Overall it was a great day racing, with wining all three motos making it a hatrick. It is an awesome way to start the season. My main goal is to make it though the season injury free and come out on top. Big thanks to my coach Antony Sproull of performancemx – thanks for getting me strong, fit and skilled up for this challenge.
Thanks for all your support. Micah
---
Kieran Leigh
Practice/Qualifying: First time on to the track and it was awesome. It had big jumps and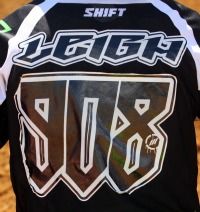 the club had done a really good job on it. I tried to get some fast laps in early before arm pump came on but only managed 14th fastest which wasn't what I was after but the times were all really close.
Moto 1: I got out of the gates around top 5 and in lap four some guy decided to clean us both out in a turn which snapped off my front brake pretty much ruining moto 1 -19th.
Moto 2: Another top 5 start but lacked sprint speed in the start of the moto which caused me to drop out of the top ten but I battled hard the whole way made some passes back into 9th.
Moto 3: 9th Last moto and another top 5 start and I tried a lot harder to not get dropped in the beginning of this moto I did a lot better but still found myself in 9th my fitness felt really good and I charged the whole way and with five minutes left passed my way through to 7th until the last lap, all on my own tipped over in a rut and went back to 9th.
Overall: 11th That is not how I planned to start off the season! I felt I had improved a lot from Woodville gotten more and more comfortable on my Kawasaki and improved fitness wise, I also lacked in some speed in the first few laps and falling in the last lap is not how its done! My starts were good in every moto and my bike was great so I know what I've got to work on now for round 2.
As always, a very big thanks to everybody who helped out so I can be out there racing. My family, Deanzie for being the mechanic, Kawasaki, Bridgestone, Metal Mulisha, Shoei, Spy optics, Shift, NineTwo Decals, ODI grips and RICE photography.
Thanks and cya at round 2
Kieran Leigh #908