from ... Blake Gillard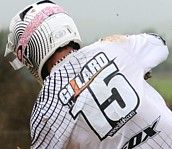 Hi Everyone.
Thought it was time to give all a quick update as to what has been happening. A couple of months ago MNZ announced that the 2010 MX nationals were to be cancelled and run in Feb/March 2011. So I thought this this was the ideal time to get an operation on my left wrist. I have had a couple of niggling breaks that have become very painful and were effecting my ability to ride the way I wanted. I have successfully had an operation where my ulna and lunate were anchored and wired back together.
Unfortunatly one of the ones that was in 2 pieces was beyond fixing so part was removed and a new part was grafted off my ulna. I have been in a full arm cast for 7 weeks and have 2 to go. I will be putting a lot of time and effort in to my rehabilitation and strenghtening. My 2011 SXF 350 is sitting in the showroom and I can't wait. I will however be at least 4 weeks after getting the cast off before getting on the bike. Norm Cobb from Suspension Tech has logged a couple of hours on the bike and his first reaction is he is very impressed. I would like to take this opportunity to thank all my sponsors who have stuck by me and assure you i will be back on the bike and hopefully back to speed.
Thanks again,
Blake