from ... Micah McGoldrick
Woodville GP

Woodville GP is always a good warm up and test to see what the speed is and who you have to beat. With some of the top riders from New Zealand and from the world, Ben Townley and Josh Coppins, its always good to watch and also to learn.
Friday was the first day. Due to bad weather the racing was postponed to the Saturday.
Saturday. Weather came right, track was ripped and ready to go. Practice, the track was wet but already started to rut up nicely. Got the fastest time in practice so I was feeling the track and my new 250f was going so sick with the FMF on. I was excited for moto 1.
Moto 1. I got a great start with getting the holeshot. I raced my own race and focused on my lap times. I pulled out to a 30 second lead over 2nd place.
Moto 2. I got another great start, leading everyone round the first corner. I was focusing on consistent lap times. And pulled off a second win.
Moto 3, was a bit more exciting. With me getting an okay start, I was making my way though the pack. Within the first lap I was able to work my way back to second, within a few more corners I took the lead, passing Haki on a fast outside line.
Last moto of the day was the champion of champions when all the 125 and 250 riders have a race to see who's the fasted. I got the holeshot and checked out taking win.
Sunday-Senior Day: I was racing National 125, my goal was to win but I ended up having a short day. I won the first moto but a crash in the second moto put me out for day. It was on the first corner, not a good place to crash. I was sitting top 4 when a rider got loose in front of me and came across my line taking my front wheel with it. I got hit by another rider, he run straight into my lower back. After having a good junior day I decided call it a day, with my body feeling sore it was a good call not to continue racing.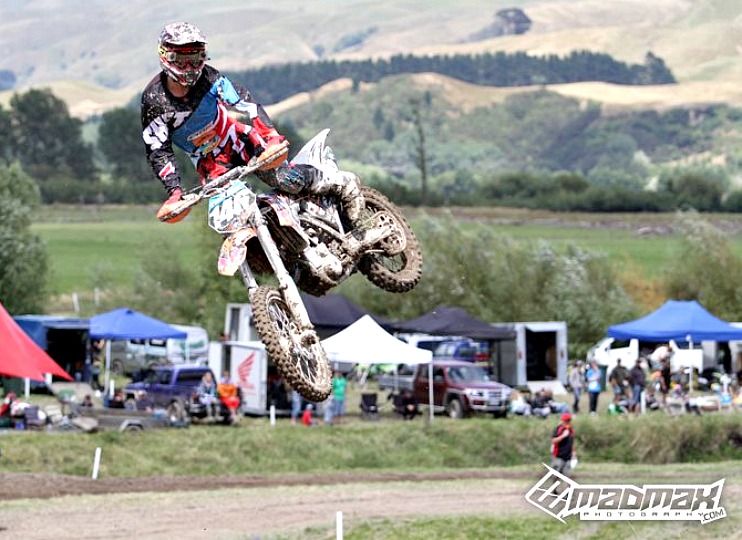 Image courtesy of Guy Maxwell.

---
Gold Nuggets 4-5 February 2012
With the event being round for so many years there is always a good vibe feeling in the air and soo many people camp it makes out for an awesome weekend. With some of New Zealand top riding being there, Scott Columb, Justin McDonald and Josh Coppins everyone new there was gonna be some good racing.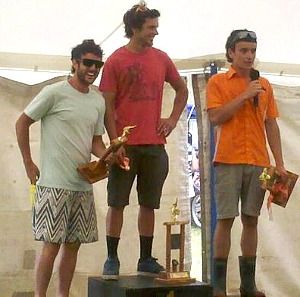 There is one thing that puts a lot of people off the Golden nuggets is the rocks on the track. The club did a greats job at laying sand down so it reduces the amount of rocks. The track was good though the whole event, fast track made for a 1.35 lap time.
My racing went really well all weekend, with me beating some riders that I didn't expect to beat make for a wicked weekend. One of the best feelings I've had for a wee while was beating Justin McDonald in Moto 1. A mid-pack start for Justin, probably didn't help him, but for me getting the holeshot and giving it my all I could pulled off a the moto win. The next 4 motos Justin won. I held off Scott in the overall points to finsh the weekend 2nd.
Overall it was epic weekend away with my coach from PMX coaching Antony Sproull. We achieved more than we hoped, it was a good warm up to Timaru next weekend.
Big thanks to the hole CMR Red Bull KTM Race team and all their supporters and everyone who makes it possible for me to race.

Kind Regards Micah