from ... Ryan Dungey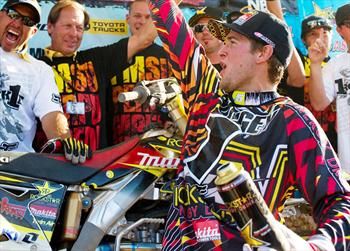 My rookie season in the AMA 450 class has been what I hoped for - and right now it feels like a dream come true.

Coming into this year, I knew that I would have to work really hard to be competitive at the top level of our sport. At the start of the AMA Supercross season back in January, I knew that I had the physical part of my training regime down, but I would just have to wait for the gate to drop to see how I stacked up to the competition.

The same went for the Motocross season: A few weeks after winning the Supercross title, I had to line up for the start of the Motocross series, and that first race at Hangtown didn't go as I had hoped. I spent so much time focusing on winning the SX championship that I didn't get to the first race of the MX series completely prepared for the new obstacles and pace of the Outdoor series.

But thanks to my Rockstar Makita Suzuki team, we got my RM-Z450 dialled in by the second race in Texas and I went 1-1 for the day there and felt confident that we could attack the rest of the season and get up on the podium. With Roger DeCoster helping me along the way and my mechanic Goose - who's always on top of his game - I lined up at every race, confident that my team was behind me 110%.

I took home the 2010 AMA Pro Motocross Championship last weekend and I couldn't have done it without the dedication and talent of my team, my sponsors; and my family. Winning a championship isn't a one-man show, and while I was out there on the track racing, having everyone behind me is what helped me cross the finish line first.

Thanks to everyone who supported me this year! We have two races left on the schedule and I want to go out there and race my best. Even though the championship is done, Roger always tells me that a racer is only as good as their last race and I want to focus on finishing the season the best I can.