from ... Luke Burkhart
After a day to forget at the Whakatane Summercross at the end of 2011 I was super motivated to start off the new year with results i know I am capable of. Whakatane was a really tough pill to swallow for me with a combination of bad bike setup and bad luck resulting in me leaving the place with two broken ribs and a hard knock to the confidence levels!


It took a few weeks to be able to train again from the rib injury so leading up to the Woodville GP i had only had one solid day on the bike. After watching me ride a lot of people probably struggle to believe me about the major lack of riding but thats exactly how it played out.


I have always loved Woodville because nobody gets to ride there all year so it is a perfectly level playing field to battle it out. I headed to the track feeling positive and ready to put the hammer down, I definitely enjoy the racing loads more now that I don't get to ride near as much.

Timed qualifying was up first and i felt really good on my new CMR KTM race bike. I fired the first shot by securing the fastest lap by over a second so I was on the pace for sure. I definitely take the qualifying seriously and today was no different.
The first race rolled around and I got a solid start and was in 2nd early. I hounded Shaun Fogarty for a few laps before making a move into the lead, I settled into a rhythm and pulled a bit of a gap. I was comfortable until just before the last lap when I crashed in a tight turn, I got going quick enough to keep the lead and grab the race win. It felt awesome to get that monkey off my back for sure!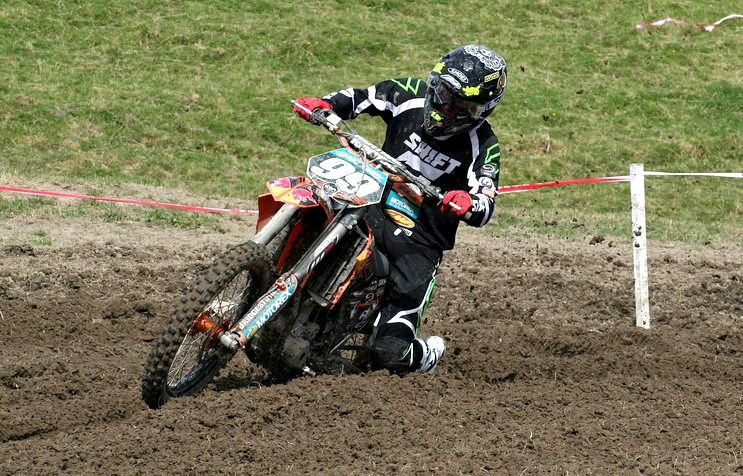 Race two and I got a similarly good start and snuck around the inside to get straight into the lead. It was a short five lap sprint race and I had a really good battle with my best bud Darryll King and held him off to grab another win. Getting the win in the second race was super important for me because it takes a huge amount of pressure off for the last moto because now I don't need to win to get the Overall.
The third and final race approached and I was keen to emulate the other two races and get out front and ride smart. Once again I got an awesome jump out of the gate on the KTM, I snuck tight around the first turn and grabbed the early lead once again. I was feeling the best i had all day and my bike was handling amazing! I basically put the hammer down and pulled a solid lead in the first half of the race, I then settled into a smooth and comfortable pace and rode smart to get the win and the clean sweep. Scott Columb mounted a late charge but I felt in total control and was only doing what I needed to do.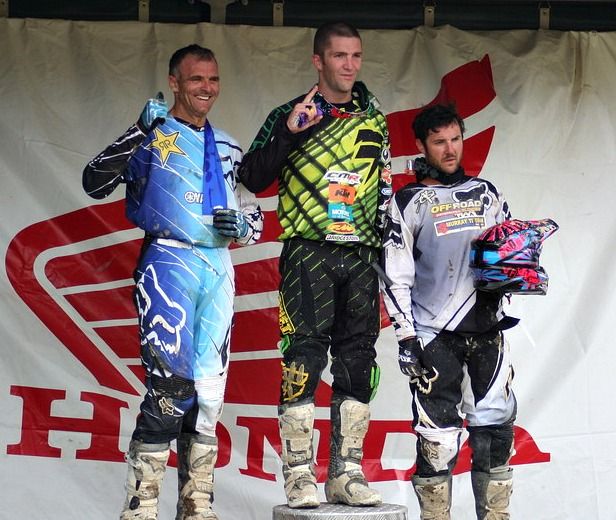 2nd Darryll King, 1st Luke Burkhart, 3rd Scott Columb
.
Dick Koers image.
I immediately realized exactly why I love this sport so much. The feeling you get when you win an event like Woodville, after all the hard work and sacrifice I made over the summer is an indescribable feeling that can't be beat! The MX2 class was stacked with fast guys so to win all three motos was super special to myself and the CMR Red Bull KTM Team.
I now shift my focus the the New Zealand Championships which kick off in Timaru on February 12th. I am going into the Championship this year with a lot of knowledge from the last season and will not be satisfied with anything less than the Number 1 plate at the end.
As usual a huge thanks to my team CMR Red Bull KTM and my sponsors: Red Bull, Motores, Shift, Dragon, Bridgestone, FMF, Shoel Helmets, Illicit, Renthal, Alpinestars, Etnies, SockMaster, FCR.
I will keep you all updated with my progress once the Nationals kicks off.
Keep it real!
Luke Burkhart
BURGA