from ... Justin McDonald
Sponsored by Honda and in its 51st year, I had to make the trip up to race as it is an essential stop on the motocross calendar.
The thing I like about this track is that it returns to the grass roots of motocross, a track that nobody gets to ride before the event, creating an even playing field on race day. I was in the MX1 with the usual suspects fresh of their supercross seasons, Cooper, Coppins and Townley who had returned to Woodville after a few years away.
I knew it was going to be a tough day, but the track was looking sweet after a huge day of junior racing and lots of rain on Friday. The club had worked hard overnight to get it up to scratch.
We headed out for a timed qualifier/practice and I took this time to get used to my new set up as my Race bike was away getting prepped for the NZ nationals. I was a bit surprised when the white flag came out and had to put then hammer down to get my qualifying lap. I qualified 5thwhich gave me 5thgate pick for all three motos.
By the time moto one kicked off the track was still pretty smooth and the ruts were not too gnarly. I got a decent start which saw me leading for most of the opening lap. Townley got by and I settled in behind him. The moto was 9 laps long, and although I didn't get tired, I lacked some of that spark needed to win. I was happy with my overall result but felt I needed an electric shock to boost my intensity.
Moto two was run as a sprint race with only five laps before the chequered flag dropped. Sadly I spent this whole time playing catch up after a shocking start and had to make a pass every lap to get my way back to fourth before the end. I was able to make the same pass a number of times by mixing up my lines in the famous Woodville bowl.
Before the final round there was an international moto in the programme. This was a mixture of MX2, MX1 and 125cc, with the 40 fastest riders in the gates. I got a decent start again and found myself back in fourth. I was keeping an eye on Scott Columb who was behind me but I rode consistent to finish behind Cooper in fourth.
The final moto was the last one of the weekend, making it the roughest the track could have been. The ruts were long and the track was dry, I got the exact same start as the international invitational moto and got the same result. These three 4th's saw me get 4th in the class (surprise)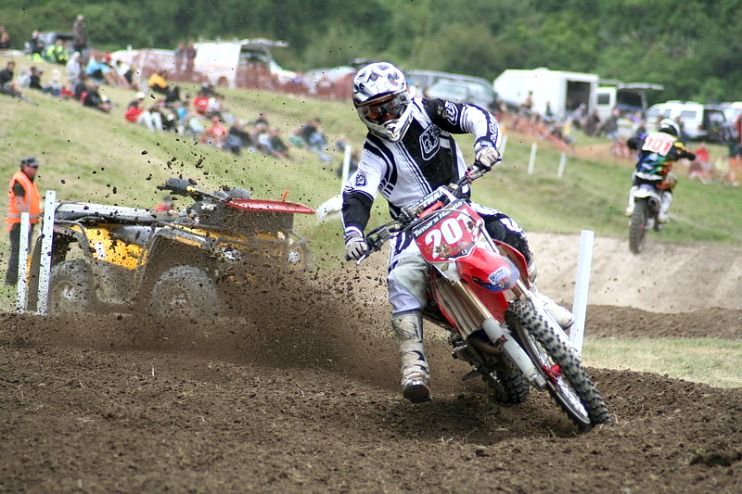 Image and thumbnail courtesy of Dick Koers.
I feel like I got what I needed out of the weekend and know what I have to do to prepare for the opening round of the MX NZ Nationals in Timaru on the 12th. I will definitely return to Woodville next year as it's an awesome event and one of my personal favourites.
Thanks to my 2012 Sponsors,Bel-Ray Honda, Troy Lee Design, Pirelli, RK Chains, Renthal, Timaru Honda, TCX Boots, Dragon Goggles, Torque Construction, A-FAM Sprockets, Etnies, Unit, Sommy, Yoshimura, Braking, 201Racing.com