with ... Zach Osborne
One of the few American riders racing on the world scene it is little wonder that he is gaining more fans in America and around the world. The previous weekend in Los Angeles Osborne finished on the podium in the Lites class at the Los Angeles Supercross. It was a big result to finish so well up in the Supercross series and one he is happy about. Last weekend at Oakland he was 3rd overall and is 3rd in the West Coast Lites Championship.
The goal is to hone his skills even more and then head back to his British base and start the hard work that goes into fighting for a World Motocross Championship.
For Youthstream, Geoff Meyer talked to him about his success and also his preparation for 2012.
How did your Supercross podium compare to your first Grand Prix win in Turkey?
To win a Grand Prix is a big deal for an American rider, but also to come back to my own country and to do well in a Supercross on a European team, well that is also big. We came here to race out of my van, but Rock River/Yamaha stepped up and gave us a spot under the tent and their semi. But to do it the way we've done it and to get a good ride for Ohlins and all the people involved is really good for us. It feels really awesome.
Monster Energy has a huge presence in the GP's, but in 2011, they were with the Monster Energy/Rinaldi/Factory Yamaha team with guys like David Philippaerts, Steven Frossard and Gautier Paulin. When did your team sign on with them?
At the end of the year, Steve made the decision to take the Factory Yamaha deal, which comes along with Monster Energy. It's Monster Energy Factory Yamaha racing. They decided to go with that, so Monster Energy is our new title sponsor for this year.
So your team will now be under the same umbrella as the Rinaldi/ Monster Energy Factory Yamaha team in 2012? That's a powerful merger.
Right, they pretty much have the MX1 effort, and we have the MX2 effort, even though they have one MX2 guy and we have one MX1 guy.
You're only doing four rounds of Supercross; obviously the goal is to be FIM World MX2 Champion that is your priority, right? What is your schedule for 2012?
This year I'm going to do some British Motocross Championship rounds and a few Dutch Championships before the first Grand Prix in Valkenswaard. I'll obviously do all the FIM World Motocross Championship rounds, and we'll do most of the British Championships.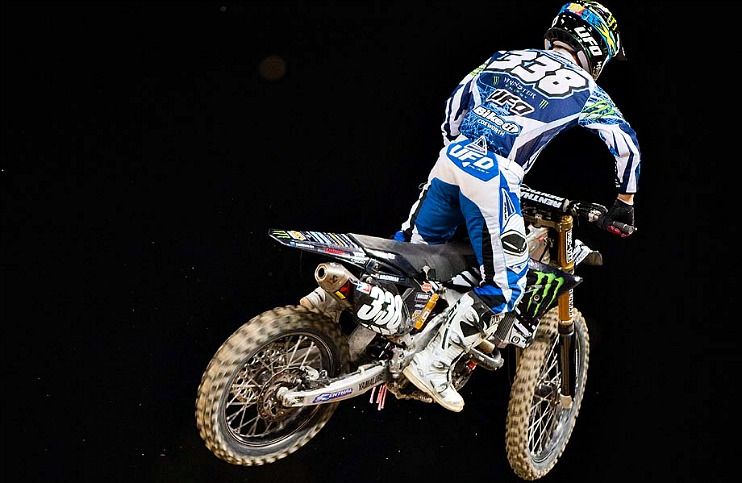 Photo courtesy of Youthstream. Photographer: Steve Cox