from ... Phil Tainton
Well it seems like an eternity ago since my last report and in the racing world,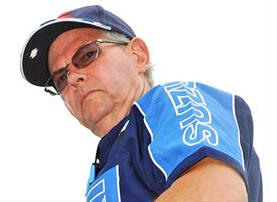 and as so much is happening all the time, it seems even longer.
These last two rounds have been a little hard on the Team with Tasmania and Phillip Island only one week apart, but all the riders enjoyed it as they have been on their bikes so much and it has showed in their results.
Tasmania was another Race meeting combined with the V8 Supercars, which is always good with large crowds and a lot of excitement and enthusiasm. Josh rode really well apart from a mechanical problem in the first race whilst in the lead and a very convincing win in the second race with another lap record.
Troy had another really good meeting with a second and a third to cap off an overall third place for the weekend; Troy is doing a great job in his first Superbike year and learning more each meeting on setting up a Superbike. Brodie has been riding a Prostock GSX-R1000 we built up for him for the V8 Supercar rounds as there is no 600 Supersport class at these meetings. Brodie had a perfect weekend with pole position and two race wins.
So then it was across Bass Straight, two days in the workshop to prepare all the bikes and head down to Phillip Island for the final round. This was a very good finish to the year with Josh winning the overall Superbike for the weekend, Brodie winning the overall Supersport and Troy was third overall, so all riders on the podium for the weekend was pretty good and everyone in Team Suzuki left the final round happy and enthusiastic looking forward to 2012.
The Team is now preparing Superbikes and Supersport bikes for the Phillip Island 8 hour Endurance on the first weekend of December where Team Suzuki will contest this gruelling event over three days in both of the major classes.
Overall this year has been a bit of a roller coaster ride with Josh missing two points scoring rounds and a possible 100 points, but looking at him ride in the latter part of this year, I can see how much he has improved (if that was possible) with the overseas experience.
Troy has certainly had a great first year on the Superbike finishing third overall for his efforts and is learning so much in setting up his bike and I feel Troy is ready to take it to the next level in 2012. Brodie is riding the best I have seen him ride in this last round and I think putting him on the Prostock GSX-R1000 this year has built his confidence to go out and win races.
The Team is now focusing on the 8 Hour Endurance and then we will be having a short break over Christmas and then start preparing the all-new GSX-R1000 L2
So I hope you all have a great Christmas and safe New Year and I will look forward to reporting on our results in 2012.
Best Regards, Phil.