from ... Mike Phillips
Round 1 was at the Knights stadium in Melbourne. It happened to be in a part of the city called Sunshine. Unfortunately it wasn't sunshine that we got that afternoon. It rained off and on all day.
The track was rock hard underneath and made it very tricky to ride with all the rain.
In my heat I managed to get a good start and settle into 5th. I wasn't going to push it and I finished the heat in 5th qualifying me for the main event later that night.
The main event was supposed to be 2x10 lap races but because of the weather they gave us one 12 lap main instead.
In the main I got off to a good start on my Carlton Dry supported Honda CRF450 and was in the top bunch on riders. By the 3rd lap I had passed a few riders and settled into 5th behind KTM rider Ryan Marmont. I wasn't able to make a pass and the conditions were getting worse. I rode the rest of the race in 5th until the laps lap when I stalled my bike taking it a little to ezy through the woops. I lost one place and finished the race in 6th.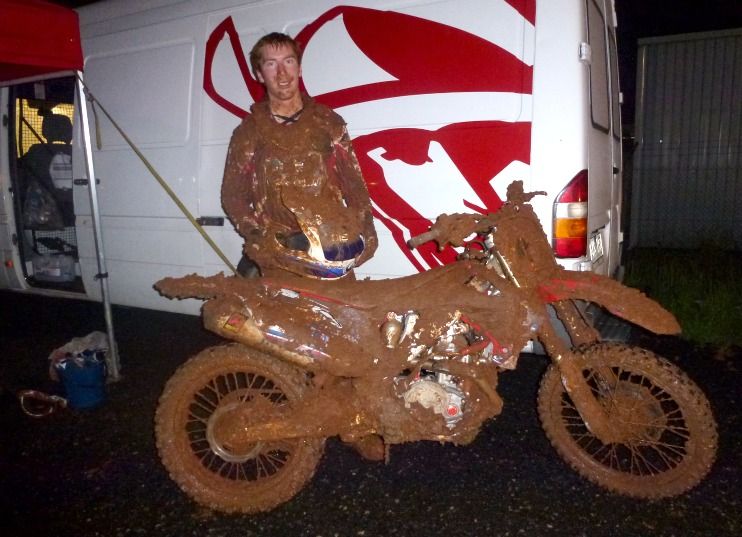 ---

Round 2 headed to the WIN stadium Wollongong NSW . The weather was looking really positive all day.
I qualified 12th fastest in timed qualifying but I knew I had more as I got arm pump trying to throw the 450 around the tight Wollongong track.
In my heat I got a good start and settled into 3rd. I had a charging Kawasaki rider Billy Mackenzie behind me and fallow Honda rider Todd Waters. Waters made a pass on me and when I tried to change lines to get him back I got out of rhythm and went down.
I got back on and finished the heat in 7th. The top 9 go through to the main.
Main event time and yip the rain and lightning had arrived. The event organisers put everything on hold while the lightning was hanging around. In about 2 hours the track had changed from a sweet sx track to a bog hole.
Again they decided to only race one main event. We lined up on the start line for our 15 lap main. The rain had stopped so it wasn't going to get any worse.
I got a good jump and came into the first turn on the outside of the top bunch. It was all looking good until I got pushed off the track and onto the wet plywood boards. I spun around a few times before getting back on the track in almost dead last. I put my head down and started making my way through the pack. I wasn't sure who I was lapping and who I was passing. I wasn't sure where I was coming either. I was just trying to pass as main riders as I could. By the time I crossed the finish I had battled my way up to 7th place.
---

Round 3 was held at Campbell town stadium Sydney.
Weather was looking a lot better for this one.
Practice and timed qualifying didn't go that great at all. I struggled to put in a solid lap and after I had a little crash I just tried to get into a rhythm.
I was hoping to get a better feel for the track in my heat race and it was all looking good until I had bike problems on the start line.
I knew there wasn't much time before the last chance qualifier so we raced back to the pits and changed a few things that we thought it could have been. We got the bike going but it wasn't 100%. I wasn't keen on riding Supercross on a bike that wasn't 100%.
I had to sit out the last chance and the rest of the night. After going over the bike the next day we narrowed the problem down to a faulty kill switch button. I was disappointed not making it to the main but knowing that we did everything we could to be out there made me feel a little better.
I learnt a lot watching and have a few things to work on this week ready for the 4th round this weekend in Maitland near New Castle.
Championship: 10th
I'll keep you updated on how it all goes
Mike Phillips