from ... Josh Brookes
Silverstone finished up on a really high note but it kicked off as quite a difficult weekend for us. I look forward to all the racing, but particularly Silverstone, as I like the track. At the end of Friday we still had some big steps to make and I was quite a bit slower than the times I'd done in previous years. It was quite difficult at that stage as I was so far off the pace.
On Saturday morning things slightly improved with the bike set-up: suspension, tyres and things like that, but big changes came when we swapped the engine for qualifying which changed the whole pattern of the weekend and we qualified really well [P3].
We've had two engine specifications for the best part of the year and so far I've favoured the one that's good low down and mid range. The one I ended up using at Silverstone is more a top-end power engine and hasn't as much down low and off the turns.
There was good encouragement from the lap times and I believed the races were going to be strong for us. The first race went well but towards the end I made a mistake and dropped off Tommy in third; then within a lap I was straight back on him again so I knew we had the speed. Unfortunately, as soon as I had someone blocking my ideal line, it meant taking a risk to get a pass made. And knowing that I was in the Showdown and already a few points behind, any mistake or failure to score was going to rule me out of the Championship - so I didn't want to do anything that would result in a non-finish. As it was the best I could finish was fourth.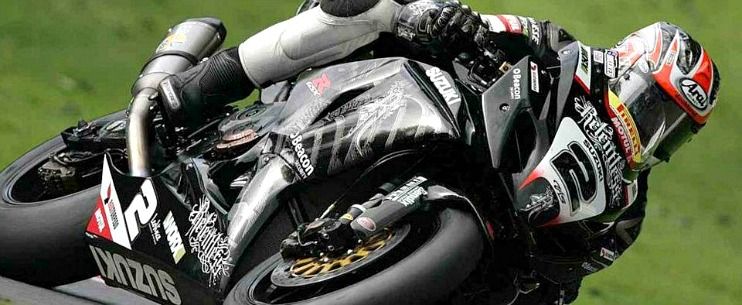 In the second race I started from Pole as I'd the fastest lap of race one. I didn't get a good start and after making a mistake on the first lap I got pushed around by a few riders trying to move forward. I'm actually proud of them for giving me stick, as that bit of a 'beat-up' started a new pattern for that race. I was back to eighth at that point, so I just focused on one person at a time. I didn't look ahead or how far away first was; I was just concentrating on one rider at a time. I'd pass him then focus on the next guy and the next guy. Then it was Shakey in front of me; Michael Laverty, Hopkins, Tommy - and then I was in the lead!
From the first race I knew I had the speed, but to come from eighth to first place was a bit of a shock to me as I didn't realise I had that much speed over those guys. It just took those first laps getting beaten up to bring the aggression out.
That was the end of Silverstone and I feel like I've come a long way since the last time out at Donington. You've got to believe in yourself before anyone else will. I know I'm capable of races like that but some weekends it doesn't happen; some seasons it doesn't happen as you just don't find that comfort zone. Other times you can push like that and the set-up doesn't allow it to show. Inside your helmet you're giving it everything you've got, like the last round at Donington. I actually think it was the hardest I've ridden for fifth and sixth place.
If you look back at the Brands Hatch GP race in the damp conditions... that was easy for me. I was the quickest rider on the track and I wasn't being pressured by anyone, riding at my own pace and where I felt like the limit was; which happened to be faster than everyone else. I didn't have to push any limits. It ended as a bit of a disappointing round after getting shafted with my grid position for the second race and we were forced to retire from the third, but I didn't get hung up on it. We did our best and it just didn't all go our way.
We did some testing at Cadwell before the BSB round there. We were in a really strong position coming into the round and I felt confident in the bikes. Qualifying wasn't ideal but I still felt we were good enough to put in a good result.
In the first race of the triple-header I was stuck in fourth place behind Rutter and I could see Michael Laverty and Tommy Hill shoot off into the distance. They had been running at my best speed all day and more, so I knew they were going to be strong. Unless they started to race each other and mix it up no one was gonna catch them, but I was more concerned about having Shakey and Kiyo right behind me.
Shakey was going to potentially take points off me for the Showdown and Kiyo was my closest rival, and the riders behind him were trying to knock me and Kiyo out of the top six. I was in a vulnerable situation and I knew I had to get in front of Rutter who was really holding me up, and get away from the guys behind. Four or five laps went by and to me Rutter's bike was a rogue that weekend - they'd done something special with the engine and I couldn't find a way by him.
The only pass that was remotely possible was out of jump at the Mountain and into Hall Bends, which I had used as a passing place the year before. The only chance Michael had to make the top six was to beat everyone in front of him or crash trying to do it - so he had nothing to lose. So the fact that I got alongside him, he obviously just switched off and waited until I backed off, but I didn't have to as I was on the inside - the controlling position here. If anyone was going to suffer it was the guy on the outside, which just so happened to be Rutter.
That didn't seem to come into his mind, even though he has more experience than anyone in the field, and in my eyes he didn't act as a professional should and he ended up on grass. Subsequently he voiced his opinion and the officials favoured him instead of me, but it didn't bring his points back, so I didn't see the point in him kicking off. And it didn't really affect me as I was still inside the top six and it also didn't have a massive bearing on the Championship. All it cost me was one podium credit.
I forgot about it going into Sunday. I can't remember too much about that first race apart from I got a fourth behind Michael, Tommy and Shakey after having trouble with a tyre. In the final race of the day I got on with it, rode my best and ended up finishing second. I had to make a few passes. I made a good one on Michael Laverty in the chicane before the Mountain and I was right behind Tommy at the finish.
Donington was the next round and another track which I'm happy to ride at, as it's a good circuit. But sometimes being excited and confident about a track doesn't turn out a result and that's exactly what happened. I went there with so many expectations and right from the get-go it didn't work out for me. I just couldn't seem to find the rhythm in myself and the confidence in the bike to qualify well. We found a bit more in morning warm-up and I felt that put me back on the page for the races.
I rode as hard as I ever have for a fifth and a sixth, as I've already said, and the speed and effort I was putting in... I really would have expected more. Especially in the final race which was quite disturbing. After Shakey and Michael Laverty came together it pretty much handed me a third position. Even if I wasn't at my best, with those two out it should have been quite easy to roll round and finish third. But I was riding my backside off and I still couldn't keep Kirkham and Jessop behind me. It would be so easy to blame the tyre and the set-up of the bike, but it was a bit of a downer for me and the team that we couldn't put in a stronger result on the first weekend of the Showdown.
The aggression did come out at Silverstone in that second race when we won after a few people had served it up to me. I was like, 'well don't criticise me for hard passes if you're going to do it to me,' and it turned into a really good race. If I can harness that and take it with us to Brands then we should be okay. There are definitely some good points to focus on going into Brands, as we've had success before and the bike's good there. I'm good in the wet or the dry at this stage, so we don't have to be concerned with the weather, providing it doesn't snow!
Last year Kiyo won three races and everyone crashed so you just never know. I know for sure I'm going to Brands a lot more relaxed than a few other guys are, so that's gotta count for something. I'm chilled and relaxed and if fate plays a role then I'll let that take care of it.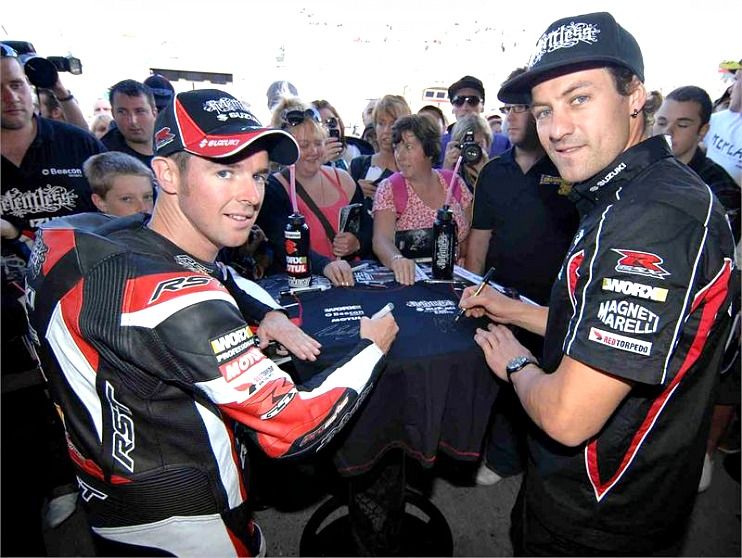 Alastair Seeley and Josh Brookes. Photos and copy courtesy of the Suzuki Press Office.