Leok joins Desalle at Suzuki MX1 in 2012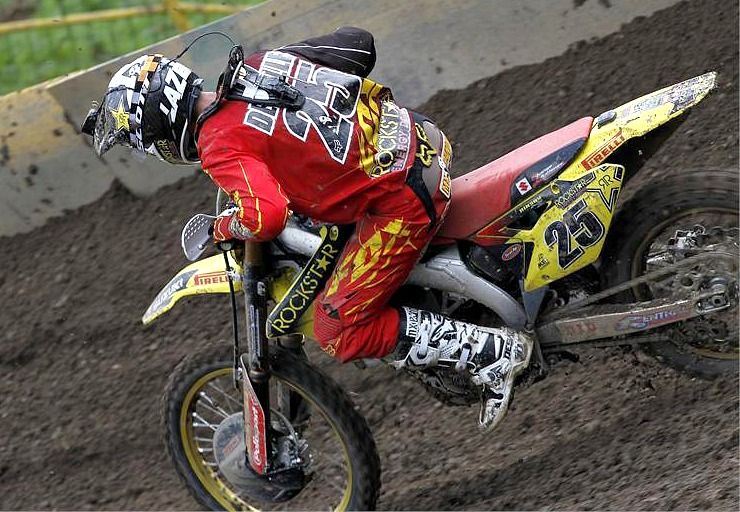 Rockstar Energy Suzuki World MX1 will tackle the 2012 FIM MX1 Motocross World Championship with Clement Desalle for a third season in a row and the Belgian will be joined by Estonian Tanel Leok as the pair look to continue the team's lofty presence at the top of the premier class of the sport on the works RM-Z450 machinery.
Clement Desalle is recovering after a recent shoulder operation and should be fully fit ahead of a full winter of preparation and training for what will be his third attempt at the MX1 crown. The 22 year old has finished in the top three of the World Championship standings for the last three seasons and led six of the first seven rounds of the 2011 campaign, winning four races in total.
"Of course I'm happy to be with the team for another year, we work very well together and that has shown in the results since we started in 2010," said Desalle. "I already made my decision some time ago and I have a great feeling with the RM-Z450 so there was not much difficulty in thinking about 2012. We have been close to doing something really good on two occasions now. I want to get fit and get my mind focussed on 2012 as soon as possible."
Tanel Leok has been drafted into the team as a second rider and is no stranger to the bike or the set-up. Leok was granted Joel Smets' factory motorcycle in 2004 when the young Estonian impressed during the inaugural MX1 series with a string of outings on the RM250. He used the RM-Z450 to post his first top-three moto finish in Ireland that year at 19 years of age. Now 26, and having won Grands Prix with two other brands and taken the Italian TM into the 'Winner's Circle' during 2011, the hard-charging father of two has a tremendous opportunity.
"I'm changing team again but for sure I'm really happy because I am joining one of the very best in the paddock," he said. "It was a great feeling to get the offer from Suzuki and it is also special for me because it is with the company and group that I made my breakthrough. I had some good results in 2004 at a young age and I can remember how nice that Suzuki was to race. I have a good chance for next season and it is very motivating. I cannot wait."
"We are pleased that we can finally confirm our two riders for 2012," commented Team Owner Sylvain Geboers. "Agreeing another contract with Clement was our priority because he is one of the very top Grand Prix riders at the moment and is still so young. We had some bad luck in 2011 but his speed and ability is very clear to see. With Tanel coming on board we know we are getting a very fast and determined rider and one that will present a technical challenge for our motorcycles. It will be an exciting winter of preparation and, I hope, an even better season in 2012. I would also like to convey our thanks to Steve Ramon. Steve won our last title in 2007 and was part of our roster here for six years. All of us at Suzuki wish him a full recovery from his injury and we are grateful for his commitment, results and professionalism in his time with us."
Clement Desalle's injury update:
"After the crash at Mol I had the operation on my left arm because it was fractured and needed surgery right away. Everything went well and I had a plate inserted and was able to start some physio soon afterwards. I then had to wait for the operation on the right shoulder. It was an arthroscopic procedure because the shoulder had been separated and was coming out easily. When the doctor looked inside he told me there was more damage than he thought with the ligament and tendon but he managed to clean it all up and now I have to wait three-to-four weeks before I can do anything. I have to be careful with the right shoulder but I can do things with the left now, no problem."
Copy and Desalle image courtesy of the Team Suzuki News Service.