Yamaha clean sweep 2011 AORC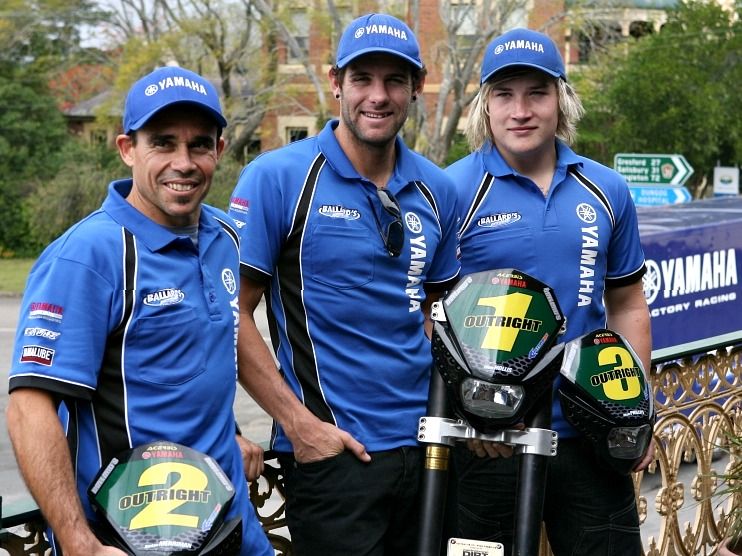 Torrential rain made conditions for the cross-country round extremely tough and technical, and eventually forced organisers to cancel round 10, which was scheduled for today.
One rider: Chris Hollis (from Port Macquarie, NSW), was all smiles yesterday, even despite the mud and freezing rain. The 27-year-old took his second Yamaha AORC crown by 15-points aboard his YZ450F, ahead of Ballard's Yamaha Off-Road teammate and Championship E1 Class winner, Stefan Merriman.
Chris Hollis: "It wasn't the best way to go, but there was not much you could do with the weather... I just got home [Sunday night] and it's flooding here at home. It was pretty hard today. It wasn't really a race - survival just get through it and finish every lap. There were people stuck on all these big gnarly hills. There were only like one or two ruts you could get in to get up the hills. Every lap, guys were sitting on their bikes on the side of the track, absolutely buggered. It was a scary kind of race. Anything could happen, you could wreck your bike so easy. But at the end of the day, I finished. It was an awesome result for Yamaha, getting the top three. I'm really stoked."
Merriman, 38, from Nelson Bay (NSW) had a cracker of a day in round nine, with his World Enduro Championship experience really shining through on the grueling, 18-minute track. The YZ250F rider took the Outright win of the round - his second round win of the year - by an impressive four minutes and eight seconds.
Stefan Merriman: "It was like a European race. The hills were pretty long, rutted and very slippery. The biggest drama was not to burn out your clutch. A lot of guys were having troubles like that, they'd overcook their clutch, then have to stop and wait for it to cool down. The mud made it hard, you had to change your goggles so often. But Lexy was there and so was my mechanic, Steven Clarke - they were flat out and did a brilliant job. I didn't think I was going to be able to beat Matt Phillips... he had trouble with his clutch. I'm really happy with my result, it was great."
Tasmanian Matt Phillips came third Outright and second in Championship E3 (as a DNF early in the series cost him valuable class points). Phillips, 18, had won four rounds Outright in a row before yesterday.
Also in the Top-10 Outright for the 2011 championship was Victorian (Christensen's Yamaha) rider, Daniel Milner. Milner, from Lang Lang, came fifth in yesterday's cross-country and landed seventh for the series.
Yamaha Motor Australia Motorsports Division Manager, Ray Howard, was on hand this weekend to witness the victories.
Ray Howard: "Chris, Stefan and Matt arrived here with determination to do their best, to get one-two-three. That was their goal, and they didn't lose focus from that, despite the atrocious conditions. They never gave up and dug deep... Stefan was a perfect example of that. All of our riders looked so good, they were all into it. It was a great result."
The conditions made it impossible for several of the classes to run, the Women's Class one of them. This meant that the results as of the eighth round stood, with Brisbane rider Jemma Wilson taking the crown on her YZ250F. Swedish rider, Emelie Karlsson came second on her YZ250F and former winner, Jessica Gardiner (WR250F) was third.
Yamaha AORC Round 9 Outright Results
1. Stefan Merriman

2. Bartosz Obluki
3. Glenn Kearney
4. Chris Hollis

5. Daniel Milner

6. Matt Phillips

7. Jarrod Bewley
8. Ben Burrell

9. Luka Bussa
10. Geoff Braico
2011 Yamaha AORC Championship Results
1. Chris Hollis (184) YAMAHA (E2)
2. Stefan Merriman (169) YAMAHA (E1)
3. Matt Phillips (168) YAMAHA (E3)
4. Jarrod Bewley (154) (E3)
5. Glenn Kearney (145) (E2)
6. Bartosz Obluki (130) (E2)
7. Daniel Milner (98) (E2)
8. Ben Grabham (85) (E1)
9. Toby Price (75) (E2)
10. Luka Bussa (74) (E1)
Copy and photo courtesy of Yamaha Australia.