Manukau MX 2011 at Labour Weekend
Motocross will co- exist simultaneously with various other motorsports and car shows such as V4 & Rotary, Hot Rods, Drifting, Targa Cars, BMX, 4WD & childrens entertainment.
This is a free spectator event put on by Auckland Council. There will be improved spectator safe access for viewing.

Expect a great full size motocross track for all abilities and classes (Juniors, Seniors & Vets). Track will be a new layout from last year, with more room, fully ripped & prep'd with multiple lines, step up jumps & table tops where you can go as big or small as you like in front of a large crowd over the weekend.

Racing will be on Saturday 22nd & Sunday 23rd October 2011. All classes each day. This event would not be possible without the support from Fox, Red Bull, Porter Hire, Sorenson Earthmoving, CSC & Hynds Pipe.
Comment: It's a fun event, no timing and no prizes.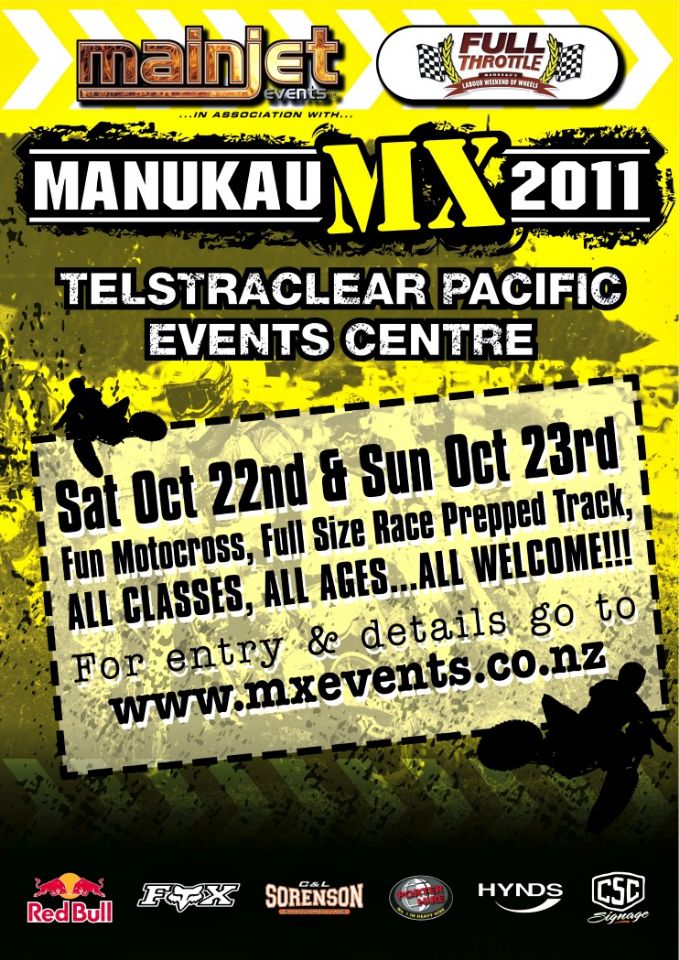 ---
... here is the Auckland Supercity media release:
MANUKAU'S FULL THROTTLE FESTIVAL ACCELERATES INTO OCTOBER
Free three-day celebration of all things automotive and motorsport

V4 and Rotary Show kicks off festival in fine street style

Military vehicles, Army and re-enactment displays on Saturday

Kartsport and car clubs headline attractions for In Gear Sunday

V8 Rod and Custom show to bring back smoking streetkhana action
The biggest and most popular festival of its type returns to Manukau at Labour Weekend, and organisers say the show will be bigger and more spectacular than ever.
The 2011 Full Throttle Festival at Manukau's TelstraClear Pacific Events Centre will feature an exciting three day free programme of car shows, displays, demonstrations and action ranging from drift cars to competition karts and V8 Rod and Custom cars.
Held over all three days of Labour Weekend, October 22-24, the event is a celebration of all things automotive and motorsport.
The first day is based around the popular V 4 and Rotary Supershow, with a show and shine display inside the TelstraClear building and drift action in the tarmac action zone set up in the main car park beside the building.
The second day is In Gear Sunday, a chance for the many car clubs of the region to put their best vehicles on show. Leading car clubs already confirmed are the Mustang Car Club and the Vauxhall Opel Sport car club.
The clubs will be joined by an on-track demonstration from the karting fraternity, the "incubator" of every recent Kiwi racer who has gone on to prominence on four wheels. Kartsport NZ will have a static display for the whole three days and will have information available for people who are interested in the sport.
In Gear Sunday is also finals day for the Rugby World Cup, and the site will feature family-oriented rugby activities inside TelstraClear Pacific Event Centre on the day, with a free live screening of the final match that evening and the second day of the Indigenous Ink tattoo exhibition. Junior, the Heart of the Nation festival's Biggest Fan, is a 5 metre marionette. He will be onsite and will have two walk-about sessions in the tarmac action zone during the day.
Full Throttle goes loud for the final day, Labour Monday, with a full day of V8 Rod and Custom action in the tarmac zone, where the Manukau Rod and Custom Club will run a tarmac streetkarna. The action on this day is open to rod and custom car owners from clubs across the region and is a sure crowd pleaser as drivers put their V8-engined cars through their paces.
Inside the TelstraClear Pacific Events Centre the final day features a hot rod and custom car show and shine display with everything from "daily drivers" that give an idea of how people catch Rod and Custom fever through to full-on show cars that take years to create and can cost the same as a house.
A major drawcard across the Saturday and Sunday is Manukau MX 2011, a Motocross event that attracts hundreds of riders and draws spectators to watch the riders race across the low grassy hills, jumping their bikes high in the air as they fight for track position. The event attracts the best motocross riders in New Zealand to race in an urban environment unlike any other in their race calendar.
Fans of military vehicles will have their share of excitement on the Saturday of Full Throttle. The New Zealand Army will have a Unimog on site, offering rides to festival fans; and on the same day the military vehicle enthusiasts will display a wide range of Jeeps, trucks, armoured cars and more, many of them having seen service in WW2. Military re-enactors will have static displays in a marquee and there will be battle displays using the military vehicles. There will be opportunities to ride in military vehicles during the day in exchange for a gold coin donation. An Army information display will also be a feature of the military area, based in a recruitment bus parked alongside the static displays area.
Throughout the weekend, the four wheel drive and offroad racing set will be there in force with sprint and race action and driving demonstrations on the massive grassed areas. There will be race demonstrations from the ATV (quad) racers of Auckland ATV Club along with static displays and races for the new KiwiTruck junior offroad race category.
Counties Manukau Offroad Race Club will bring static displays of offroad race vehicles and manage on-track demonstration events. Among the fullsize offroad race and four wheel drive vehicles is the new Cooper Tyres Nissan Pathfinder V6 of Jared McGillivray and a new American race truck being prepared for its competition debut by Kevin Hall. Tony McCall's new BSL Terra Chev is being rebuilt after its troubled Taupo debut and is expected to be on static display all three days, taking to the grassed race track on the Monday.
Full Throttle organisers say owners of club, competition, 4WD, V8 and other suitable vehicles including modified motorcycles (choppers) and fast road and race bikes who would like to join the Full Throttle Festival and put their vehicles on display or be part of the action each day can contact Mark Baker on (09) 296 8636, 021 2120607 or veritas.nz@xtra.co.nz
The 2011 Full Throttle Festival is an Auckland Council event and is part of the 2011 REAL New Zealand Festival.