Maxxis British MX Champs final at Hawkestone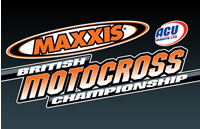 MX2:
Bike It Cosworth Wild Wolf rider Arnaud Tonus continued his domination with three victories in the MX2 class. The Swiss rider, who has dominated the second half of the year eventually took three easy victories and was only headed by HM Plant Red Bull KTM teamster Jake Nicholls for half of one moto. However, a lowly fifth position in the opening moto by Nicholls allowed Bryan MacKenzie (Maxxis Henderson LPE Kawasaki) to take the second step on the podium with 2-3-3 finishes. Elliot Banks Browne, although present did not take part due to injury, but still took the silver medal in the championship ahead of Mel Pocock (Relentless Suzuki by TAS) who returned 3-5-5 finishes.
Kiwis
John Phillips
and
Kayne Lamont
were both entered. Phillips for Team DBG (Dirt Bike Gym) and Lamont for Rob Hooper's Maxxis Apico Suzuki.
Qualifying: 13th in Q1 with a 2:16.218 and Lamont 20th with a 2:18.078.
Race1: Phillips was 7th, 12.5 seconds ahead of Lamont in 9th place.
Race2: Lamont was classified 32nd having only finished 3 laps. Phillips started but never finished the first lap.

Race3: Lamont was 12th and Phillips classified 28th after only 5 laps completed.
Overall: Lamont was 12th and Phillips 18th.
Championship: Phillips was 19th and Lamont, who only did three rounds, was 44th.

MX1:
Champion, Brad Anderson (PAR Honda) again claimed the top spot on the podium in the MX1 class with two wins and a second place. It was Boost Energy KTM rider, Martin Barr who stopped Ando making a clean sweep with a strong ride in the second moto, backed up with a second and a fourth. However, his 65 points haul on the day was just not enough to snatch second place in the series which went to Kristian Whatley (Samsung Yamaha) who returned 3-5-5 results. In his final professional outdoor ride, Tom Church (HM Plant Red Bull KTM) took the lower step on the podium and the fans were hoping that he might close his career with a win after leading the final moto for three quarter distance, but eventual had to give way to the fast charging Anderson.
Kieran Scheele
for Team DBG.
Qualifying: 20th in Q1

Race1: Classified 28th but only completed 4 laps.
Race2: 21st

Race3: Did not start.

Overall: Not classified - result stopped at 24th.
Championship: Missed half the Championship with his shoulder injury but was classified as 32nd.

Veterans: 'Factory' Phil Mercer took two commanding wins in the supporting Veterans class, but having missed the opening round back in March due to not being old enough for the class, the Gold Plate for the Championship winner went to Greg Hanson whose 3-4 finishes were enough to ensure him the title.
Team DBG's
Coach
Jason Morris
scored two strong second places in the motos to also take the second overall in the series ahead of Brian Wheeler whose better second moto also gave him third overall on the day. Greg Hanson, who rode here two seasons ago, was fourth overall.
The series now takes a winter break before re-commencing in March 2012.