Johnny Aubert renews with KTM Enduro Factory Racing
Pit Beirer, Head of KTM Motorsports said he was pleased to have Aubert stay with the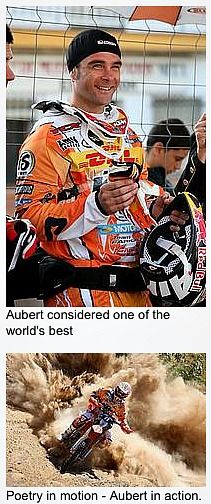 team for two more years. "I am very happy that we have signed the contract with Johnny to stay with our team, which in 2012 will have a very competitive lineup in all classes. Johnny is one of the fastest riders in the world. He has a proven record and is a definite title contender for 2012 in E2." The KTM Enduro Factory Racing Team is under the management of Fabio Farioli.
Aubert has just completed a fitness assessment at the Red Bull Training Center in Austria and although now declared 100 percent fit will not contest the finale of the Enduro World Championship GP season in France. "Johnny is fit but he lacks race practice so we would prefer for him to wait and start the 2012 season in good condition and completely fresh," Beirer confirmed.
Meanwhile there is something exciting in store for the French rider and KTM in January 2012 when Aubert will take a standard KTM 450 Rally bike and compete in the Dakar Rally, which this year takes in territory in Peru as well as Argentina and Chile.
"We want to give Johnny a taste of the Dakar and he will ride with the standard series model 450 rally bike and with the same customer service package offered to other KTM privateers. We have no expectations about top results but we are very interested to see how he enjoys and adapts to this completely different style of competition," Beirer said.
Johnny Aubert, who grew up with Motocross and then moved to Enduro, took a world championship title in 2008 then joined the KTM Enduro Factory Team in 2009 only to win another E2 world title. In 2010 he contested the E1 class finishing second on the KTM 250 EXC-F after illness robbed him of two rounds. He won the ISDE in Mexico with the French team and also won the overall classification on his 450 EXC. Johnny's 2011 season was cut short after a nasty crash that resulted in debilitating injuries in Round 9 of the Enduro World Championship in Greece. He is widely recognized as one of the most skillful and balanced riders in the elite Enduro class.