with ... Sylvain Geboers
The Belgian crew, based out of the town of Lommel - site of the Grand Prix of Limburg for over 10 years - is housed in a modern and impeccably-clean and organised 2000m2 two-floored, two-building complex dedicated to the factory's racing effort.
In the principal unit, as well as several work bays for the two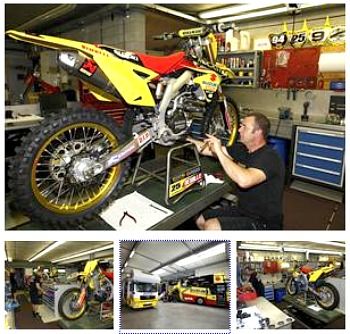 RM-Z450s, there is a dyno room, stores, offices and ample storage for at least two race trucks. In the recently-completed adjacent workshop the MX2 machinery lives and houses the new hospitality rig and all its necessities. Geboers Racing Promotions has around 15 people employed through the season to put the works team on the road and also co-ordinate technical matters concerning the MX2 squad.
When and how did you end up in Lommel?
It all started when we had a workshop presented to us by a former sponsor. We worked for 10 years there until the company needed more space so we had to move out and look for our own premises. I had a property from Eric that we took over temporarily and at the same time I was doing the Technical Touch suspension business and at the end of the 1990s both activities had grown and we required bigger infrastructure. The idea was to bring both together so we started looking around and found our current home in Lommel where we could build a facility to do both the suspension service and the motocross team. We have been there since 1999-2000.
The place is spotless. Is this a personal preference for the way to work?
That is the way I like to have it. I learned to work in this way. To have the bike clean then everything must be clean. From my experience with Japanese companies - I had three years with Honda and all the rest of my career with Suzuki - I gained a lot of experience and influence and wanted to put that across to my staff. I think it works really well and it is something we can show and teach our dealers about how to run a workshop. Just because we race in mud doesn't mean we have to work in the same conditions!
With the engineering resources here can you do whatever you want with the bikes?
We can do everything we want but the majority of the work or production of the parts is done in Japan. We assemble and we can modify, but there is a lot done in Japan.
You don't keep many trophies in view...
I'm not so much into trophies or memories. I have photos around of riders who I've worked with that have given some great times, but not really much silverware.
What was the reason behind the extension of the facility with the second building?
We had Ken Roczen coming up as a junior and we wanted to prepare everything to be professional. We knew the MX2 project would move quickly. We did a very good job within three years and to be active at the GPs and ready to win with him. The second workshop was built with the idea of making it an off-road test centre for Suzuki in northern Europe. Where we are based means working in some of most demanding conditions for a motorcycle with the sand and the weather and I wanted a service that was ready to go the moment we had that request from Suzuki; I'm still waiting for the go ahead! In the meantime we had something ready for MX2. I hope that one day we can still offer this testing possibility to Suzuki because it will also be good for us as a race team and there are other benefits. I have always wanted to re-invest whether in the property, infrastructure or working environment for the mechanics or riders because it was a way to give something back for what they pay.
Copy and photos courtesy of the Team Suzuki Press Office.