with ... Roger Harvey
Having not had a World Motocross Champion for many years, Honda decided to put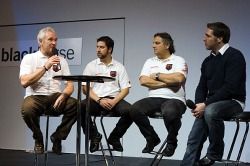 a bigger investment into the sport and already the program from Honda is reaping rewards, with consistent results from both the Factory Honda rider Evgeny Bobryshev and Rui Gonçalves.
For Youthstream, Geoff Meyer sat down and asked Mr. Harvey what his opinion is of the performances by Honda riders in this year's FIM World Motocross Championships.
Roger, can you tell me what the plan is with Evgeny Bobryshev? Do you guys have him on a long term contract?
We watched Boby last year and he came up through the Honda family and we wanted him to stay there, so we signed him for a three year contract and that will go through until 2014. To be honest he has matured quicker than we could have expected. You can see at every race he improves and he takes on advice and listens and he puts the advice into practice.
Evgeny always makes us laugh in the press conferences. He is a likeable guy, isn't he?

He is a listener and a thinker, but most importantly he is a character and that is something we don't want to change too much, because we can get very corporate these days, and he has a character and you see from the press, when there is a press conference that he is involved in then the press listen. In Latvia, when they started interviewing him, everyone started listening and he says things that appeal to everybody. That is a great side in him.
Is there something that can be improved in his racing?
I think he could be the full ticket, there are things he needs to work on, I mean, of course he can always improve, but last year he worked really hard on his fitness, training really hard in altitude and also doing a lot of work on the bike obviously.
He did seem to get tired at times in 2010, that doesn't seem to be a problem in 2011, does it?
I think that was more from nerves, and there is probably still a bit of that about. He still respects the guys he races with and sometimes I think he thinks he shouldn't be up with these guys. If you look at those guys who have won World Championships, sometimes it does feel like you shouldn't be racing them.
Rui is also showing great results, very consistent, isn't he?
Rui has been great. It's a pity at times because Rui gets good results, but on many occasions in the past Evgeny still topped it, it was nice to see Rui getting a podium in Loket, he deserves that so much. He has been tremendous for us. He is a different person to Boby, he is more technical and more thinking about the bike. He has made a lot of changes to get the bike, so it suits him. Both guys have been great out of the starts.
What is the plan of Honda, what is the goal now?
We set out on a three year plan, which was starting in 2011. We are working so much closer with the factory now, they are heavily involved now and Mr. Honda is the project leader, he looks after things on the technical side. How it works is we give them all the information from here and in America and all that important is collated and passed through back to us and that is why you see Honda's performing well in World standard events in 2011.
This team looks like a factory team, while in the past maybe it was lacking something. What is your opinion?
Honda Europe has been more involved, and of course Japan. We always knew this team was capable of getting performance out of the bikes and riders, the whole team is very capable and that is why Honda had faith in them in the past and now they are showing their potential and everyone in the team is very happy. Everybody is getting their head down and now we have had podiums and that Grand Prix win by Boby in Germany, we want some more of it.