from ... Alvaro Bautista
I'm just heading back to Spain from Brno and then I'll be getting ready to go back to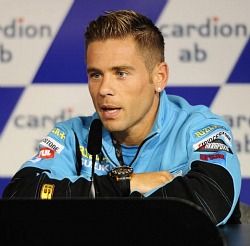 America for the next race. After the last few races I expected a good result here in the Czech Republic and after the first day it looked like we would have a successful weekend. It was good to have John here riding as well, because it is always better to test different things with two riders. Unfortunately John had a crash on the Saturday and injured his hand, which was very unlucky for him and the team. I wish him well and hope he is ok soon.
The race was always going to be difficult as I was near the back of the grid, but I got a good start and pushed my way up to the front group. I was in seventh and the Suzuki GSV-R was running really well; the feeling with the bike was the same - if not a bit better - than it had been in the last few races and I thought we had a real chance of a good finish. We were able to run closer to the guy at the front, and I was certainly closing in on the bikes in front of me, but unfortunately I crashed. This was a big disappointment for me and the whole team, but we also took some really valuable data from the race and proved that we can run at the same pace as the guys at the front.
The Suzuki GSV-R showed great potential at Brno, the same as it has done in recent races and now that I am fully fit I think we can start challenging for the top six. It's tough because the guys that are in those positions are good and so are their bikes, but I think we have the package to start taking them on. The Suzuki engineers have done a great job this year and the bike is certainly moving in the right direction.
We are going to some tracks soon that I really like and I know we can go well there, so we'll have to wait and see what we can do.I know that I need to get a better lap-time in qualifying so that I start higher up the grid and don't have to spend so much time and effort getting through the field. This is something that we will be aiming to put right over the rest of the season, because I think if I start nearer the front, I will be able to stay there and run with the quick pack.
Copy and photo courtesy of the Team Suzuki Press Office