from ... Justin McDonald
MOREE:
After a 6th overall at Round 7 in VIC, I was keen to get back into the racing in NSW for Round 8 at a place called Moree. This was another track that I had not come across before and I was stoked to see that it had heaps of jumps when I turned up.
Qualifiying went pretty smooth and I was happy to be inside the top ten one spot ahead of my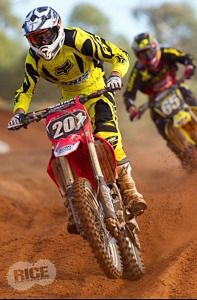 Axis Honda team mate, Cody Mackie.
In moto one I carried my confidence to an awesome start and was mixing it up in the top three before an electrical problem started making my bike cut out once or twice. This lasted a lap until it cut my engine on lap three and caused me to DNF.
Luckily the problem was sorted out by the dudes at Axis and I was able to enter moto two on the same bike. Sadly my confidence was down and I started the race just inside the top ten. I dropped a few spots and had to pick it up in the last few laps to regain 8th. I was loving the track but was struggling to got my groove on the entire moto.
The third race was my worst of the day and it seemed that no matter what I did I was still getting passed each lap. I managed to hold on and get 11th without ever feeling in control of the race. I was stoked that in the final moto I was able to do the opposite and make passes in a number of laps after an average start. I had just had a new rear tyre fitted after thinking the other was going flat and I believe this helped to pick up my confidence enough for me to claim 7th.
These results of DNF – 8th – 11th – 7th gave me 13th overall for the day and left me in 9th for the series with one round left on the cards.
---
COOLUM:
I was supposed to return home for the week between the final two rounds to get my race report out but was unable to land in Chirstchurch due to vast amounts of snow on the ground. So my report had to be put on hold for a week. All jokes aside I missed a week of work and was limited to one small bag of clothes for the week. Luckily Macca from Unit riders came out and hooked me up with a fresh set of diggs for the final round in the weekend.
That final round was last weekend at Coolum in Queensland. It was the only round of the series that was held over two days with practice and qualifying on Saturday, and the usual four motos on Sunday.
For the second week in a row I qualified 9th, I love this track but found it to be quite one lined. It was a sandy type track that got really whooped out, kind of like the soil at Taupo. I had raced this track before when I had competed in the 2005 Australian Nationals.
Sunday came along and I found mysef with 7th in both the first two motos. The track was wide open and I was enjoying racing it a lot. There was some berm-like rutts developing on the circuit and it was flowing well.
In moto three, I had a good battle with a few of the boys after finding myself just inside the top ten. I made a few passes and ended up 6th. I was pretty happy but was hungry to end the series with a better result.
The final moto of the day saw me get a much better start and tuck in behind Luke Styke in 5th. I chased him but never found a chance to pass until on the final lap I made my way around the overall class winner Matt Moss to claim 4th. I was happy to have a solid ride in my final race in Australia for 2011.
I finished the series overall in 8th and am looking forward to heading back there next year. I feel there are a few things that I would do differently next time, including being more prepared for the entire series.
I am extremely grateful for the support I received this year and really want to thank those who helped me along the way. The team at Axis Honda were always there when I needed them with offers of help on the bike, with accommodation and transport. They kept the spirit of the team alive and just made it happen when it counted. Timaru Honda for their support and helping me get to Aussie. Unit Riders, Fox, Pirelli, Dragon, 201racing.com, Torque Construction, family and friends for all they have done.