from ... Kevin Strijbos
Steve's crash was very unfortunate but for me it meant that I had a call from the factory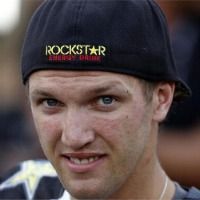 team on the Monday and I was in a position to be able to ride the RM-Z450 for the last four Grands Prix.
I said 'yes, of course!' because it is a great opportunity for me and I have not had a good time in the last few years with injuries and other problems. I was really happy that they picked me and then when the approval from Japan came through, I was able to go out testing on Tuesday.
Everything went well. I took Steve's bike out with the basic settings and made a couple of little changes to the suspension and the position of the bars and the seat but that was it. I could only ride once because on Wednesday I went to make a blood test. I had been feeling a bit weak in the previous races and it turned out that I had a virus that is now clearing up.
I want to prove I can still do it because I have been quick in some races this year but it has been a difficult season and I had a phase of races where I was really tired and just wanted to sleep all day.
It is nice to be back in the team here at Loket where I took the first win on the RM-Z450; I have some really nice memories from that day six years ago. I then have races in the UK, Germany and Italy left. I don't think the tracks will be too tricky; it depends on how you feel on the bike.
I don't know Matterley Basin because I was injured for the GP that was there in 2006.
Gaildorf I know well, even from the days when I was racing an 85cc bike!
Fermo will also be a new place for me after I missed the race in 2010.
I'm happy at the moment and I want to say a big 'thank you' to the team with some results. I know it is unlikely I will make the top three but I don't think the team have this expectation of me; they just want me to get the bike out there and get in the middle of the action. For sure I want to get in the top 10 and any results like seventh or eighth would be OK.
Like I said, going to the workshop this week was like going 'home' after the four years I spent racing for the team. I still know them all well and I'm working with Steve's mechanic Bo and getting to know him. It felt a bit strange walking into the awning this morning for practice because it felt like such a long time ago since I was last there but it is also the first GP this year that I have come to totally relaxed and it feels like everything has fallen into place.
At Loket, Strijbos had a very good weekend with a 7th and a 6th for 6th overall on the day.


Copy and photos courtesy of the

Team Suzuki Press Office.