from ... Mike Phillips
The 4 Race format is 2 x 10 lap motos back to back times twice.


Qualifying:
We had qualifying on the Saturday afternoon and by this time the track had cut up pretty good. They had the Vet Champs and Quad racing on the Saturday as well. I had a little bit of trouble in qualifying due to a crash on the first lap. I was gearing up for my first flying lap when I was swallowed up by a large hole and chucked over the bars. It was a disappointing 17th place qualifying.
Moto1:
I didn't get the best jump but made up loads of places on the first few corner and settled into 7th behind team mate Cheyne Boyd. Boyd got by KTM rider Jamie Law and started to pull a little gap. I knew I had to make the pass but on the tight Coolum track that was easier said than done. I got close enough to Law to put a wheel in front butthought better of it so I backed out and as a result I went down. I was angry as there was a bunch of riders behind me and it put me back to 10th where I finished the moto.
Moto2:
I didn't get the jump and tried to take it easy around the first turn but that back fired and I went down. I picked the bike up in dead last and started to charge back through the field. By the final few laps I was up to 11th and chasing down Honda rider Michael Addison but couldn't make a pass. Finished in 11th.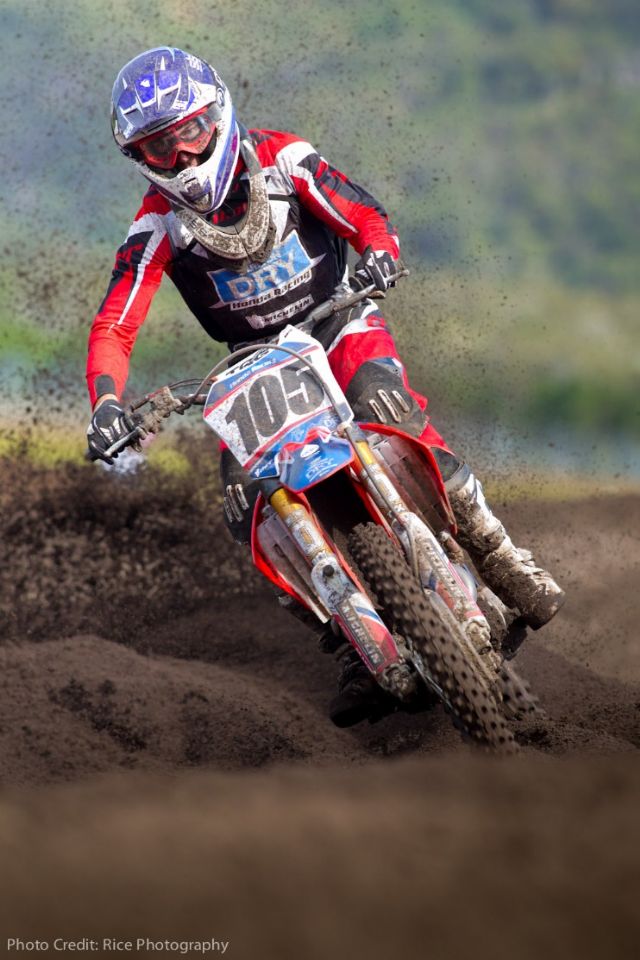 Moto3:
I snuck around the inside of the first turn and came out inside the top ten. Not the best start but sometimes you have to take what you can get. I pushed into 5th place by the 3rd lap and was hunting down KTM rider Jamie Law again. I was feeling comfortable and had some good lines going when I pushed a little too hard in a soft burm and blew it out. I went down and lost 2 places. I tried to find my rhythm before the race was over but couldn't make up any places. Finished in 7th.
Moto4:
I came around the first turn inside the top ten but not the usual Mikey P starts. I put my head down and settled into 6th place and had Honda rider Michael Addison in my sights. I was catching him lap by lap but couldn't get close enough to make a pass. On the 8th lap I again blew through a little burm and went down. I didn't lose any places but it had just topped off my weekend. I finished the race in 6th place.

I had 3 weeks of hard training back in NZ hoping to finish the series on a high, only to have two of my worst rounds. It makes me feel a little lost as to what went wrong. I have learned alot this season just like last and hope to put into practice what I've learned to become a stronger more consistent rider. I think this year I have shown good speed and felt like I belong up the front. I just need to iron out a few little details and put all the pieces together.


A big thanks to the Carlton Dry Honda Thor racing team and all our sponsors. My goal for the season was Top 5 and I ended up 6th. I finished every race and scored points in all of them. Pretty happy with that. I hope the 4 or 5 radiators I bent this year were worth it.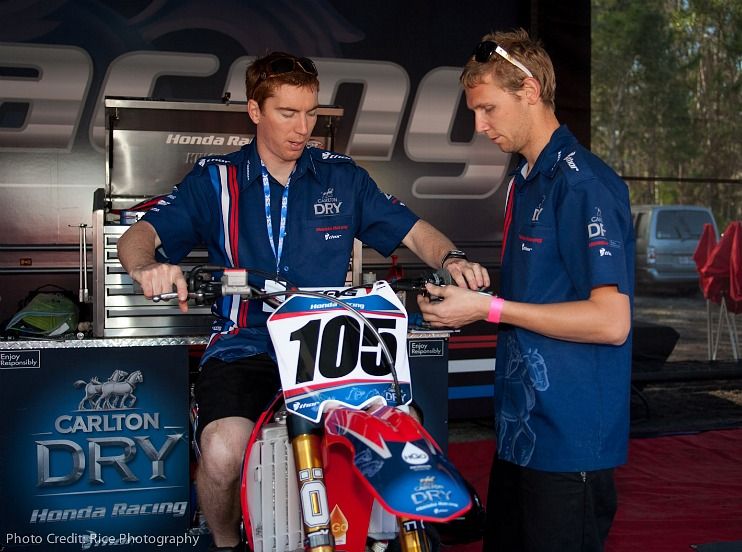 A big thanks goes to my mechanic Lee Walker, pictured here with me. Definitely one of the best mechanics I've had spanner for me. He put it all on the line and always gave it 100 percent.


Again a big thanks to Rice Photography for his photo's every weekend. Make's the race reports much more complete.

Finally to Team boss Yarrive Konsky. Thanks for the fill in position. Ienjoyed contributing to the team and hope I wasn't too hard to deal with. I'll keep you up dated on my next move.
Mike Phillips