with ... Dave Thorpe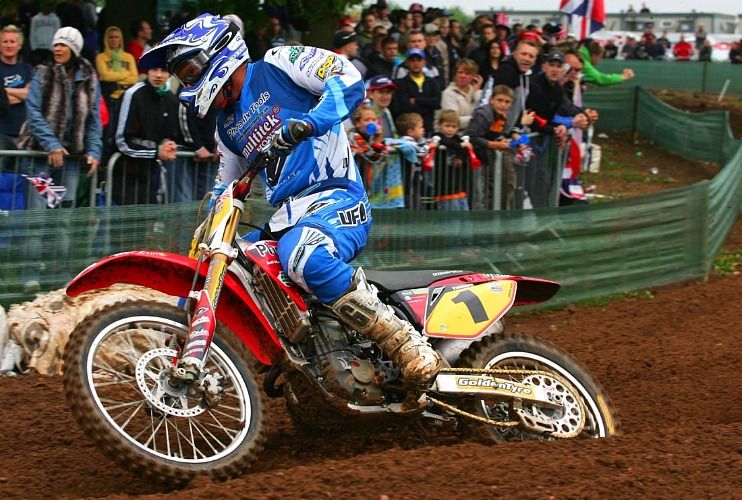 Dave Thorpe pictured here in 2008 ... I wonder if he knows Darryll King is coming the British GP this year ? Geoff Meyer for Youthstream image.
Thorpe has also won the British Grand Prix on three occasions, beating the almighty Belgians Eric Geboers, Georges Jobe and Andre Malherbe on many occasions.
For Youthstream, Geoff Meyer asked him about the event that many people see as the most important GP of the season.
Dave, what makes the British Grand Prix special?
The thing that people forget about the British Grand Prix is that it a special race. It doesn't matter if you are British, Belgian, Swedish or whatever, because historically it's always a great atmosphere. It's always a good track and I think the whole buzz of the British Grand Prix weekend is special for everyone. If you happen to have a British passport, then it's really nice. I mean you start to focus on it weeks ahead, you have all your friends and family that are calling you up in the weeks before the race, in the buildup, you arrive at the event very upbeat, focused state of mind, and that happened to me every year.
You obviously went to the British Grand Prix with the whole crowd wanting you to win. How was it under that type of pressure?
The frustrating thing about the British Grand Prix is when you have that type of expectations. In other years like in 1985 and 88 and 89, I went there knowing I was riding good and knowing that I just had to keep myself out of trouble and I was in with a shot at winning, and that is a nice feeling. When you get all that encouragement during the week and the letters, e-mails and postcards it's a great feeling.
What about this year's event, do you give a British rider a chance of winning it?
I really enjoy the British Grand Prix and we have Tommy (Searle) and given a good roll of the dice he will be in there fighting with Ken (Roczen) and (Jeffrey) Herlings. I look at him now going to the British Grand Prix and I would love to be in his shoes going to your home race. Those memories and days are special.
You are a bit of a Searle fan aren't you?
Thorpe: I think as a racer he (Searle) is fantastic, I don't think this year's Championship is over by a long shot and I don't think we have seen the best of Tommy this year. He is a racer, isn't he? For me, Tommy is and always has been a racer, his track craft and his aggression on the bike, which is the difference between winning and losing. We might look back in 10 years and say given a year or two or different circumstances and Tommy should have been a World Champion. I hope he can win a World title.