from ... Sylvain Geboers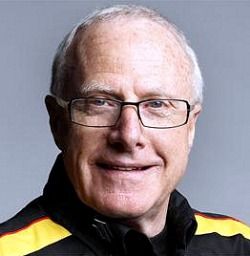 It is always great to have a home GP. Lommel is a place where we are expected to get results as it is a training track for us and a surrounding we know very well. Our two riders are Belgian but not super-specialised in the sand and these are special conditions! However we are pleased to be here.
For the motorcycle this track is the most demanding of all the circuits in the FIM World Championship but we have a lot of experience of Lommel as we are based only five kilometres down the road. Despite our closeness to the track I would say that we ride here around 10 times in a year whereas our competitors are out twice a week! The reason for the difference is that we have two Belgian riders who are used to the terrain compared to the foreign racers who come to live in Lommel and practice in Lommel. These riders have become very proficient in the sand during the last five years because of their concentration on this venue.
Clement is from the French-Belgian zone of the country. Sand does not come naturally to him as it does for others and with there being only two sandy GPs this year I told him it was better to focus on other type of terrain. This is what he has been doing but with his accident it has been harder to now hope for a top result here at Lommel; I don't believe in miracles! He has not been able to ride during the week for over a month and only started a few days ago. He sounds positive again so we are hopeful at least.
We had a very comfortable start to the season, even winning international and national races, and then Clement had his crash. Once his shoulder was dislocated we knew it would be difficult. He tried to be strong and even one week later was racing in Sweden. He made a decent result but he could not continue in this way without practicing and after three rounds we saw the form going down a little. In situations like this we have to keep positive and keep a good spirit and atmosphere among the staff to get the best out of the circumstances.
Motocross is a demanding sport, and we have to practice on the bike. We cannot be competitive in the World Championship without intense preparation. Going training or riding carries some risks but a rider will always get a little more out of being on the motorcycle by entering a race. In the national championship there is only 15 minutes of practice and then you are into the gate and a lack of track knowledge can be a problem. On this occasion Clement didn't pick the best line and ran out of luck.
So we are here in Lommel and frankly speaking the experience of a home grand prix can never compare to how it was when I was riding. I have a completely different role and the weekend doesn't bring the same feeling. Of course I enjoy being at the event and seeing the action but to be honest the atmosphere is never the same as when you are a racer.
Copy and photo courtesy of the Team Suzuki Press Office.