from ... Josh Brookes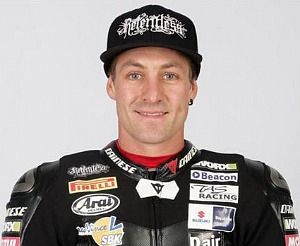 Every season seems tougher than the one before, or maybe I just have a short memory. I've had greater problems in other years but this seems to be a hard year to get the results. There has been an increase to the number of riders that can run at the front and everyone seems to have lifted their game in BSB. This normally wouldn't be a problem... you simply just go quicker than everyone else!
Thruxton is my favourite track in the Championship, but even there I struggled to be on the leading pace. The race day being hampered by rain didn't help my cause, and looking back now, it was the first five laps of each race that let me down because my lap times from there on were equal to the leaders. Maybe that it was my first time on wets with the GSX-R100 hindered my confidence - well that's my excuse anyway!
I visited the Isle of Man TT again this year. That makes it my third year there as a spectator and I can honestly admit; it's my third year suppressing a burning desire to race it. I have been riding a bike on the road from an age that you can't even get a license and now 13 years on; on race tracks where you push every extreme of what a bike is capable of. The TT is somewhere in between.
I often feel trapped by society and all its boundaries: everything you do on a daily basis is dictated by rules and laws or what is publicly acceptable, and it makes me feel claustrophobic. Doing the lap this year on closed roads was my greatest sense of freedom. It was all within my control and it was all my choice. Words cannot express what I felt on that lap of the TT Circuit, but one thing I do know... I want it again.
Knockhill in Scotland wasn't even nice to me this year. Again qualifying was my weak point, considering I had been on pole the previous two years; and race one was far from satisfying racing for fifth place. With a small tweak to the bike, in race two I was feeling confident. Even the bad start wasn't going to hold me back but Tommy Bridewell crashed on the exit of the first turn and his bike chucked a heap of mud up from the wet grass and it completely covered me. Just like in motocross, I pulled a tear off, just so I could see again and toured around waiting for the pace car to exit.
When it did, we all hammered flat out into the first turn before Hopper did a carbon copy of what Bridewell did! Only this time, both he and his bike came flying across the track at me, so this time I had to take to the grass to avoid a collision. As the field was bunched up from the pace car, a three-second excursion put me back to 23rd place, so my best efforts would only take me to 13th.
The lack of good fortune and results had my nervous team scheduling a test the following week at the Kirkistown circuit in Northern Ireland. We went through many changes that we previously hadn't had time to try on a race weekend. We used a different specification engine that offered a change in grip and general feel on corner exit. And more importantly, it was going to improve my lap times.
The Snetterton circuit had big changes implemented in the off-season, so it was almost like a new track for everyone. The test at Kirkistown appeared to have had the desired affect: I got my best qualifying of the season with a front-row start. But our lack of luck - if there is such a thing - was still there. I got a less-than-perfect tyre in race one and worked hard just to bring it home in seventh. Race two with the bike now working like it should - and with new rubber - put me on the podium in second place; my best finish of the year so far.
Oulton Park as a circuit gives me mixed emotions. It's a track that I like a lot but over the years never seems to do me any favours. This year it was a mix-and-match of wet and dry practice and qualifying. I didn't ride well or smart in qualifying, so I started from 10th on the grid.
Sunday morning warm up was wet and I posted the fastest time but the rain just kept coming. Race one was a horrible feeling for everyone because the track was extra slippery for some reason and many riders went down. I had my fare share of near crashes but managed to keep it all together and finish on the podium again in a satisfying second place.
I'm now looking forward to getting back on track in the next few weeks for some much needed testing. I think a few small tweaks could be the marginal gain we need to make that top step, but first, I'm off to the Foxhill's round of the British Motocross Championship this weekend - July 24th - to support my team-mates in the dirt division.