with ... Gautier Paulin
Monster Energy Yamaha rider
Gautier Paulin
is very much a person who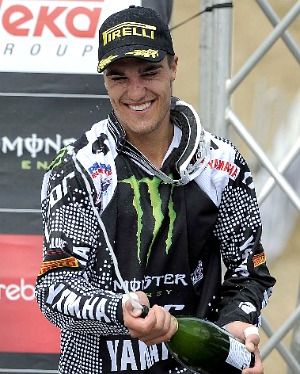 gives it 100% in his profession. The Frenchman has been a little unlucky in his career with injuries early in the past two seasons, but now he is starting to come back and show some really good speed.
Last weekend in Germany he won a moto and came really close to winning the Grand Prix, taking victory in the second moto and finishing fourth in the opening moto. Second place overall and moving slowly closer to the top step of the podium.
We caught up with Gautier and asked him about his recent form and also how he can get closer to beating the MX2 series leader Ken Roczen.
Gautier, can you explain how it went in Germany?
It was great, I won my first moto for this season and I didn't expect it at that circuit because it was a hard weekend and during the qualification race I was riding tight. The team worked really hard for me and we made some changes to the bike, it felt more balanced and the suspension was also better for Sunday. In the first moto I made a big mistake and caught my foot peg over a jump. I nearly crashed over the handlebars and had to get my foot back around and on the bike correctly! I had a great start in the second moto and I was behind Ken when he made his mistake. I knew I had the advantage and had to win the race. I pushed hard to make it happen. We are second on the podium and the first three-four riders are very strong but we are working hard. The upgrades we had for the engine helped me with the starts and also exiting the corners. It was an improvement for sure so I have to give big thanks to the team for this. Yamaha Racing image

You seem to be getting close to the speed of Ken Roczen. Why is that?
I don't know what is better, Ken is faster, but not a lot, at the start of the season, I was injured and not many people remember that, so my season started slow, I was like five weeks not fit and now I am good again. I am back and moving well on the bike and I am able to train better. For Ken, he isn't faster; he is just more consistent riding at the front. It's now two years that he rides at the front and he is pretty cool and doesn't stress. He does his own thing and goes for the win. I really understand, in the first moto in Sweden, I was close to his speed, but he was just a little quicker in some places. He is stronger, but it's not like he is much faster than everyone else. We are all fit and ready to race, I know I am heavier than him and I don't know who has the best bike, that is difficult to know, still I really hope I can win a Grand Prix and I am waiting for it. It is easier for Ken because he wins and knows how to do it.
You also looked good in Sweden. Tell me about that weekend?
I did a good first practice in Sweden, and I had pole position, so that is great for me and my Monster Energy Yamaha. In the qualification race I didn't have a good start, I felt good and I lead and I was looking for good lines and I finished fourth and I felt good. I was riding good, looking for good lines and I had a good place on the gate for the Sunday. On Sunday in Sweden I started second behind Ken (Roczen) and he was a bit stronger than me, step by step, he got away from me and that was pretty much how it went in the first moto. I was a long way ahead of Herlings and a long way behind Roczen, so I decided to just take it easy and keep my energy for the second moto. In the second moto I didn't have that good start, but I got to third place rather quickly and I hit a rider, I don't know who and I bent my gear shift and it was hard to change gears and I finished third.
The Swedish circuit looked difficult, was it?
It was a tough track and easy to make a mistake. It was a good track with many jumps, many corners, not so much speed and many ruts and it was a little on and off, many bumps also. I was concentrated 100% corner after corner.
You must be looking forward to possibly being selected for the French team at the Motocross of Nations in September?
Of course I think about riding at the Motocross of Nations and riding in front of the French people, we will see. It isn't my choice to pick the team, but the French trainer. I hope for sure for Monster Energy and myself that I can get in the team. I will try and do my best just like I did in Italy.
It's going to be tough to get in the team for the MXoN. I understand Marvin Musquin will be fit by then and also Christophe Pourcel is back and fit.
Marvin had bad luck in America, but it is important that we pick the best team and the French team has the chance to win. You don't know who will be fit in September, but it's the most important race of the season and everyone wants to ride it and I hope to be there.
Last question, what do you think Christophe Pourcel can do at the Grand Prix's?
We don't know what Christophe can do, I mean he was paralyzed and he came back and won a Supercross race in America and had some success there, so anything is possible with him. We can't say anything about him, just big respect. He made many mistakes in America, but I don't want to judge him, and every rider has his own way.