XC2's Scott Watkins and Womens rider Ashley Crouch grabbed 6th place finishes while Rory Mead finished 8th in XC1 and 10th overall. But bad luck struck Jimmy Jarrett once again when a stick took out vital wiring from his bike resulting in a DNF, and team co-owner JT Bennett suffered from a knee injury.

"The team definitely took some bumps and bruises today, but were still able to come away with a couple strong finishes," said Gretchen Bennett, team co-owner. "We'd also like to say thank you to Ray and Lori Conway from American Honda for coming out and the awesome trackside support."

Ashley Crouch started her day with a dead last start off the line but started catching girls in the woods. But Crouch's brakes had other ideas than winning, as they went in and out a few times each lap the rider made. When Crouch met up with fellow Womens rider LeeAnn Bange, the two kept together, picking off riders in their class. They battled back and forth, but Bange got away as Crouch struggled on the final hill.

"I just finished it out and got 5th," Crouch said. "It wasn't the worse track but it wasn't the most fun and the heat made it a little worse. I felt like I was back in Texas."

Crouch will be focusing her training on the upcoming X-games, where she will be representing the team in Endurocross.

Bennett had a two-kick start, and made his way into the woods behind the pack, but worked hard to make up time and positions before he got squirrely in some ruts and ended up injuring his knee.

"He heard and felt it pop," Bennett said. "It's swollen and sore now, and we'll be getting it checked out tomorrow. Thanks to Jimmy and Scotty for all their help when he got back into the pits."

In the Pro race, Watkins got a rough start in 12th, and settled into the pack early on until he hooked up with riders Morgan Moss and Andrew Delong. Watkins passed up Moss and put his sights on Delong's back tire until the final lap as the two fought for the lead. Watkins finished the race in 6th, just one second behind Delong in 5th.

"It was smoking hot out there but the conditions were pretty good despite the temperature," Watkins said. "It was actually pretty slippery on the single track sections. I didn't make any huge mistakes, that was just the pace I was running. It's hard to catch those guys when I don't have a good start."

Teammate Jarrett had a good start, but went down in the second turn, losing positions and time. At the end of the first lap he had caught up to 8th place, but a stick that had gotten lodged between his boot and bike during his crash was wreaking havoc, tearing out vital wiring, and the bike quit suddenly on the second lap. Jarrett pulled into the pits, and after realizing the bike wasn't going to fire again, had to settle for a disappointing day.

"I have a bit of a break now till Unadilla so I'm going to work my butt off to be ready for the second half of the season," Jarrett said. "I have one more OMA before I leave to compete in the ISDE, and I'm looking forward to the second half of the season."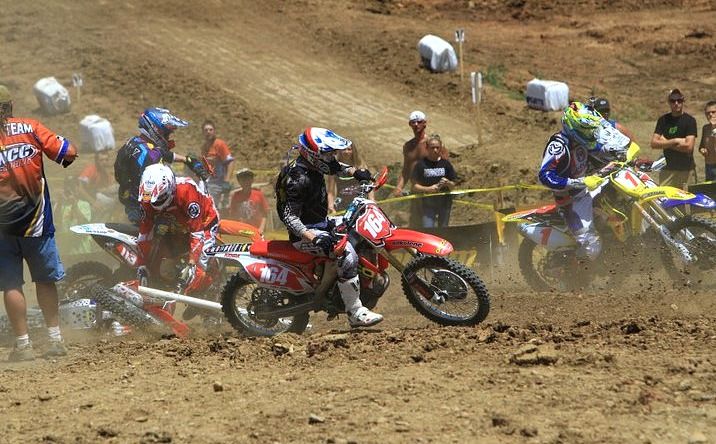 #164 Rory Mead avoids the carnage. Photos courtesy of David Smith - Race Day Pix.

Meanwhile Mead had a strong ride - with a quick start that took him into the woods and passing riders. After switching positions on the track with teammate Jarrett- Mead spent the rest of the race riding by himself, and finished 8th in his class - and 10th overall.

"I'm really pleased with my ride," Mead said. "It was pretty rough out there but I enjoyed the track. The bike went well, too. I found it a little hard to get my own pace when I was riding on my own. I was obviously trying to catch people, and not let people behind me catch up, but it was hard to judge how fast to go. The day worked out well. I'd like to thank the team for helping me out and bringing me along."

The GNCC series will resume after the summer break at the Can-Am Unadilla on September 11th in New Berlin, NY. The OMA series will resume on July 30th, with the FMF Spring Creek GP in Millville, MN.

XC1 Results
Paul Whibley (YAM)

Kailub Russell (KTM)

Josh Strang (SUZ)

Charlie Mullins (KTM)

Cory Buttrick (KTM)

Thad DuVall (YAM)

Nathan Kanney (KTM)


Rory Mead (HON)



Russell Bobbitt (KTM)

Nick Fahringer (HSB)

XC2 Results

Jordan Ashburn (YAM)

Jesse Robinson (KTM)

Jason Thomas (HSQ)

Steward Baylor (KTM)

Andrew Delong (KTM)

Scott Watkins (HON)

Morgan Moss (HSQ)

Zack Nolan (KTM)

Nick Davis (KTM)

Ted Mullins (YAM)

Jarrett and Watkins would like to thank team sponsors JG Offroad, GEICO, American Honda, Kenda, Silkolene, EBC, Tsubaki, Ride PG, Rekluse, Moose, Cycra, Arai, FMF, G2, IMS, BRP, Renthal, Works Connection, Factory Connection, Smith Optics, and Sidi.

Watkins would like to thank his additional sponsors Parts Unlimited, and ProMoto Billet.

Jarrett would also like to thank individual sponsors No Toil, CV4, and Outerwears.

Crouch would like to thank sponsors JG Offroad, GEICO, American Honda, Kenda, Silkolene, EBC, Tsubaki, Ride PG, Rekluse, Moose, Cycra, Scott, Tucker Rocky, Ogio, PMP, Spruill Honda, and Factory Connection.