with ... Ken De Dycker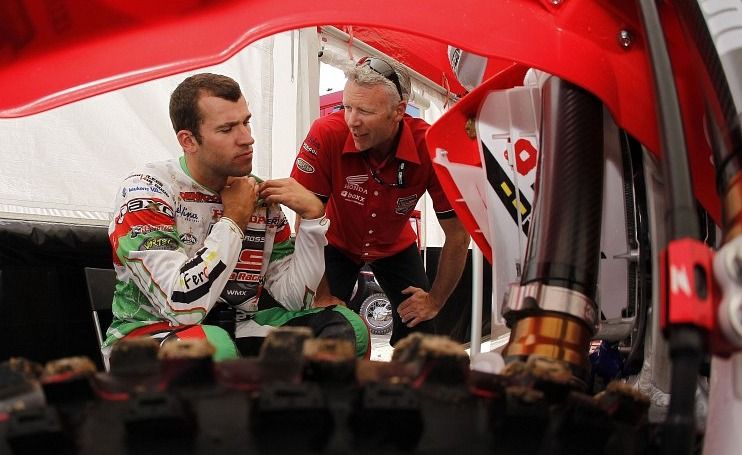 This weekend's German Motocross Grand Prix is the ninth round of the 2011 FIM MX1 Motocross World Championship. It is also the second race in the back-to-back Northern-European triplet, following Sweden and preceding the Latvian GP.

LS Honda's Ken De Dycker will travel to the Talkessel circuit in the knowledge that he took his first rostrum moto of the season last week. Moreover the fast hard pack German track is one where Keeno has done well at in the past. Fresh from Wednesday's training session Honda Pro Racing sat down with the Belgian giant to get his views on what lies ahead.


Considering that you didn't feel 100% coming into the Swedish GP you must have been pleased with the result?
Yeah, of course it was good to take 4th and it was my best GP of the season so far. The weekend was solid overall because I was 3rd in qualifying; my lap times were fine as well. On the other hand there is still room for improvement. If I didn't need to fight back from way back in 22nd in the first moto to finish fourth I would have conserved more energy for the second moto, whereas now I was completely worn out and couldn't hold on to third. At one point in the second moto I was catching up on Cairoli. In hindsight it might have been better to race a bit more conservatively."

Do you feel some pressure because you outgunned everyone in Teutschenthal last year?
Not the slightest. This is another season and you cannot dwell on the past. I just know I'm going to Germany with a good feeling, and when there are some ruts and bumps on Sunday it's a track that I find pretty interesting. When results start coming back like now it makes you even hungrier to do well. So after a difficult start of the season I also feel my self confidence is coming back. With the team we keep on developing the bike and I should go well there. The only way is up!

What do you think about the current level in the MX1 World Championship?
It's the highest I have ever experienced since I started racing in MX1 in 2004. Frankly, it's unbelievably competitive this season! Several guys have stepped up their game; Steven Frossard came in with a bang. Before you could make the difference in the last part of the race alone, that is no longer true. There aren't just a couple of guys who train properly; it's all of them. They go flat-out from the first lap till the last lap.

It seems guys are taking more risks in the start and starts have become even more crucial.
I don't know whether the start itself has become riskier. After all it's motocross you know? That's part of the game! But I agree that starts are even more important these days. You absolutely need to be in the top five, or at the very least top ten. If you are further down there's no way you can fight for the win. Just look at the gap Bobryshev and Frossard had in the first moto in Uddevalla. No matter how hard you push that's something you cannot make up!

We wish you good luck and the start you desire in Teutschenthal
Thanks!
Copy and photo courtesy of Honda Pro Racing.